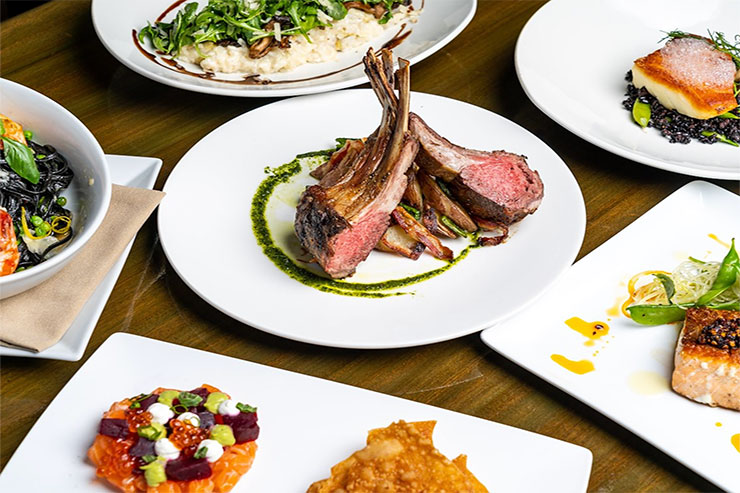 With Chef Adam Dunton at the helm, Litchfield's at The Wigwam offers a cozy and intimate dining experience complete with an award-winning wine program and a rustic, farm-to-table menu.
The Wigwam's signature restaurant, Litchfield's, offers a refreshingly casual atmosphere that is perfect for both an intimate date night or a nostalgic evening catching up with friends. The dining destination features a neutral color palette, with soft exposed brick, cozy fireplaces and light wood elements. The dining space brings the outside in, with scenic views and an outdoor patio complete with fire pits, warm string lights and plush lounge chairs.
Litchfield's brings the farm-to-table philosophy to each of its dishes, with a curated menu using only fresh, locally-sourced ingredients. Some local vendors include oils and vinegar from Queen Creek Olive Mill, cheese and dairy from Crow's Dairy in Buckeye, produce from Litchfield Park's Blue Sky Farms, and fresh seafood flown in daily from nearby waters. Some must-try dishes to start the evening include the cured duck and endive, with grapefruit, butter pecan goat cheese, pomegranate and arugula; and the oysters with cured salmon, ponzu, chili crunch and seagrass. For your main course, we highly recommend trying the Cedar River prime filet, with a hand-cut filet, gouda, green beans, bacon and a soy-caramel drizzle; or the Maple Leaf duck, featuring duck confit, sweet potato hash, Swiss chard and a bourbon glaze.
An assortment of wines is available to complement each dish from Litchfield's extensive award-winning wine program, in addition to a lineup of cocktails, mocktails and imported beers. If you are craving an alcohol-forward sip, try the Banana Old fashioned with Howler Head banana whiskey, Giffard banana, maple, bitters and banana brûlée; the Whiskey Highball with Ezra Brooks whiskey, maple, grapefruit and lemon; or the autumn-inspired Spiced Pear Margarita with 1800 Reposado, St. George spiced pear, lime, agave, cinnamon and a sweet sugar rim. For those looking for the indulgence of a craft cocktail without the helping of liquor, the mocktail lineup is divine; with fan favorites like the Arizona Sunset with orange, pineapple, lime, lemon, grenadine and Sprite, or the Cloudy Sunrise with spiritless Kentucky 74, lemon, ginger and honey available.
Dessert is a must at Litchfield's, with an assortment of sweet treats in the form of a martini, wine or an opulent bite. The vanilla bean pavlova is a divine bite (and gluten-free) with sweet lemon curd, coconut crème anglaise, fresh berries, coconut whip and mint; or the salted caramel apple tart crafted with a flaky crust, whipped cream cheese, Granny Smith apples, vanilla ice cream and a cheddar cheese tuile. If you'd rather indulge in a dessert martini, we highly recommend trying the seasonal pumpkin-spiced espresso martini before it's gone, with vodka, Kahlúa, espresso and a pumpkin cold foam.
Litchfield's is open Wednesday to Sunday, 5 to 9 pm
To learn more about Litchfield's, visit wigwamarizona.com.
https://bigger.ga/restaurant-of-the-week-litchfields/