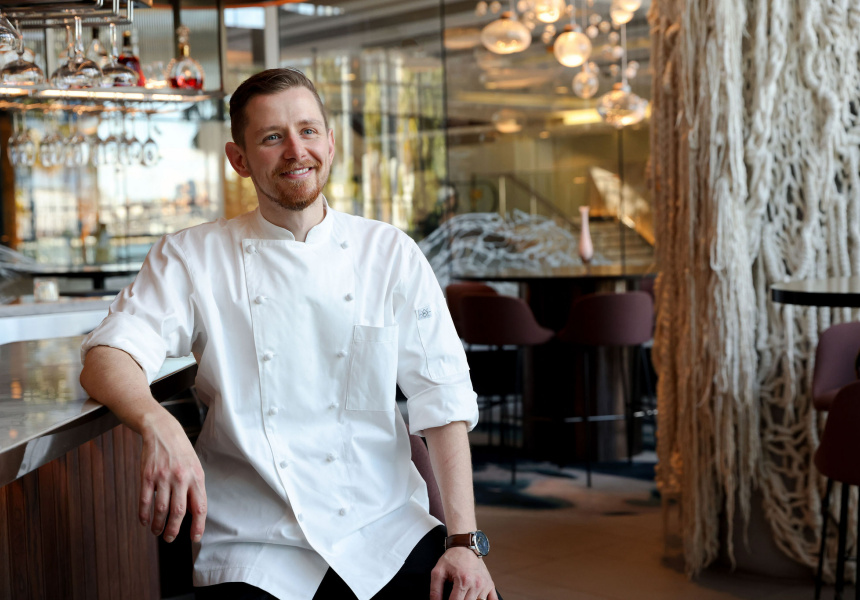 Chef Adam Hall knows The Star's seafood restaurant Flying Fish intimately. Though he's only recently started as the fine diner's executive chef, he's worked at Flying Fish twice already. Hall's Flying Fish career kicked off back in 2010; he worked there for four years and made his way up to head pastry chef. He then spent four years in Melbourne, returning to Sydney and Flying Fish in 2018, first as head pastry chef and then as sous chef. He's just spent two years at degustation-only diner Arthur, in Surry Hills – but now he's back at Flying Fish. And this time he's in the top job.
A childhood spent living off the land on a rural property near Port Macquarie has informed his approach to Flying Fish's menu. He helped raise livestock, worked in the veggie garden and orchard, and fished in the nearby river. He's bringing those experiences into a restaurant setting, with attention to sustainability, provenance and seasonality high on his list of priorities.
From an impressive raw bar to an abundance of seaweed, and a high rotation of dishes coming off the woodfired grill, here's what you can expect from Hall's version of Flying Fish.
What's your new job title?
My new role is executive chef of Flying Fish. I will lead the culinary team and create innovative seasonal menus that highlight the best local produce, native ingredients and sustainable seafood from around Australia.
Why did you decide to return to Flying Fish?
Flying Fish has always played a major role in my career as a chef. It was the first fine-dining restaurant I worked at when I moved to Sydney 11 years ago, and is also where I met my wife. Needless to say I feel very sentimental about the restaurant and want it to succeed and continue to be one of Sydney's best seafood restaurants. It's such an iconic venue in Sydney, and I'm really excited to take the lead and help it grow into the future.
Do you have any fun plans or ideas for your new role?
I think it's really important for [chefs] to lead the charge in making responsible choices with the ingredients we use. I'm working closely with our suppliers to ensure all products we use are 100 per cent traceable and sustainably sourced. The menu will [detail] each item and where it's from to ensure our customers know exactly what they are getting. I'm really looking forward to building strong relationships with our producers so that we can help tell their story and why it's important to focus on sustainability for future generations.
Will we see any cool ideas or dishes you think will thrill diners?
We have an amazing raw bar setup and I think diners can expect to see a lot more raw and cured dishes popping up on the menu, especially coming into the warmer months. One of my favorite dishes on the menu at the moment is our raw Shark Bay scallops with pickled desert lime, lemon myrtle and cultured cream. It's not bound by the terms "sashimi", "crudo" or "ceviche", but is still wonderfully sweet and silky with a good balance of citrus and vinegar.
We also have a beautiful woodfired grill which I'm really looking forward to playing around with. At the moment I'm enjoying our Jervis Bay mussels smoked over paperbark, seasoned with fermented chilli then served with almond cream and saltbush flatbreads. It's a super fun dish you can eat with your hands and get messy with, but also highlighting a really amazing local product.
I'm also excited to work with [seaweed supplier] Pacific Harvest to incorporate a lot more edible seaweed and algae into the menu. Aside from the popular nori, wakame and kelp, there are many more varieties that are not really used much here in Australia.
star.com.au
@adam_hall89
@flyingfish_au
https://bigger.ga/five-minutes-with-adam-hall-flying-fishs-new-executive-chef/