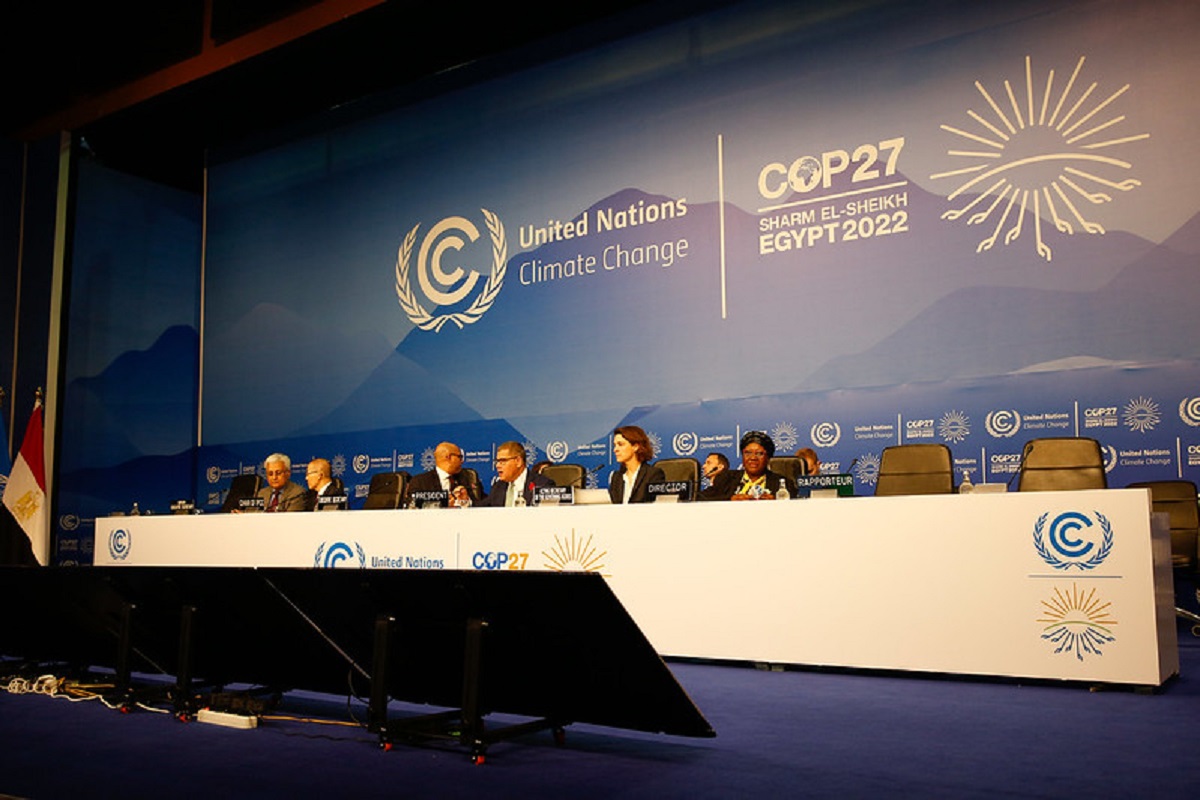 Malaysia is sending its biggest ever delegation to the annual United Nations (UN) Climate Change Conference 2022 (COP27) in Sharm El-Sheikh, Egypt, and setting up a Malaysia Pavilion to showcase local solutions to tackle climate change.
According to the Ministry of Environment and Water (KASA), over 100 delegates are registered under the ministry, 30% of whom will be participating in the negotiation process. The rest are representatives from the private sector and non-governmental organizations (NGOs) who will be involved in activities at the Pavilion or other side events. COP27 kicked off on Nov 6 and will go on for two weeks.
This is a significant increase in the number of delegates compared to COP26 last year in Glasgow, the UK, where Malaysia did not set up a Pavilion. Additionally, given the dissolution of the Parliament in October, no ministerial level representative will be attending COP27.
However, the negotiation team will continue with its mandate and focus on a few key items, including finalizing rules for the compliance-based carbon market, ironing out the process for the Global Stock Take (GST) in 2023, and demanding more assistance in climate change adaptation and climate finance from developed countries.
"The process related to the GST is very important. At the moment, we don't know what is happening in the world. We are guessing that people are doing this and that [but we can't know for sure without the GST]," Malaysia's COP27 lead delegate Datuk Seri Dr Zaini Ujang, secretary general of KASA, told ESG.
"Adaptation finance is crucial for developing countries. The allocation [of funding from developed countries] is skewed towards mitigation. The technology is there already for mitigation. The question is on adaptation. We are still struggling to deal with flooding and other issues."
Meanwhile, the Malaysian Pavilion will be showcasing Malaysia's efforts in addressing climate change. Panel discussions, dialogues and exhibitions will be held in the space.
The topics covered include sustainable finance, involving representatives from Bank Negara Malaysia, Bursa Malaysia and financial institutions in Malaysia. Several Malaysian youths and NGOs, like the Global Environment Center and UNICEF, will also be speaking at the panels.
The Pavilion cost around RM2 million, according to KASA, and is funded through a public-private partnership. The sponsors from the private sector are not revealed.
Wait for detailed climate strategies in LT-LEDS and NDC Roadmap
One of the key topics that is expected to emerge from COP27 is financing for loss and damage (L&D), which refers to cost of damages incurred from climate change-related natural disasters.
"Under the Glasgow Climate Pact [from COP26], we have seen significant progress in advancing technical assistance from relevant organizations to address L&D in developing countries. But the definition is very vague at the moment," said Zaini.
Another topic is on enhanced nationally determined contributions (NDCs), which are each country's climate targets. After COP26, countries were encouraged to revisit their 2030 NDCs to align it with the Paris Agreement goal to limit global warming to below 1.5 degrees Celsius.
Malaysia won't be doing it this year since it updated its NDC last year to reduce economy-wide carbon intensity (against GDP) by 45% unconditionally by 2030. "It's already very ambitious. We have the option to revise the NDCs every five years. We hope that after our Long-Term Low Emissions Development Strategy (LT-LEDS) report is completed, we can have a new NDC. That could be any time before 2025," said Zaini.
What is Malaysia's current status in achieving its NDC? Zaini said they will only know this after the LT-LEDS is completed. The LT-LEDS will detail Malaysia's strategy to reach net zero as early as 2050. An NDC Roadmap, meanwhile, will map out the pathway to the NDC target. Both are expected to be ready next year.
There is a delay in the timeline for issuing the documents. Prime Minister Datuk Seri Ismail Sabri Yaakob had mentioned last October that the LT-LEDS would be finalized by end-2022. Zaini says the process is very complex and requires decisions by the Cabinet.
"For instance, when are we going to withdraw coal power plants? We cannot simply decide that. Cabinet must be informed. If we want to withdraw it early, there are implications on the [electricity] tariff," said Zaini.
Many private sector and NGOs have asked for a clear roadmap from the government on how it will achieve its net zero target. This could include sectoral and interim targets, as well as the expected greenhouse gas (GHG) reductions from each strategy. Zaini said the LT-LEDS will have this information, but many of the big decisions will require the Cabinet's approval.
Another common ask by industry players is for updated data on climate risks and GHG emissions. The former can only be found in Malaysia's second biennial update report (BUR) in 2018, while the latter is from the third BUR in 2020, using data from 2016.
Zaini said the GHG Inventory Centre, which he expects to be live in the first quarter of 2023, will host information on GHG emissions. It won't be real time, but it could have at least two years of lag time, much like what Japan does, he said.
"It requires data that are only finalized at the end of that particular financial year, which is then audited before we calculate it."
Granular climate risk data is important for businesses to make investment decisions. For instance, they could avoid building in flood-prone areas, fortify their assets against increased rainfall or prepare for lower agriculture yield due to higher temperatures.
Zaini said the data currently sits in various departments and are protected by the data security regulations, although there are efforts underway to make this public. "We have not yet presented to Cabinet on [publicising] this data," he said.
Meanwhile, KASA is currently finalizing the concept note for funding from the Green Climate Fund for the National Adaptation Plan (NAP). "Its pending submission to the Cabinet and whether the budget is there," he said. The Climate Change Act is another item on the table and will begin in 2023.
Ultimately, Zaini emphasized that collaboration and individual commitment is important. "Let's do something rather than waiting for this guy or that guy. I'm cycling to work because I want to reduce my carbon footprint. At the moment, we are still stuck at the stage where we are asking others to do more than what we should be doing. Why not do it together?"
Businesses should watch out for adaptation issues and government climate policies
While the center of the COP is the negotiations by government delegations, businesses should pay heed to the decisions and pledges made at the event.
"Businesses in Asia are vulnerable to the impacts of climate change and are also often at the top of the global supply chain. At COP27, they should watch out for developments on adaptation as well as funding and investment promises," Chan Wai-Shin, head of the Climate Change Center of Excellence and global head of ESG Research at HSBC, told ESG.
"There will also be pressure for governments to strengthen climate policies. Companies will be under the spotlight regarding their own activities and implementation of climate strategies. The key is that climate action momentum is maintained."
HSBC Amanah Malaysia chief executive officer Raja Amir Raja Azwa Shah will be speaking in multiple panels at the Malaysia Pavilion.
Amidst this pressure, there must be a focus on just transition, where the need for social and economic development in countries like Malaysia are considered.
"This is the most important issue that Malaysian businesses should look at. We should decarbonise at our own terms as a developing nation," said Faroze Nadar, executive director of the UN Global Compact Network Malaysia & Brunei, who is also attending COP27.
For this to be possible, developed countries must offer meaningful support to developing countries and play a bigger role in addressing climate issues. This could be in the form of financing for climate adaptation, said Shahril Azuar Jimin, chief sustainability officer of Maybank.
He hopes that Malaysia can showcase its efforts in advancing the national climate agenda at COP27. "[This can] therefore enhance investor confidence, direct investment flows to the country from both financial and non-financial perspectives and [help Malaysia] gain further technical capacity building support," said Shahril. Maybank Investment Bank's CEO Datuk Fad'l Mohamed will be present at COP27.
On the other hand, Faroze hopes for more transparency on how Malaysia is meeting its climate targets and more aggressive engagement with the private sector. Clarity on climate data for adaptation to climate change impacts is also required.
"At a round table [with Malaysian businesses on COP27] last week, many participants asked for more multi-stakeholder engagements. There is too much disjoint in climate action expectations from different ministries and sectors. I think more needs to be done to fix the disjointed approaches we have for adaptation," says Faroze.
"I also think the government needs to be a bit brave and say, look, we are at a certain point of no return. This is the projection of what is going to happen. Be prepared. That's what adaptation is. So, transparency of adaptation data is key so you can provide better decision-making avenues to all stakeholders."
This is a point echoed by Shahril. "As we are in the financial industry, we provide access to financing for various sectors, market segments and customers. The challenges faced by these segments differ," he said.
"Having clear sectoral and interim targets for key sectors would ease the process of assisting our clients transition towards more sustainable practices. While we have started to collect data from our clients, we are heavily relying on proxies for certain climate data. Having real-time data on climate risk would be key in helping us develop decarbonisation strategies together with our clients."
Lavanya Rama Iyer, head of policy and climate change for WWF-Malaysia, also emphasized on the need to focus on adaptation, L&D and biodiversity. Malaysia must align its climate action with initiatives to protect biodiversity.
"I do believe that businesses are becoming more aware of the integrated nature of these issues and their reliance on the fundamental services that nature provides, such as climate and water cycle regulations," said Lavanya, who is also present at COP27.
"Finally, it is worth noting that nature-based solutions provide more than just carbon offset potential. It also assists businesses in addressing climate-related risks, particularly physical risks that we are already experiencing."
https://bigger.ga/cop27-malaysia-to-focus-on-adaptation-climate-finance-and-showcasing-local-solutions/