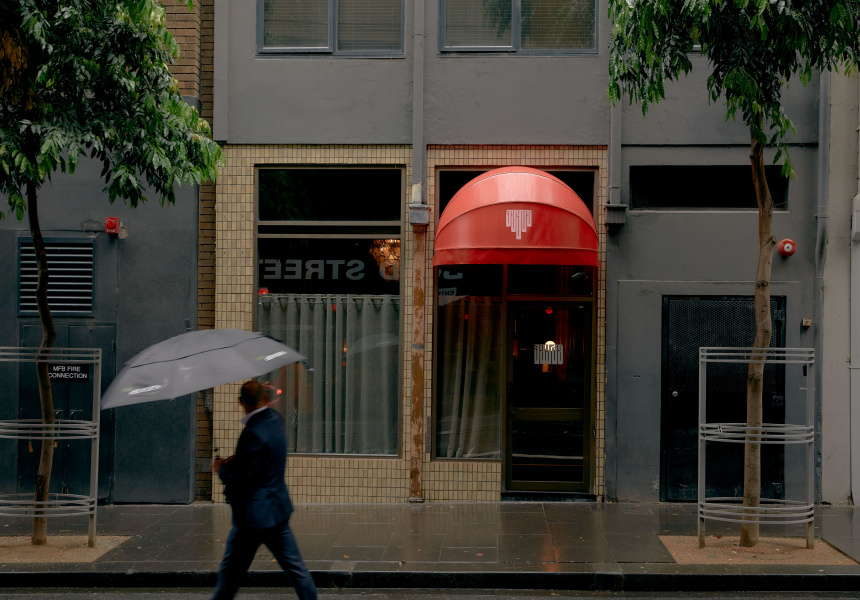 A cocktail bar has always been on the cards for Shane Delia – the Melbourne chef and restaurateur behind top Middle Eastern spots Maha, Maha East and Maha Bar. But there was only one place it could be – next to his flagship Maha restaurant, which opened on Bond Street in the CBD in 2008.
"I didn't want to open a cocktail bar at the other end of the city," says Delia. "I wanted this to be a place where people could come for a standalone experience and have an absolute ball … or be the perfect beginning or end to somebody's journey at Maha."
After 15 years, the next-door space finally became vacant.
Tucked away on the ground floor of a 1930s art deco building is Delia's opulent new bar Jayda, named after his 13-year-old daughter. Every corner is alluring, with moody lighting, sultry velvet sofas and subtle Middle Eastern cues throughout. It's loud and vibrant, but also has intimate spaces for quiet conversations.
Cocktails are the star of the show here, with eight original drinks by Orlando Marzo, the 2018 World Class Bartender of the Year.
Delia says he was hungover the first time he met Marzo – at a radio station 10 years ago. Marzo suggests a hair of the dog and, from the small esky he'd brought along, he pulled out a pre-batched Strawberry Cream Negroni, made with rosehip, blackberry leaves and dehydrated yoghurt. Delia, apprehensive, told Marzo, "I don't want a wanky Negroni, mate." But he was impressed. Now, it's the signature cocktail at Jayda.
You'll also find the Summer Sour that includes amaretto, and arak from Lebanon; a spiced Highball with fino sherry; and a Mediterranean-inspired Espresso Martini, served either on the rocks or with saffron cream poured over the top.
Food-wise, the focus is on imaginative Middle Eastern-inspired bar snacks. Cured meats are served with spongey za'atar focaccia; the braised beef borek buns are flavored with turmeric and tamarind; tarts are filled with kingfish, finger lime and taramasalata; and there are crispy, spiced lamb-and-Aleppo-pepper mini cigars.
Come hungrier for oozing basturma and kasseri cheese toasties and Delia's favorite dish: the "after-service sandwich". It's a tribute to the staff meal the Maha crew makes, stuffing crispy, bottom-of-the-pan pieces of the iconic 12-hour roasted lamb shoulder into fluffy bread rolls. The version at Jayda is caramelised lamb packed into flaky pastry, served with a lamb-jus dipping sauce and shoestring fries.
For dessert, there are three choc-dipped ice-creams – including a mango and Iranian lime, or chocolate and pomegranate molasses fudge topped with mint diplomat.
Delia worked with Studio Y to bring a warm, sensual feel to the space. It's split into two rooms: at the front, a sophisticated bar with dark wooden high-top tables; a candlestick of evil eyes; red orb-like lamps; and a cladded, curved green bar with a black-marble top. Further back, through a glistening archway, is a moody lounge room. Delia worked with painter Scanlan & Makers to curate custom wall finishes – with four layers of paint – inspired by the tobacco-stained walls of European cigar lounges.
Booming in the background is a mix of Habibi funk (an Arabic funk genre that had its heyday in the '70s), hip-hop, and '90s beats – all curated by Northside Records.
Jayda opens today, Monday October 31.
Jayda

19 Bond Street, Melbourne
Hours:

Daily 4pm–late
barjayda.com.au
https://bigger.ga/with-art-deco-flair-and-a-strong-snack-game-shane-delia-opens-sultry-new-cocktail-bar-jayda-in-the-cbd/