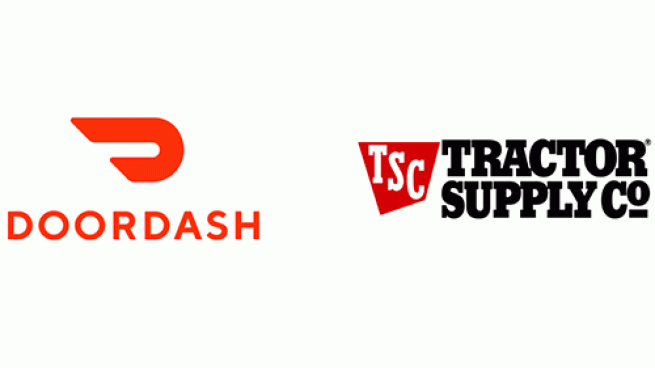 Tractor Supply Company is engaging a well-known third-party platform to provide on-demand delivery of online orders.
The rural lifestyle retailer is partnering with DoorDash to offer on-demand delivery from almost 2,000 stores nationwide. Tractor Supply is now available on the DoorDash marketplace to offer a selection of products in categories such as home improvement, tools, farm and ranch, firewood, poultry feed, and lawn and garden for purchase and delivery.
All participating Tractor Supply stores will be available on DashPass, DoorDash's membership program that offers members $0 delivery fees and reduced service fees on eligible orders that meet minimum subtotals.
Tractor Supply is launching this effort on the heels of equipping its store associates with Honeywell mobile technology in an effort to streamline operations and offer customers a convenient, end-to-end, omnichannel experience.
[Read more: Tractor Supply streamlines store operations with mobile devices]
By arming associates with Honeywell CT40XP computers and Operational Intelligence Professional cloud-based software, Tractor Supply says it has increased employee productivity and enabled them to spend more time building relationships with customers. Specific tasks for which employees in stores are leveraging mobile technology to perform include receiving and fulfilling online orders.
Tractor Supply is also leveraging the Software AG integration and API management solution to enable customers to connect their shopping experiences across store and digital channels. In addition, the company is connecting the extended retail industry supply chain, from supplier to customer.
Tractor Supply uses the Software AG webMethods solution to integrate systems and data from the supply chain to the customer, which the retailer credits for helping it to avoid business disruptions during the pandemic.
For DoorDash, this partnership marks the on-demand delivery provider's first foray into the farm and ranch category. The company has been expanding the retail vertical it serves beyond its traditional restaurant category.
In spring 2022, DoorDash began offering on-demand delivery of products from more than 1,000 Office Depot and OfficeMax nationwide. The assortment of products available for online delivery via DoorDash include laptop and desktop computers, printers, ink and toner, cleaning and breakroom supplies, and tech accessories.
DoorDash also launched a flower delivery service in time for Valentine's Day, and is moving into verticals including grocery, alcohol, pets, and retail.
All this activity is happening as DoorDash is becoming a major global player in the online delivery space. In June 2022, the company completed the acquisition of Helsinki, Finland-based online delivery platform Wolt Enterprises Oy in an all-stock transaction. This purchase brought DoorDash to operations in a total of 27 countries, including the US
[Read more: DoorDash expands across the globe]
Headquartered in Brentwood, Tenn., Tractor Supply Company operated 2,016 stores in total across 49 states as of Aug. 24, 2022. Tractor Supply Company also owns and operates Petsense, a small-box pet specialty supply retailer focused on meeting the needs of pet owners, primarily in small and mid-size communities, and offering a variety of pet products and services.