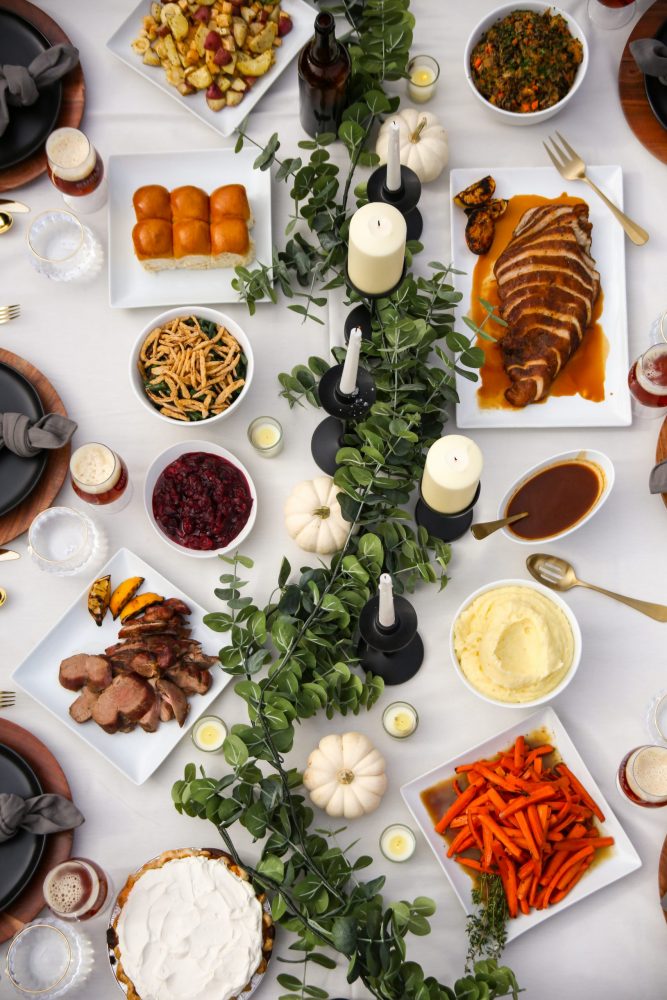 More and more of us are ordering Thanksgiving dinners. Here are some of the to-go dinner options in Minnesota—I'll keep updating as I get more. Restaurants/Caterers: Email me at DeRushaEats@gmail.com with your menu!
Catering:
D'Amico Catering: Turkey breast, thighs, and all the trimmings. Orders must be placed by November 18 for pick-up on November 23 at either Edinburgh USA in Brooklyn Park or Metropolitan Ballroom & Clubroom in Golden Valley. The cost is $265 for a meal that feeds six people. No extra shopping required!
Chowgirls Catering: Everything but the turkey—sides for omnivores and vegetarians.
Surdyk's: Turkeys from Kadejean (order before they sell out), sides and pie are available for pickup.
France 44 Cheese: Turkeys, sides, pies for pick-up.
Wedge & Linden Hills Co-Op: Locally=raised fresh turkeys from Ferndale Market, Kadejan Farms, and Larry Schultz Organic Farm. Additionally, a full catering menu offers the whole meal, cooked and ready to eat at home; or choose from house made sides and pies, ordered separately to round out your meal. Lots of traditional, vegan, vegetarian, and gluten-free options. Order online through November 18, pick up the week of Thanksgiving.
Grocery Stores:
Cub: The Turkey Breast Dinner serves up to six, costs $100, and is great for small gatherings. The Whole Turkey Dinner serves up to 10 and costs $150.
Lunds & Byerlys: Heat-and-serve dinner for three to five for $115; other options are available.
Kowalski's: Small turkey for four to six, dinner for $130; other options available.
Hy-Vee: A 10- to 14-pound turkey dinner for $150; ham dinners and other options available.
Restaurants:
Arepa Bar: Options for two to three people, for four to six people, and for six to eight people. Pick one soup, one or two meats, three sides, and desserts by the slice.
BBQ Animals: All items are precooked, ready to heat and eat. Comes with reheating instructions. Generously feeds 4 people but can feed up to 6 diners depending on how much you eat! Meal includes 1/2 Smoked Turkey
Fhima's Minneapolis: Sliced ​​light & dark turkey plus all the trimmings $159
serves 6, very generously. Lots of a la carte add-ons including pie.
The Grocer's Table: A la carte cheese and charcuterie boards, brunch options, and a traditional Thanksgiving. All items are fully cooked and ready to re-heat, except the Ferndale Turkey, which is brined and ready to roast!
Mason Jar Kitchen, Eagan: herb-roasted turkey with light and dark meat, sage and rosemary stuffing, garlic mashed potatoes, turkey gravy, candied yams, green beans, salad (choose Caesar or garden), and dinner rolls. Serves six generously, $159
Spoon and Stable: Serves six to eight ($325) or 12 to 16 ($595) and includes a full feast with roasted and confit turkey (roasted breast, confit legs, and crispy wings).
Surly Brewing: A full turkey dinner for six to eight for $225. Includes 3 pounds of oak-smoked, all-natural, lemon-brinated Ferndale turkey breast, lots of sides, and a full pie.
Red Cow & Red Rabbit: Order online for pickup. For every Thanksgiving meal kit purchased, Red Cow plans to donate $25 to M Health Fairview Masonic Children's Hospital. Order cut-off date and time: November 20, 11:59 pm Pick-up date: November 23 at Red Cow in Uptown, 9 am to 4 pm The Thanksgiving meal kit is $239. It includes roasted turkey breast, green bean casserole, and more sides, plus pumpkin pie. A la carte add-ons are available, as well as cocktail kits.
Buca di Beppo: Open on Thanksgiving. Order Thanksgiving dinners to go, or Thanksgiving catering to go. Orders for the Traditional Thanksgiving Feast—available for dine-in or takeout, hot or cold—must be in by November 22. It is available by half pan for $330 (serves 10 people) or full pan for $560 (serves 20 people). You can get smaller orders, too: a small pan for $105 (feeds three people), or a large pan for $192 (feeds six people). Additional shareable appetizers, Italian specialties, and desserts can be added to orders.
Bakeries:
Churchill St.: Order Thanksgiving cookies.
Bellecour Bakery: Pies, egg bake, and croissants for pick-up.
The Buttered Tin: Order Thanksgiving meal kits (turkey breast) and pies.