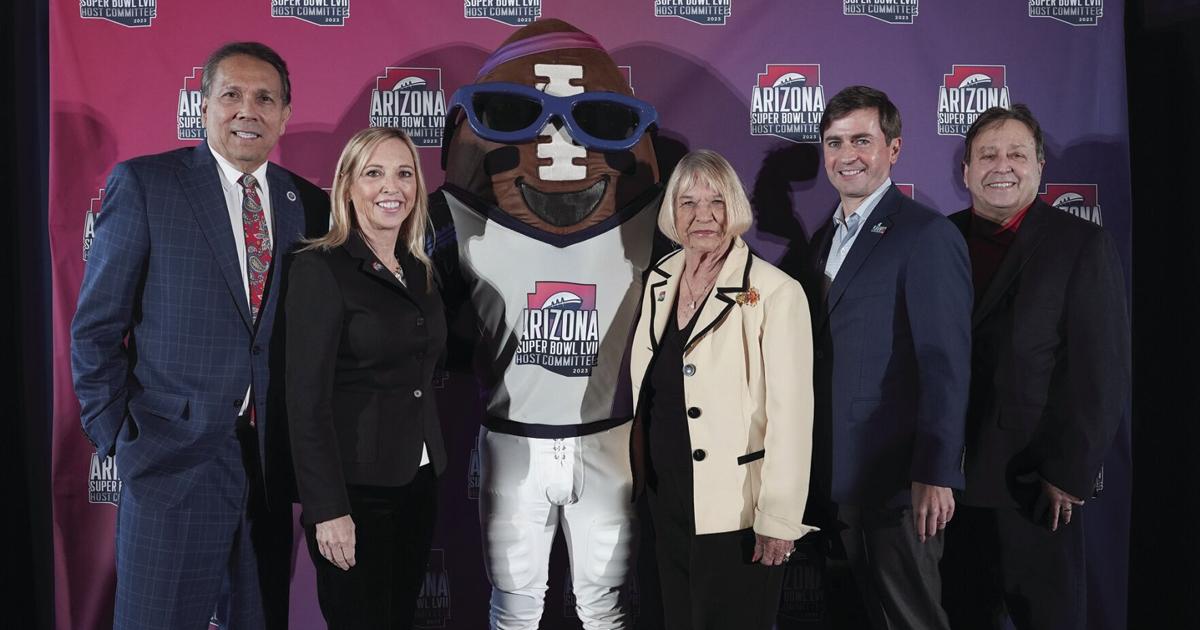 The Arizona Super Bowl Host Committee and National Football League unveiled an expanded line-up of events taking place in the lead-up to Super Bowl LVII during an Oct. 24 press conference at the Tempe Center for the Arts.
"Arizona will provide a unique backdrop for a weeklong celebration heading into Super Bowl LVII, which will culminate what is proving to be a remarkable 2022 NFL season," said Peter O'Reilly, executive vice president, club business and league events for the NFL .
"We look forward to providing an incredible Super Bowl experience for the Arizona community, our players, clubs, partners and fans."
Events will be held across the Valley, from Mesa to Glendale, leading up to the Sunday, Feb. 12, game. Jay Parry, president and chief executive officer of the Arizona Super Bowl Host Committee, revealed Hance Park will host the first Official Super Bowl Watch Party on game day.
"Locating Super Bowl events throughout the Valley is a testament to the collaboration and leadership of our partners and elected officials, with each community having something unique to offer visitors and locals," she said.
Parry was quick to thank Avondale and Peoria for "their terrific support of the Super Bowl."
ESPN selected Scottsdale as its hub for bringing "Super Bowl coverage to the world," she said. The ESPN Main Street Tailgate will kick off Feb. 8.
"Fans know the thrill of being caught on camera behind some of the world's best broadcasters," Parry said. "Now that's referred to as a photo bomb. But, as every major network converges on the Valley in February, there will be so many opportunities for our locals to earn some on-air time."
Fox Sports, the official broadcast partner of Super Bowl, chose Glendale for its weeklong coverage leading up to the game at State Farm Stadium.
The Super Bowl Experience Presented by Lowe's will be held at the Phoenix Convention Center, O'Reilly said, calling it the "crown jewel" of fan events. Tickets, which start at $20 or free for kids younger than 12, go on sale Dec. 17.
Super Bowl Opening Night Presented by Fast Twitch is set for Feb. 6. Fans can take part in a meet and greet with players at the Footprint Center. Tickets are $20 as well and go on sale Dec. 17.
"All of the participating players in the game are there," he said. "It's an incredible fan experience to see the players, helmets off, up close and personal. It really sets the tone for the week."
Acts will be announced soon for the three-night Bud Light Super Bowl Music Fest at Footprint Center.
Feb. 9 fans can watch NFL Honors Presented by Invisalign at Symphony Hall or on NBC.
"It's such a beautiful venue," he said. "It really shines where our biggest football stars and celebrities will walk the red carpet. That's the night when the MVP is revealed, same with the Rookie of the Year, the Walter Payton NFL Man of the Year, Pro Football Hall of Fame Class."
Taste of the NFL will offer the country's best chefs at Chateau Luxe on Feb. 11.
"That's our annual purpose-driven culinary event that takes place each year," he said. "That's an event featuring celebrity chefs from around the country."
O'Reilly said he's proud to be part of the team scheduling the peripheral events.
"It's amazing to be partnered again with you having done this with Super Bowl 49," he said. "That was my first year in this role, and I couldn't have asked for a better partner back then. We're a better partner right now."
Besides leaving a strong economic impact, the Super Bowl yearns to help the community in other ways.
"We discuss how we can leave a positive legacy in the community, and we do that through incredible programs," O'Reilly said.
"We're back here in order to do something special and put our marker out there as the greatest Super Bowl ever. We're incredibly excited and ready to roll."
This is the fourth time the Super Bowl has been in Arizona.
"We'll continue to look at Arizona as a Super Bowl home," he said. "There have been incredible games here. Hopefully that continues with Super Bowl 57. You have the special sauce here. The people are supportive, and it's just a beautiful location to draw with locals and people from around the world."
Big Game calendar
In addition to these events, community projects are in progress across the state and will continue through February, including beautification projects, habitat restoration, a student STEAM program and youth football clinics.
The highlights include:
arizona superbowl
Host Committee 5K-9
Fun Run presented by PetSmart
Jan. 7
Riverview Park, Mesa
Super Bowl Experience
presented by Lowe's
at the Phoenix Convention Center
Feb. 4 and Feb. 5, and Feb. 9
to Feb. 11
Phoenix Convention Center
opening night
presented by Fast Twitch
Feb. 6
Footprint Center, Phoenix
Super Bowl Gospel Celebration
Feb. 8
Mesa Center for the Arts
Historic Old Town ESPN
Main Street Tailgate
Feb. 8 to Feb. 12
Old Town Scottsdale
Bud Light Super Bowl
MusicFest
Feb. 8 to Feb. 11
Footprint Center, Phoenix
NFL Honors
presented by Invisalign
Feb. 9
Symphony Hall, Phoenix
Super Bowl Experience
presented by Lowe's
@ Hance Park
Feb. 9 to Feb. 12
Margaret T. Hance Park, Phoenix
FanDuel Party
Feb. 10
Tempe Beach Park
Taste of the NFL
Feb. 11
Luxury Chateau, North Phoenix
FOX Sports Broadcast Set
Programming throughout the week
The Great Lawn at State Farm Stadium, Glendale
Official Super Bowl Watch Party
Feb. 12
Margaret T. Hance Park, Phoenix
super-bowl
Feb. 12
State Farm Stadium
.