NEWS | FEATURES | PREVIEWS | EVENTS
originally published: 10/28/2022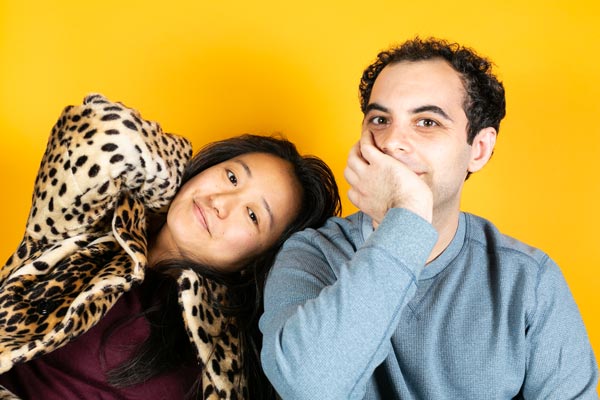 Deep Talk is a band featuring Christina Li and Jordan Maslov. They say their music is a mix of indie rock, alt pop, post-punk. The Penguin Rocks presents this interview with Deep Talk.
Tell me about the band. Where are you based?
We're based in San Francisco and Portland. The two of us live in separate cities, so we do most of our songwriting and collaborating remotely! I think our style of music is somewhat unleashed because of that – we're some mix up of indie rock, alt pop, post-punk.
How long has the band been around? Is there a story behind the band name?
We got started in late 2019, so right before the pandemic. We had a running shared list of potential names that we'd add to when we came up with something new. I always like two words band names but didn't want to go down the "The" route. "Deep" came to mind, and soon we had "Deep Talk." The name "Deep Talk" seemed perfect since most of our songwriting happened early in the morning or late at night, when most deep talks happen.
Advertise with New Jersey Internship for $50-$100 per month, click here for info
---
Who are the members of the band and what instrument do they each play?
When playing live, Christina plays guitar and sings and Jordan plays bass. But on our recordings, things get more scrambled up. Both of us contribute to pretty much everything (except Jordan never sings).
What is a song you are proud of?
We don't have an album yet, but our latest release was the single "I Drove By." It's much rougher and rawer than our previous material. Unlike our earlier releases, we actually wrote much of it together in person, and then later recorded it in a studio with a full live band.
How many records, eps, or singles has the band put out in total? How has the music changed over time?
We've released six singles so far (and a B-side). The biggest change is that our latest release was recorded with a full live band in a studio. All our previous releases were written and recorded separately at our homes, sending stems back and forth! So the sound is quite different. Our next three singles were recorded in the same session.
What was one of your favorite gigs? What made it memorable?
We played at this really cool venue called The New Farm in San Francisco that was literally a little farm at the edge of the city. It was outdoors and used to be a big punk venue. There were chickens roaming all over the place, even on the stage at times.
Advertise with New Jersey Internship for $50-$100 per month, click here for info
---
Where does the band regularly play shows? Where would you like to play if you could?
We're trying to get a regular cadence of shows in our home cities of San Francisco and Portland. Would love to do an expanded west coast tour.
What would be the "next step" that you'd like to see the band take?
We'd love to get to a place where we have solid local followings in our cities listening to our new releases and going to our shows. Hopefully next summer we can do a little tour to promote our new material.
What are some songs you think people should check out?
I really love "Walking in the Park" because it has this sparse, voice-and-bass beginning but is almost orchestral by the end. "Burn the Door" (out later this year) takes this building idea to a whole different level. On the other end of the spectrum, "I Drove By" starts off loud and has a classic live rock sound.
Finally, if the band does any cover songs. What artists do you cover? Who would be an artist you haven't covered yet that you'd like to cover?
We did a cover of Alanis Morisette's "You Oughta Know" at one show last year. We'd love to do more! We've tossed around some fun ideas like Pulp and Lush and Howard Jones. We'll see.
You can follow Deep Talk on Instagram, Spotify, Facebook, and BandCamp.
---
The Artist Spotlight series features interviews with artists and bands from around the world. If you would like to be considered for an interview, email info@thepenguinrocks.com and provide a link to your website or socials for us to check out. There is no cost to being part of the series. Interviews run at The Penguin Rocks and NewJerseyStage.com