NEWS | FEATURES | PREVIEWS | EVENTS
originally published: 10/28/2022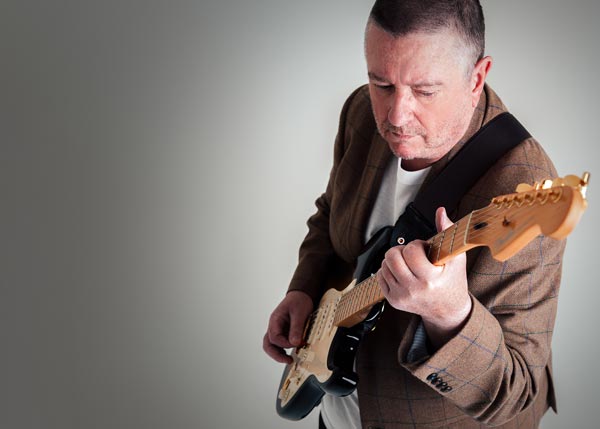 Steve Skidmore is a songwriter, producer, and guitarist who performs and records as a solo artist named Skidders. The Penguin Rocks presents this interview with Steve Skidmore.
Tell me about yourself.
I am a solo artist but with several 'projects' always on the go. For example, I have three solo albums and one with acoustic duo Bukechi, where I partner up with the fabulous Sammi Roberts, née Houston. I can't sing, so 95% of my own compositions are instrumental, either electric or acoustic guitar. My music is very eclectic and ranges from blues, rock and even reggae and Celtic! I was born in Smethwick in the middle of England in what is called the Black Country, so named because of the steelworks, furnaces etc during the Industrial Revolution. If you've seen the Peaky Blinders, it would have been like that.
How long have your been playing music? Is there a story behind the stagename?
I've played in bands from the age of 14 but only been a solo artist since 2015, when I released my first album. My friends call me Skidders, as my surname is Skidmore so I decided to use the nickname rather than a boring formal name.
Advertise with New Jersey Internship for $50-$100 per month, click here for info
---
When you record music, do you play all of the instruments?
As a solo artist, I normally play all instruments on my recordings, although I do draft-in guest artists occasionally, particularly for vocals. If I do sing, it is only for tongue-in-cheek tracks, like "Just Boozin'" on my first album. So I play all guitars, mandolins, bass, keyboards etc. For live performances I draft in friend musicians, which would include bass, drums and keyboards.
Tell me about your latest record. What songs are you most proud of on the record?
I released my third album "Friends & Family Vol. 2" on 4th May this year. All tracks are dedicated to friends or family members, both past and present. So far, I've released 2 singles from the album and the last one, "Aunty Bulgaria" reached #37 in the Hypeddit Rock Chart, which I was very proud of. There's one track with vocals and being dedicated to my long suffering wife, I drafted in Cotswolds' legend Andrew James to record his amazing vocals. The remaining tracks are a mixture of electric and acoustic guitar instrumentals.
How many records, eps, or singles have you put out in total? How has the music changed over time?
Before my third album I just described, was "Friends & Family" last year. All tracks used acoustic guitar and no electric guitar. As my latest album, the music was dedicated to friends and family members.
My first album Skidderelectric was electric guitar only; rock, blues and jazz instrumentals, with (again) just one song with vocals. All tracks were based randomly on what I wanted to actually record at the time. For example, for the track O'Larso I just wanted to write and record a fairly heavy track with slide guitar.
What was one of your favorite gigs? What made it memorable?
Most definitely, playing the Cavern in Liverpool – both stages. A little while later on TV, Paul McCartney and Dave Gilmour were both on the same stage as I had played, only weeks earlier. Playing the Forum in Old Kentish Town was also fabulous – all the dry ice and our own changing room with a fridge full of Bud.
Advertise with New Jersey Internship for $50-$100 per month, click here for info
---
Where do you regularly play shows? Where would you like to play if you could?
Of course, gigging has been on the back burner with the pandemic, however I have tended to play live with other 'projects' or bands for most part. As I produce my own music, to an extent I have not limited myself so playing live is not straight forward. For example, to play live Masala Magic or Masala Rock, I would need an Indian Bhangra band! So when I start on my next and fourth album, "Feckem Hall", the tracks will be written and recorded with taking on the road in mind. In other words, "less produced".
What would be the "next step" that you'd like to see your career take?
As mentioned, I will be starting on my 4th album, Feckem Hall, shortly with a view to playing live more than previously. I'm still very busy promoting my latest album and I also undertake session guitar gigs. I am currently recording guitar for a writer called Kylolus who is going to release a prog-rock album.
You can also check out all my released music here – https://skiddersmusic.com/TM-fandfv2/
Finally, do you play any cover songs? Who would be an artist you haven't covered yet that you'd like to cover?
As a solo artist, I do not play any cover songs. However, in the duo Bukechialthough we have our own album of self penned songs (Welcome To Suburbia), Sammi and I love to play some covers as part of our set. In particular, KT Tunstall's "Black Horse and the Cherry Tree" is something special to us, as we played it on our very first gig.
I've also, as a different duo, performed Eric Clapton's MTV Unplugged songs which went down well. We called ourselves "Claptout & Acoustic" and was great fun. So as a solo artist, if I was to cover any songs, it would probably be Clapton's. However, as I've technically already covered his music, a new artist could be CCR / John Fogerty.
You can follow Skidders on TwitterFacebook, Instagram, YouTube, SoundCloud, Spotify, and Apple Music.
---
The Artist Spotlight series features interviews with artists and bands from around the world. If you would like to be considered for an interview, email info@thepenguinrocks.com and provide a link to your website or socials for us to check out. There is no cost to being part of the series. Interviews run at The Penguin Rocks and NewJerseyStage.com