NEWS | FEATURES | PREVIEWS | EVENTS
By Bruce Chadwick
originally published: 10/30/2022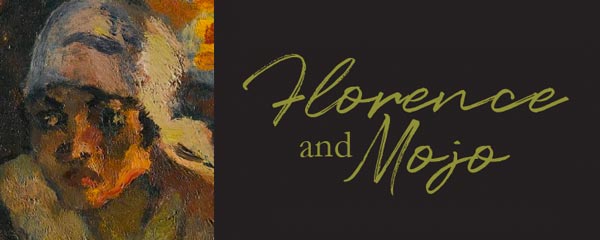 Alice Childress wrote plays, books and newspaper columns for more than 40 years and is considered one of the premier chroniclers on African American backstories, tales buried by time but tales priceless and emotion wrenching still. Bonnie Monte, executive director of the Shakespeare Theater of New Jerseyis always looking for unapplauded work and found two of Childress plays, Florence and Mojo, and combined them for a duo of plays. They opened last weekend at the theater, housed at Drew University, in Madison.
The first and shorter is Florence, the story of a black woman in a Deep South train station and what racism has done to her. The second, set later, in 1969, is the story of two divorced black people who come together, perhaps for the last time, and how they shape and reshape their lives. The first is a nice historical look at racism in a train station with "White" and "Colored" rest rooms and sitting areas. The second, "Mojo," is just what Monte was looking for, a wild and explosive play that rattles your brain and makes your body dimply shudder. The plays are, together, a great piece of theater and a stunning, mind boggling look not just at racism, but human emotion. They are also not just a look at life in the 1940s and 1960s, but today, too.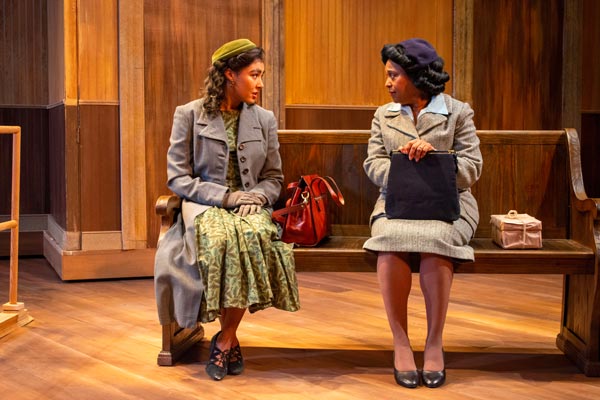 In the one act play Florence, a teenage girl takes her mother to a train station to board a train for New York to see a relative. The teenager tells the mother she MUST bring the relative back home to the South, where she belongs. The girl soon departs and a white women enters and engages the mom in a conversation about her trip to New York in the middle of an extended talk about race. In the end, mom has to decide whether the relative is better off in 1949 post-war New York or a small town in the Deep South that is simmering with racism, exemplified by the train station.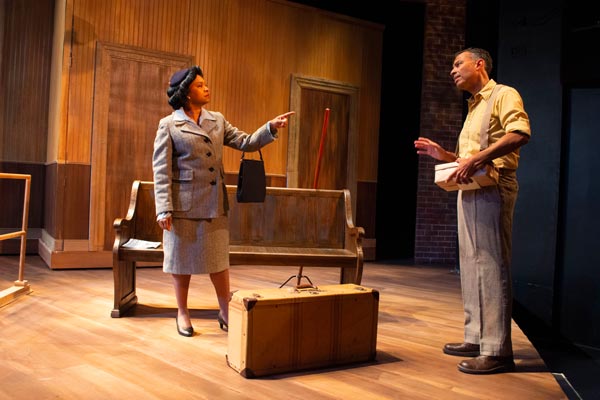 Florencethough, is the tea kettle with some fire under it, simmering slowly, getting the audience ready for Mojo, a much longer and deeper one act play about the re-union of the divorced couple. This play has a number of plotlines between the couple and could by a six part TV mini-series. Playwright Childress, though, to her credit, keeps all the plotlines together and still leaves you just breathless at the end of her story. Mojo is a small masterpiece of American theater.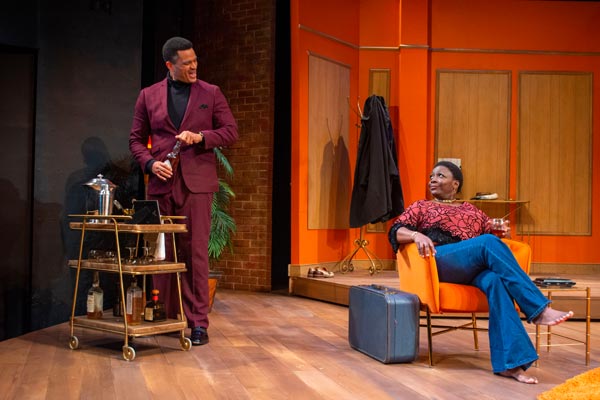 In it, professional gambler Teddy, a very tall, thin black man in his forties, is on the phone with his white girlfriend when his ex-wife, Irene, arrives, unannounced with really bad news. She is apparently very sick with cancer and wanted to see Teddy one last time. This charged, sweet memory moment disappears quickly when they begin to tell their story, one of tragedy. Irene tells Teddy that she wanted to have a child and targeted Teddy as the dad because of his good looks and virility. Teddy, though, thinks it was his personality. Then, unknown to Teddy, Irene gave the child away and has regretted that decision ever since. A stunned Teddy has to grapple with that as the story goes on.
Advertise with New Jersey Internship for $50-$100 per month, click here for info
---
The ex wife, Irene, never had the life she wanted and wound up cleaning toilets. Now, really scared about hospitals tests she needs to take pretty soon, she has decided to Africa, the birthplace of so many African-American who came to the United States. She is certain she will "find herself" back in Africa. She has scrapbooks and magazine on Africa that she shares with Teddy. He is in no hurry to go, but she has just about convinced him. He thinks, deep down, that going will cheer her up and maybe chase the cancer way, which of course it will not. That story dominates the rest of the play. In it, Teddy makes up a wonderful life story for his child, that Irene gave away. He tells Irene that she is beautiful and wonderful as she dances to some African drumbeat. Most important, he tells her that he always loved her. Will they go? Will the cancer go away? Will they be re-united with their child?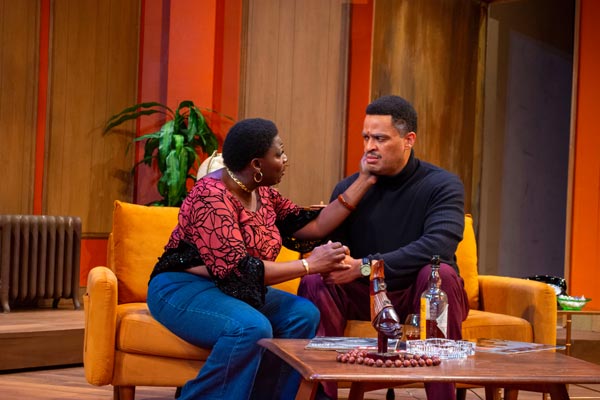 You sit in the theater audience at the Shakespeare Theater of New Jersey and you physically ache for this couple. They have had long lives already, and yet her illness, and their missing child, threatens to bring them down. It is a story like so many stories, black and white, in America. What will happen to Teddy and Irene? What will happen to all of us?
The play is so successful because the director, Lindsay Smiling, has done a fine job of wringing the character out of both people without letting the emotionally sizzling storyline slow up. You are there, on stage, in spirit, with the couple, cringing at the woes of their lives, ever fearful and yet ever hopeful.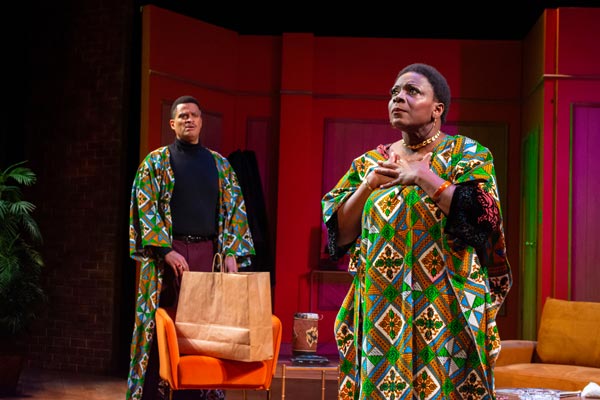 The director gets superb performances from Darlene Hope as Irene and Christ White as Teddy. In the Florence story, also directed by Smiling, there are stellar performances by April Armstrong, Eric Steven Mills, Carey Van Driest and Billie Wyatt.
These two plays show life, good and bad, and always attempted, in the Deep South in the 1940s and New York in the 1960s. The problem with the plays is that the troubles people faced in those eras is still here today and I'm sure playwrights will write about our problems today, too.
Don't miss this one – it is terrific.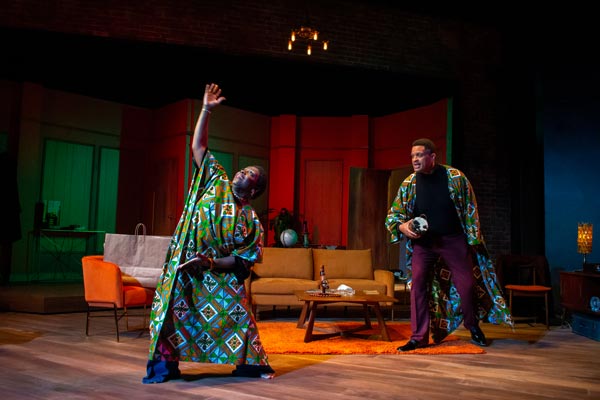 Florence and Mojo runs until November 13th at the Shakespeare Theater of New Jersey. Click here for ticket information.
PHOTOS BY SARAH HALEY
---
Bruce Chadwick worked for 23 years as an entertainment writer/critic for the New York Daily News. Later, he served as the arts and entertainment critic for the History News Network, a national online weekly magazine. Chadwick holds a Ph.D in History and Cultural Studies from Rutgers University. He has written 31 books on US history and has lectured on history and culture around the world. He is a history professor at New Jersey City University.
---