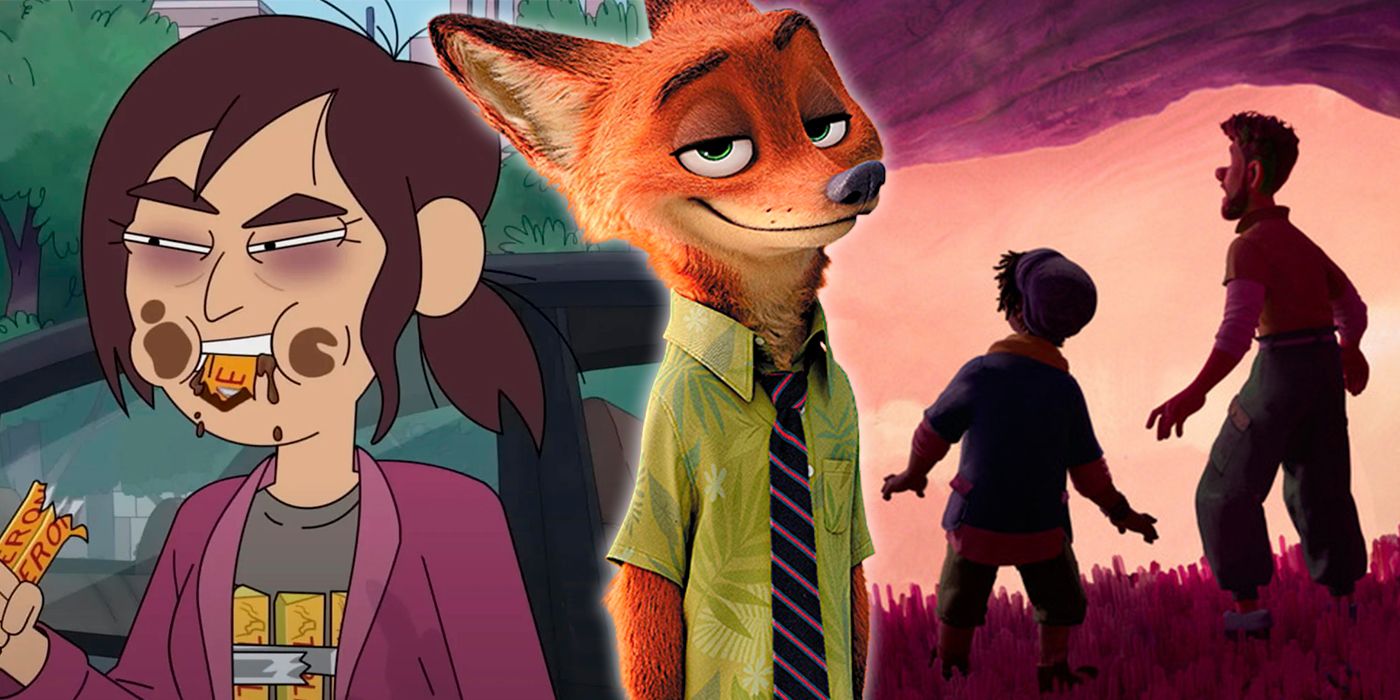 Halloween is over, and the inevitable push into the Christmas season has already begun. Many streaming services are already rolling out their holiday lineup, but that doesn't mean there isn't new animated material to watch in November. In fact, November will see the launch of several new movies and seasons of animated programs that look promising.
Now's the time to take a breather between Halloween and all the end-of-the-year holiday celebrations. Sweater weather is unfolding, bringing the urge to curl up and be cozy on the couch with a cup of something warm, a snuggly blanket and engaging shows. Unpack the cozy socks and get ready, as here are six of November's new animated options.
RELATED: The Best New Shows on HBO Max (November 2022)
Netflix Finally Releases The Dragon Prince Season 4 After a Three-Year Hiatus
It seems like it's taken forever, but Season 4 of The Dragon Prince is finally coming to Netflix. Its slightly unconventional yet vibrant animation style and the active plot make it an engaging watch for younger and older viewers alike. Full of magic, political divisions, danger and friendship, The Dragon Prince follows two princes from opposite sides of a divided world as they try to right wrongs and unify their splintered world.
Like so many times in real life, The Dragon Prince is full of good intentions gone awry, and Season 4 looks to showcase one of the masterminds pulling the strings from behind the scenes. The character of Aaravos has remained mysterious up to this point. But season four promises to shed light on who he is and what his motivations are. But it isn't just about finding out what Aaravos is after, as fans have been waiting for three years to see what's become of the dragon Prince, Ezran, Callum and the elf, Rayla.
Watch The Dragon Prince Season 4 on Netflix Nov. 3.
RELATED: Dragon Prince Season 4 Clip Confirms Rayla's Return, Reveals Aaravos' Origin Story
Zootopia+ Offers a Peek at the Lives of Zootopia's Residents
Disney is no slouch when it comes to introducing viewers to detailed worlds within its animated films. Most features are packed full of world-specific details along with dozens of Easter eggs as the media giant pokes fun at its own catalog. The world of Zootopia was a prime example of this.
When Judy Hopps took her first ride into the city of Zootopia, the scenery was nearly as overwhelming for viewers as it was for the country bunny. The city was divided into several ecosystems catering to the sort of animals that might live naturally in such conditions. And it was obvious from the peek the viewers gained that each ecosystem was teeming with its own stories. That is where Zootopia+ pick-ups. Fans will be treated to a series of shorts highlighting the goings-on of Zootopia's residents.
Watch Zootopia+ on Disney+ beginning Nov. 9.
RELATED: Disney's Disenchanted Trailer Welcomes Amy Adams Back as Princess Giselle
My Father's Dragon Brings a Beloved Children's Classic to Life
Many children's books have found themselves animated. That can result in absolute magic as favorite characters come to life. Generations of children and their families have been entertained by adaptations, such as The Many Adventures of Winnie the Pooh. But there's always a risk. A children's book doesn't always pack enough of a plot to support a full-length feature. And sometimes, beloved artwork doesn't translate to the screen well, resulting in a tragedy of a film.
If the trailer for My Father's Dragon accurately reflects the film, then failure to engage audiences shouldn't be an issue. Aimed at children, this is one the whole family can watch together. And the message of personal strength, despite being small, is excellent, and the animation is colorful and engaging. Elmer's adventure to save Boris the dragon and his island home definitely holds promise.
My Father's Dragon debuts on Nov. 11 on Netflix.
RELATED: REVIEW: My Father's Dragon Serves up a Sweet-natured & Simple Storybook Tale
Netflix Is Dropping Part 2 of the Adult Comedy Inside Job
While much of November's list is weighed toward the family side of animation, and with the upcoming family-oriented holidays, it makes sense that there are still some good choices for adult viewing. Netflix's InsideJob is definitely not for kids. In the same vein as family guy, InsideJob is part of a burgeoning market of animation just for adults.
InsideJob is a ludicrous take on conspiracy theory and who's pulling the strings of the world. Part 2 opens the door from ridiculous to full-on dysfunctional as Reagan's dad takes over overseeing the world's conspiracy theories. Take an already difficult task full of bizarre co-workers and add an irrational man with a chip on his shoulder, and the show promises to be entertaining.
Catch Inside Job on Netflix, airing Nov. 18.
RELATED: Disney Debuts Strange World Trailer, Jake Gyllenhaal's Generational Sci-Fi Adventure
Disney Kicks Off the Holiday Movie Season With Strange World
Disney has used the end-of-the-year holidays to launch their animated features for years, and 2022 is no exception. Returning to the previous tradition, Strange World will launch exclusively in theaters, and fans will have to wait before catching the film on the Disney+ streaming service. But for those who previously joined in the tradition by viewing Disney movies in the theaters with family as part of the season of togetherness, perhaps this is a fun throwback.
And what better way to dive back into family traditions than a movie about family and legacy? Strange World follows three generations of explorers as they struggle to save an alien world. The film promises a blend of familiar flavors that looks a little bit star treka smidgen of Avatar and some Moana thrown in, too. The animation itself is very Encanto and Lightyearso for those who enjoy that style, Strange Worlds keep it going.
Catch Strange World in theaters starting Nov. 23.