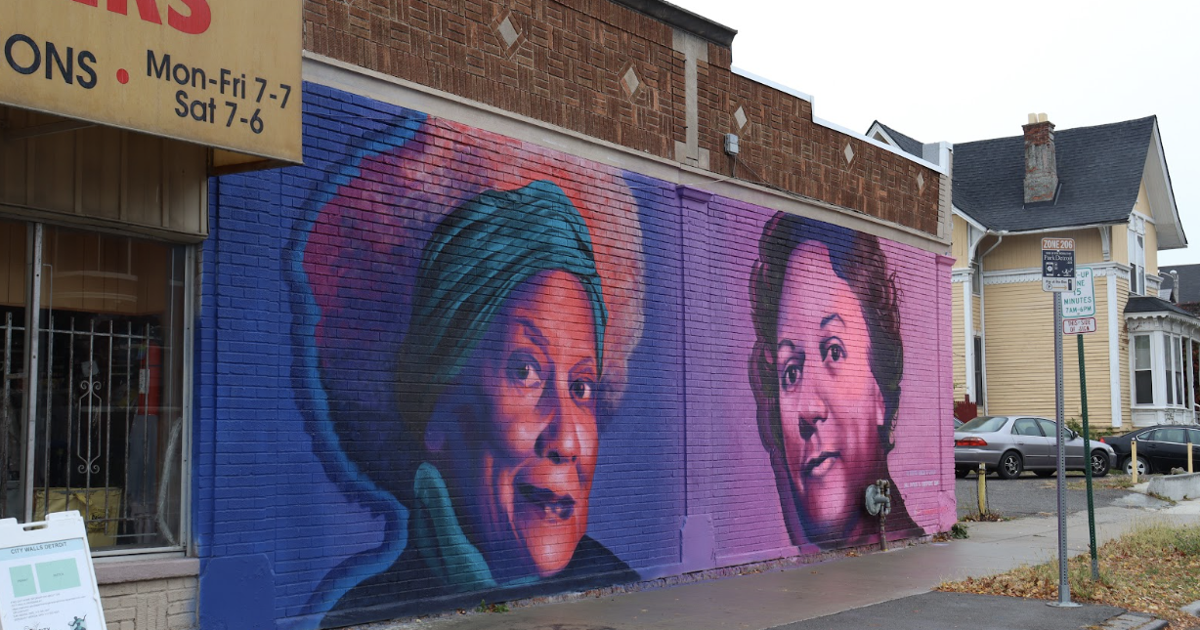 A new Cass Corridor mural pays tribute to Black entrepreneurs Josephine Harreld-Love, who died in 2003 at 89, and Dell Pryor, 94, for their contributions to Detroit's art scene.
Located at the corner of Cass Ave. and East Forest Ave., the mural was unveiled on Sept. 30 as part of the nonprofit project "To Whom Much is Given." The project's mission is to celebrate Your Heritage House co-founder Josephine Harreld-Love and art curator Dell Pryor and their impact on the city.
"To Whom Much is Given" founder Malika Pryor is Love's cousin and Dell Pryor's granddaughter said she created the nonprofit in an effort to create a visual representation of her grandmother and cousin.
"During (my time working at the Charles H. Wright Museum of African American History), I was asked 'where were the works and legacy of Josephine Love?' It got me thinking something needed to be done to celebrate and acknowledge Josephine (and Dell) in a visible way," she said.
Detroit artist Ijania Cortez was asked to paint the mural because she is a friend of the Pryor family. Cortez said she wanted to represent the significance of both Pryor and Harreld-Love to the Detroit art community in the mural.
"I know and love Malika Pryor's aunt Sharon, who had a shop on Cass adjacent to Dell Pryor's gallery. She recommended me and Malika reached out and I said of course," Cortez said. "Their (Harreld-Love and Pryor) influence is more than inspiring, this was something they both dedicated their lives to, and they did it from a place of love."
Cortez said her use of vibrant colors symbolized the radiance that black culture exudes.
"The neon in my paintings represents culture," Cortez said. "In short, I believe that black people in America have an inner glow that's organic because of the culture we create."
Dell Pryor opened her first art gallery, "Dell Pryor Gallery," in Midtown in 1975 and helped launch the career of hundreds of emerging Detroit artists, Malika Pryor said.
"Pryor had a willingness to lean into emerging artists, and provide a world class space for artists who weren't even considered at other established galleries," she said.
Dell Pryor was recently invited to sign a beam at Detroit's Scarab Cluba tradition upheld by the Scarab Club since it's opening in 1928 to honor the artists who made a lasting impression on the city, according to The Detroit News.
Harreld-Love passed in 2003, after more than 30 years of teaching Detroit children sketching, painting and coating ceramics at her foundation, Your Heritage House.
Malika Pryor said Harreld-Love believed in respecting youth and the vision that they were taken seriously as artists.
"She perfectly balanced the approach of taking children seriously and not treating them like little adults," said Pryor.
Rick Sperling, founder of Mosaic Youth Theater of Detroit and YHH alumni, said Harreld-Love's dedication to her students left a lasting impression on him.
"Josephine would settle for nothing less than the very best artists to work with her students," Sperling said. "Her influence on me when I was first starting Mosaic was profound and is baked into Mosaic's motto 'Only the Best, Nothing less…'"
In collaboration with the mural, the Charles H. Wright Museum has opened a "To Whom Much is Given" exhibition on Oct. 1 that runs through Dec. 31.
The museum will hold a Wright Family Fun Day workshop on Nov. 12 and a jazz performance and panel with Pryor and featured artists on Dec. 15 in addition to the exhibit.
The three-part exhibit acknowledges different times in both women's lives and the ways they impacted the community, Malika Pryor said.
The first portion of the exhibit focuses on the women's early lives, the second puts the spotlight on their businesses and artworks and the last piece speaks to their legacies.
Cortez said Love and Pryor inspired Detroit artists through their love-powered dedication to the community.
"Their influence is more than inspiring, this was something they both dedicated their lives to, and they did it from a place of love," said Cortez.
Malika Pryor said she hopes "To Whom Much is Given" pushes against the notion that Detroit's art and culture scene appeared in the 21st Century.
"So often in communities where young people have been disconnected from their local histories and local stories and can sometimes feel as if you come from a place that hasn't done anything special," she said. "That is just not true. I want the next generation to know they are part of an incredible story. Detroit is a city that is rich and filled with great human beings."
---
Domonique Russell is a contributing writer for The South End. She can be reached at dz5270@wayne.edu.
Cover photo provided by Jackson Meade, The South End's multimedia editor. He can be reached at multimediaeditortse@gmail.com.
.