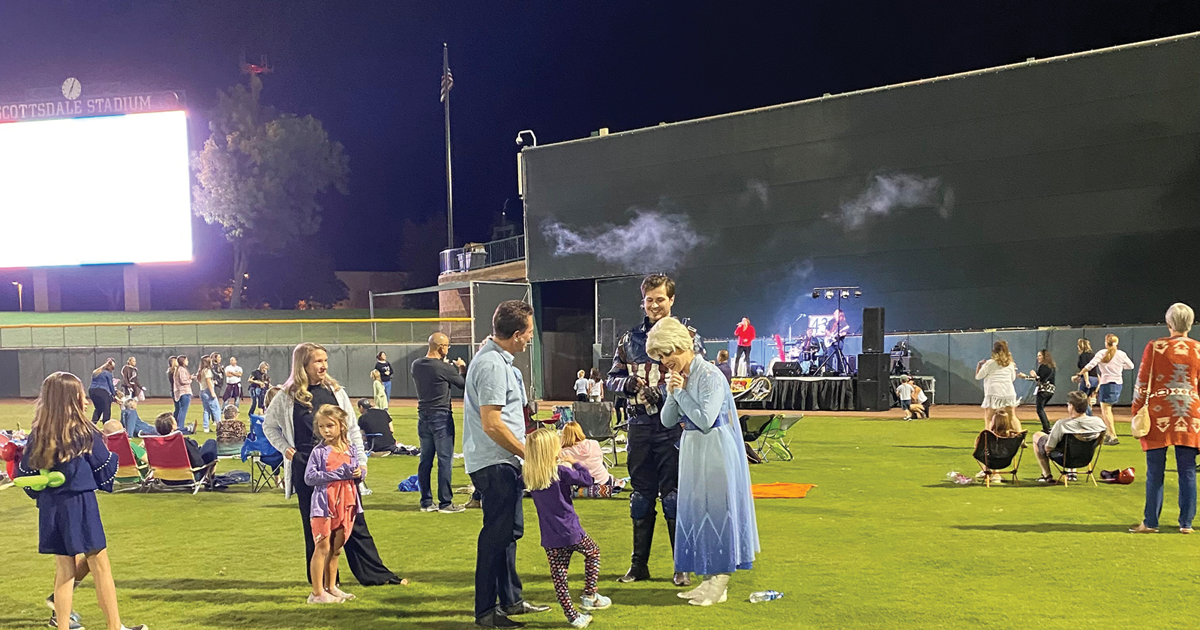 Falling on the heels of a successful celebration last year, the Scottsdale Public Library system is bringing back its annual cardholder celebration and concert.
This year, the fanfare falls on Saturday, Nov. 5, at Scottsdale Stadium, where library cardholders can enjoy food, drinks, games, and live music performed by Uncorked the Band.
"This event is more of a celebration for people with library cards," said Scottsdale Public Library community engagement and outreach coordinator Jennifer Wong-Ortiz, "So we offer a free concert and activities and games for the whole family and all you need to get into the concert, and the event is to show your Scottsdale Public Library card."
The library hosted a similar event last year to ramp up Library Memberships and say thank you to existing cardholders and Wong-Ortiz says the event received rave reviews.
"A year ago, we were trying to get the word out to the public and the community that Scottsdale public libraries are still around," she said. "We really wanted to try to convince (people) we're still relevant and we're still in the community so, come get your library card, because we have so much to offer."
So began a three-month campaign spanning from September to November of 2021 to garner as many memberships as possible.
"We did a big push to get people to sign up for a library card to encourage them to use the library and we thought it'd be great to have a culminating event in addition to all the wonderful things that you can get with your library card," Wong-Ortiz said.
The goal was to sign up 2,000 people over the three months and the library shattered that goal, signing up nearly 3,000 for cards.
Its cardholder event also saw nearly double the number of attendees the staff expected at Scottsdale Stadium.
"We weren't quite sure how many people would want to come so we hoped for maybe 300 People at the event," Wong-Ortiz said. "We got about 600. So, we consider that a success."
Building on last year's success, Wong-Ortiz says that the library is sticking to a lot of the staple events that made last year's event a hit like – including family-friendly dance music by a live band, face painters, and the crowd-favorite balloon artists.
"We were trying to find somebody that had both family-friendly tunes and provided a rockin' dance sound because we know people like to get up and dance," Wong-Ortiz said.
"Uncorked the Band came up and we looked at their setlist and it's an eclectic mix of 90s and today's dance classics. So we thought, 'that's a lot of fun and it should get a lot of people up and hopefully moving, and dancing.'"
However, the event is sandwiched between two large events down the street from Scottsdale Stadium throughout the day and Wong-Ortiz admitted she and the rest of the organizers are mindful of that.
"In the morning, the Senior Center is also having their huge arts and crafts fair as well and there's a lot of stuff for that particular Saturday but we were just hoping that people come on over to have some fun with the band, get food and then maybe transition and go to Canal Convergence," Wong-Ortiz said.
"It's kind of a smooth condition from concert to the over at canal convergence."
Whether people stick around for the whole event or use it as a stop on their way to the canal, Wong-Ortiz hopes to attract a crowd and underscores that even if people don't have a library card before getting in event, they can purchase a card at the stadium.
"Those who do not have library cards can get a library card between now and then by visiting any of our Scottsdale public library branches, or they can go online and get a card there," Wong-Ortiz said.
"But if they don't have their card and they just show up, we have the ability to make cards for them before the concert starts because we'll be on-site making hybrid cards. All they need is an up-to-date driver's license."
.