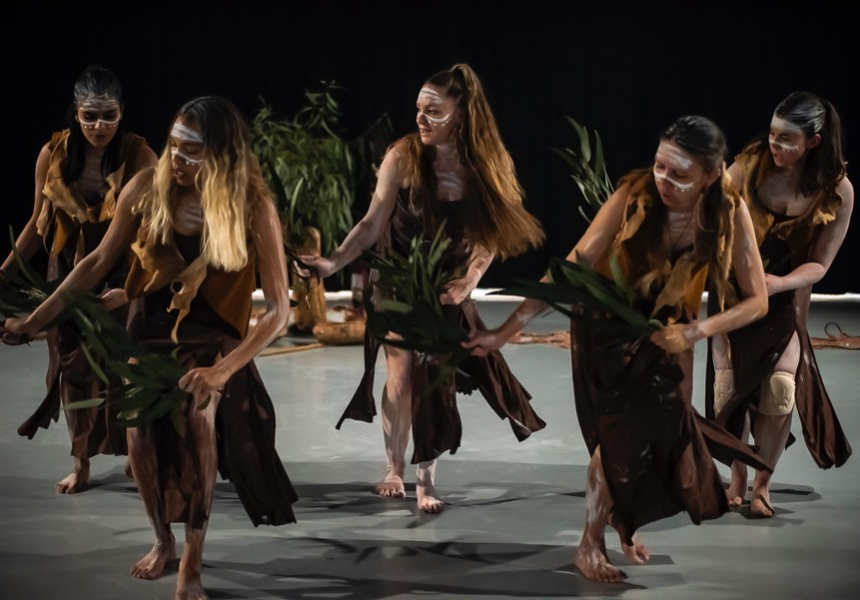 For Jacob Boehme (Narangga/Kaurna), the role of director of First Nations Programs at Carriageworks is about more than just art.
"I saw an opportunity for change and an opportunity to really remind people of the history of this place," says Boehme. "It's not just got a huge industrial history relating to Redfern as an Aboriginal space, but also as a sovereign space where Aboriginal people lived, worked, dreamed, made art, and loved for thousands and thousands of years."
Boehme is a well-established figure in Australian theater and choreography, but the new Carriageworks program is broad in its purview; it combines performance and entertainment with community gardens, markets and public forums. Emerging out of the pandemic restrictions of the past few years, Boehme's program aims to look at the future with optimism while still acknowledging the past.
"In '72, there were two distinct and very influential events that happened that's guided Blak politics and the Blak arts for the past fifty years," says Boehme. "We had the tent embassy and we also had the establishment of the National Black Theatre, and both came out of Redfern. For the first program I can deliver, it seemed appropriate that I acknowledge the place, where we stand [and] the position we're in by going, 'Well, here's what the last 50 years has been like,' [but also asking]'What's the next 50 years going to look like?
First Nations Program
The big ticket items on the calendar this year are a triumvirate of events called Party, Protest, Remember, which kicked off with Remember on October 6.
"Remember was about acknowledging the history of the establishment of the National Black Theater and of the black power movement in Redfern, and the relationship between politics and art," says Boehme. "Darlene Johnson made a documentary about all of that back in 2014, so we asked Darlene if we could screen her film and we opened the series with that."
Party and Protest are both scheduled for November 12. Protest takes the form of a citizens' assembly led by Torres Strait Islander author Thomas Mayor, at which community members can come together to discuss the proposed Voice to Parliament referendum.
"What we want is for people to have more of an understanding on what their position is, on what's on the table from both sides of the argument, so they can make informed decisions, and really, for Australians in general to re-engage with the democratic process," Boehme says.
With Party, the goal is to showcase Blak excellence and the future of Blak arts in Australia.
"Yes, our Black Theater has a history of being political, but we as a mob are just deadly funny and we also know how to throw a party, and after three years of uncertainty, do we need an excuse for a party?" Boehme says.
Besides being a big bash, Party will show off a huge spectrum of First Nations artists in a carnival-style setting.
"The whole party is being hosted by local drag icon Nana Miss Koori and she'll be joined by [other] local First Nations drag queens Destiny Haz Arrived, Josie Baker and Maria Kenny," Boehme says. There'll also be performances by Fringe Dwellers, Elaine Crombie, Eric Avery, Tim Gray, Troy Russel and Gee Whiz.
Besides Party, Protest, Remember, the program also boasts the Southeast Aboriginal Arts Market, which will feature traditional weaving, a panel discussion and native cuisine from Warakirri by Indigiearth, while a First Nations garden has already been planted.
"We worked with Open Life Designs and Imbue Studios to bring Indigenous plants that would have been growing in abundance here 230 years ago," says Boehme. "Elders from the Wyanga Aboriginal Aged Care services and kids from Redfern Jarjum College – they came and planted the garden."
Register to attend Party, Protest, Remember here.
Broadsheet is a proud media partner of Carriageworks.