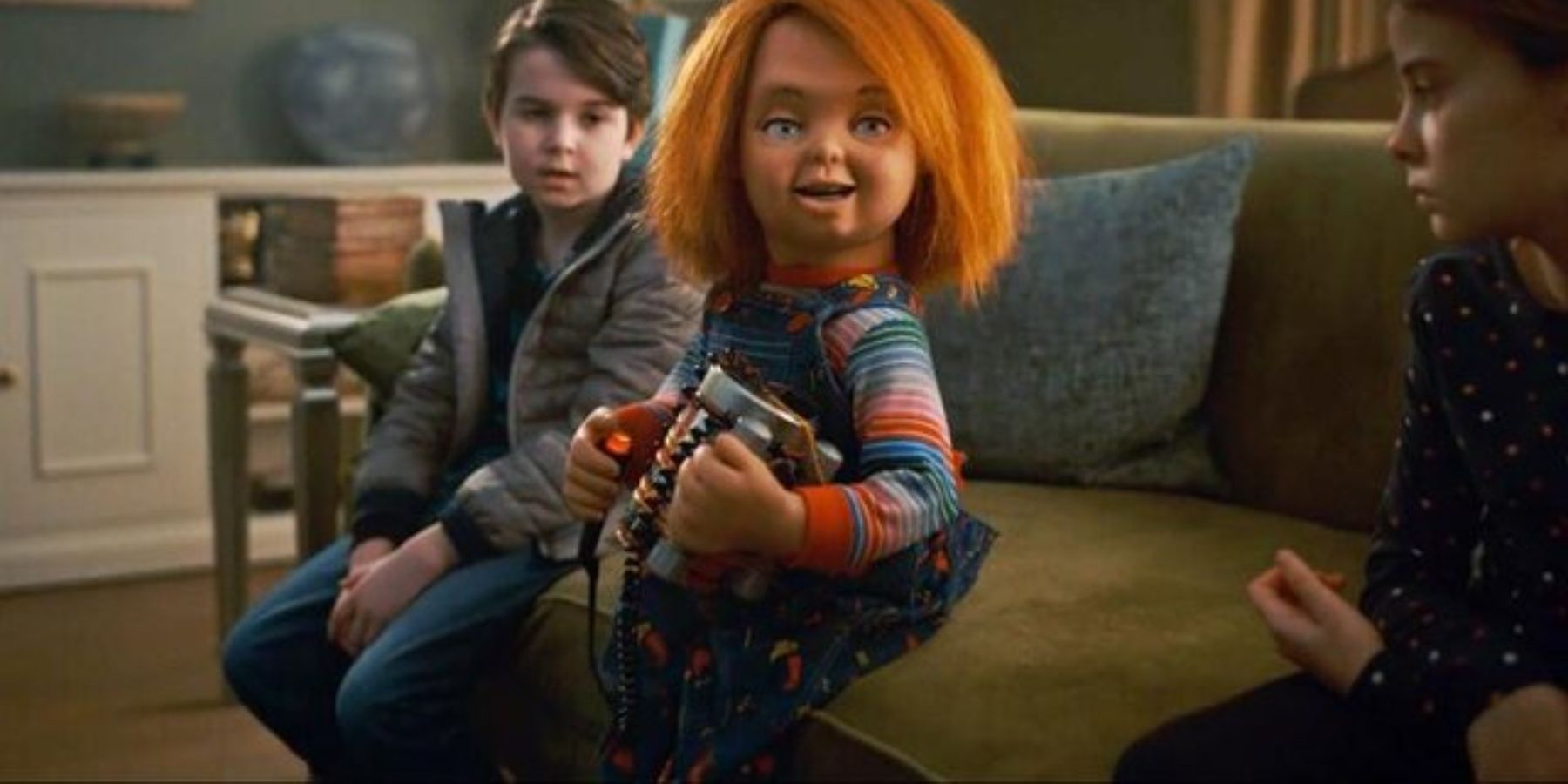 Season 2 of chucky is currently airing on SyFy and continues the story of Jake Wheeler's (Zackary Arthur) fight against the murderous doll. Jake's sweet relationship with Devon Evans (Björgvin Arnarson) and their friendship with Lexy Cross (Alyvia Alyn Lind) is also a focus of this second season, and the premiere episode alone has hilarious and scary moments.
As fans Child's Play tune into the TV show and enjoy watching Chucky, it's hard not to compare this version to the movies that came before it. Is the chucky TV series even better than the movie franchise? Do these episodes offer up something that the movies don't?
RELATED: Fans Of Chucky Need To See These Killer Toy Movies
M3GAN and Chucky are fighting on Twitter and the upcoming Blumhouse 2023 horror film has renewed interest in the timeless killer doll Chucky. There are so many reasons to love the Child's Play franchise, and fans most likely turn to it again and again because of the sense of humor that the character always has. While the movies are campy and enjoyable, it's possible to say that the TV show is superior.
Tea Child's Play horror movies combine the supernatural and slasher genres, but the TV series features better and more fleshed out characters than the franchise. While Andy Barclay (Alex Vincent) is one of the best kids in a horror movie, and watching him spend his entire life trying to escape or battle Chucky is perfectly entertaining, the other characters fall flat. In contrast, the TV show has a fantastic cast of characters in Jake, Devon, and Lexy, along with their family members and the other people who they interact with.
Season 2 deepens the character development even just in the first episode. Viewers see that Jake and Devon are doing their best to keep up a long-distance romance while they are living with different foster families, and their love for each other is special and memorable. When Jake and Devon team up with Lexy once again to fight Chucky, it's hard not to feel badly for Lexy. Once a mean girl who tormented the others, Lexy is now grieving her dad's death and struggling with a drug addiction while she tries to move on from what Chucky stole from her.
In order for chucky to be successful, fans wanted to see Andy again, and the show does a good job showing what a life of dealing with this killer doll has done to him. But the show makes sure to focus on the new characters as well, which is the right call. Jake and Devon are each fully formed and bond over a love of true crime in season 1, and in season 2, it's clear that they have a wonderful relationship because they allow each other to be themselves.
chucky is also a strong TV series because the episodes go beyond the "Creepy Doll" trope. While these toys commit murder and are responsible for strange happenings in many movies, Chucky is hilarious and incredibly chatty. The TV show continues the tradition of Chucky loving to crack jokes and make sure that his victims listen and pay attention to him. In the season 2 premiere called "Halloween II," Andy drives a truck full of Good Guy dolls. In an unforgettable and fun scene, the dolls use their knives to break out of their boxes and descend on Andy, who has to figure out a plan quick.
No other horror movie doll has the sense of humor and quick wit that Chucky has. Horror movie dolls are usually scary instead of being funny. Chucky turns cliches on their heads and laughs before killing people, which is always shocking even though fans are used to him by now. Chucky is impressively brutal and relentless in the film franchise, but he might be even more playful in the TV series. Chucky manages to put Jake and his friends in truly terrifying situations while also being a delight to watch, and that sets him apart.
The tone of the chucky TV series is perfectly creepy but also as silly as the movies. But because the episodes are also emotional and about characters dealing with love, friendships, and family, the show adds something extra to the slasher franchise. Jake is scared of Chucky, just like Andy has been, and it's clear that Jake's life will be marked by this experience just like the original character's has been. But fans see Jake's love life, his desire to have a real family after so much loss, and his wish for acceptance. Jake is a well-written character and that's what makes the show so special. It seems like chucky could endure for several more seasons as the show definitely has characters who fans want to spend time with.
NEXT: This Forgotten 80s Slasher Movie Is Perfect For Chucky Fans