If you're looking for Instagrammable Dundee venues to grab a bite to eat in and take the perfect picture, put these places on your must-visit list.
From the trendiest (and brightest) beer garden in the city, to a restaurant full of bling and sophisticated murals, your social media feed will be packed with great content.
Eating out isn't just about the food now, it's also about the full experience, and that includes the decor, too.
Quayside Bar and Grill in Dundee's Apex City Quay hotel was recently named as the UK's most Instagrammable venue in a study which picked out the top 20 most photogenic venues around the country. It was the only Scottish firm on the list.
While it maybe didn't make our list, if you do like taking pictures of good looking food with a good looking background, then be sure to visit one of our recommended Instagrammable Dundee venues below.
If you like our suggestions then be sure to check out our other recommendations of must visit venues here.
---
Wrecking Ball Donuts
We're kicking off the most Instagrammable venues in Dundee with Wrecking Ball Donuts on Exchange Street.
If the neon sign outside doesn't stop you in your tracks, the funky interior will. The 'we came in like a wrecking ball' mural on the back wall is a great backdrop, as is the black and pink tiling.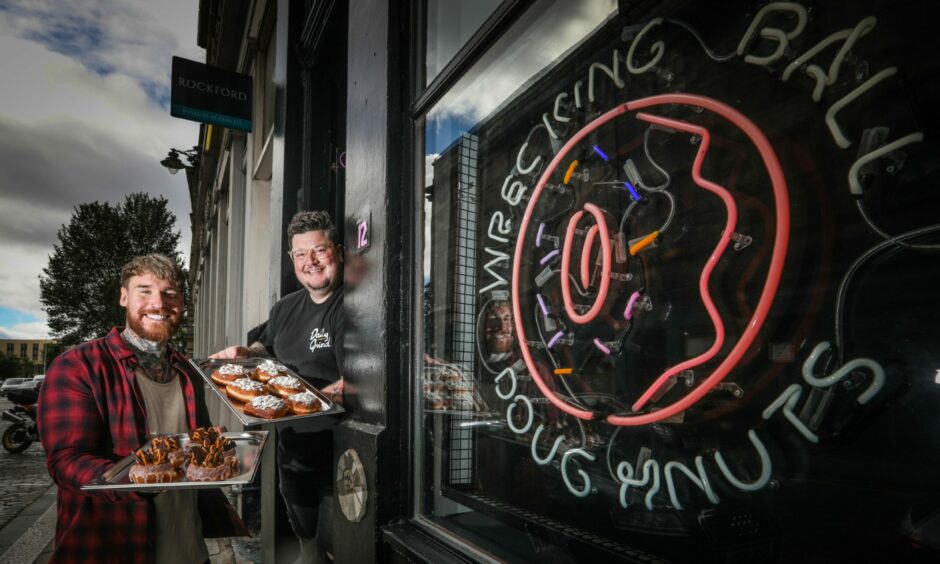 That's not forgetting the beautiful donuts you'll be able to snap pictures of.
They are freshly baked and on display in a glass counter for customers to salivate over and take pictures of.
If that hasn't convinced you, the taste of their ring donuts or chocolate oblivion filled donut definitely will.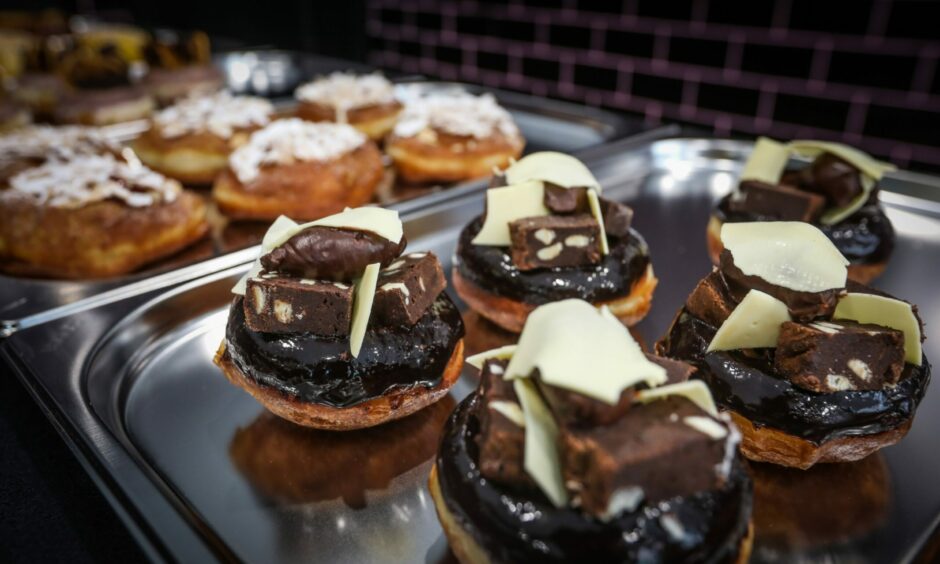 Opening times: Friday to Sunday, 10am to 5pm
Address: 12 Exchange Street, Dundee DD1 3DL
---
Daily Grind Coffee Co.
Directly next door and owned by the same company is Daily Grind Coffee Co. which serves a mixture of breakfast and lunch dishes, desserts and great coffee.
The interior of this venue is decorated with colorful art, drawings, neon lighting and funky graffiti style designs.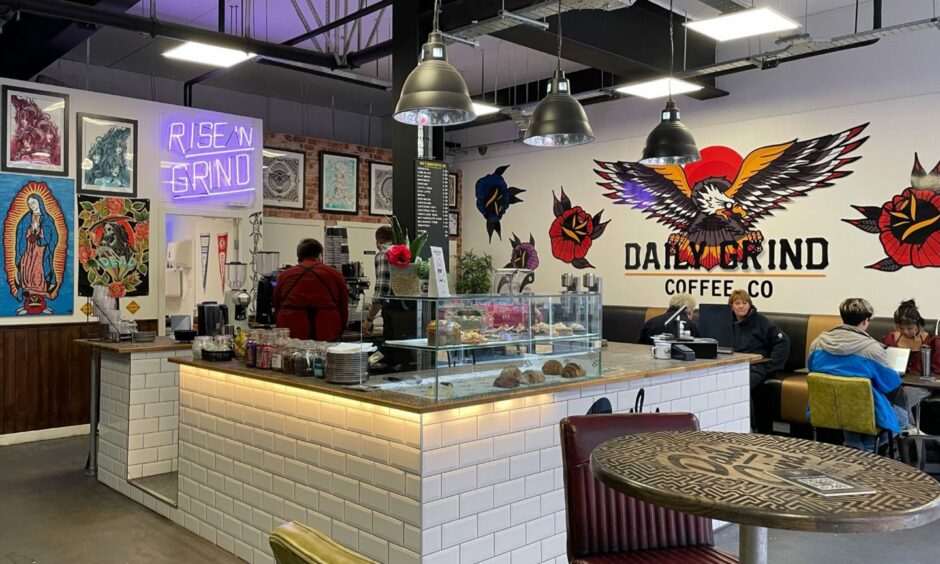 This place will give you some of the most colorful punk-inspired Instagram shots with food that is just as vibrant.
From their loaded mac and cheese fries to banoffee French toast stack this place is known for their deliciously dirty food offering and is somewhere a real foodie needs to try.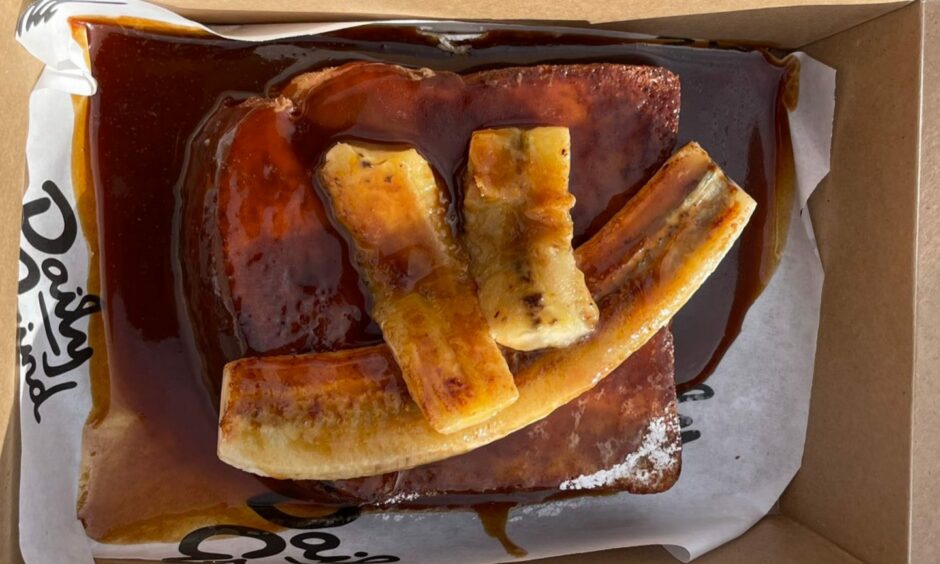 Opening times: Monday to Saturday from 8:30am to 5pm, and Sunday from 10am to 4pm
Address: 18a Exchange Street, Dundee DD1 3DL
---
The Giddy Goose
If it is foliage and flowers you are after, The Giddy Goose on Perth Road is your best bet for an outdoor seating setting that is sure to blow up your social media feed.
With a decorated beer garden area, customers can choose to enjoy their food and drink outdoors during the summer or cooler months, too.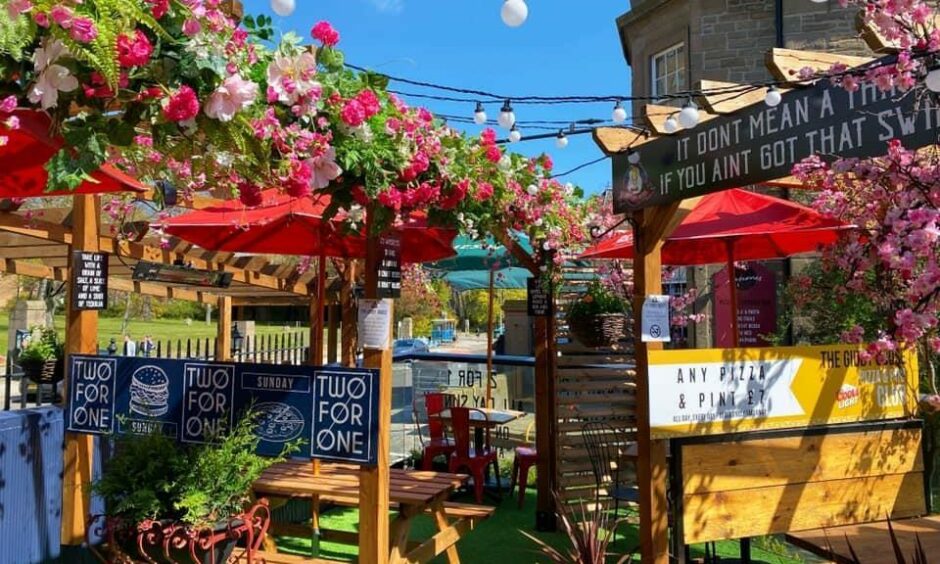 The interior inside is just as snazzy as the exterior which means your photos are bound to transport your followers far away from the serenity of Dundee.
If you visit, be sure to try out their burgers. I have also heard they make great mocktails and cocktails.
Opening times: Sunday to Thursday from noon to midnight, Friday and Saturday from noon to 1am
Address: 2 Perth Road, Dundee DD1 4LN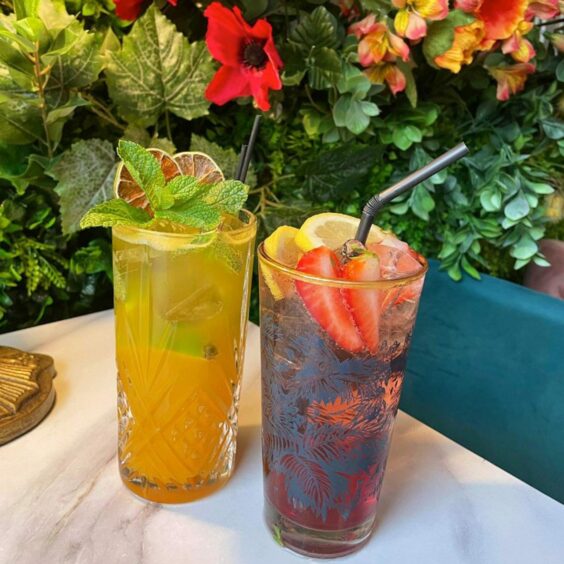 ---
Oshibori Authentic Japanese Restaurant
Stunning doesn't do justice to the interior of Oshibori Authentic Japanese Restaurant on Nethergate.
From the massive chandeliers to the flowers and chairs designed with gold, this place really gives you that wow factor from the moment you step through the door.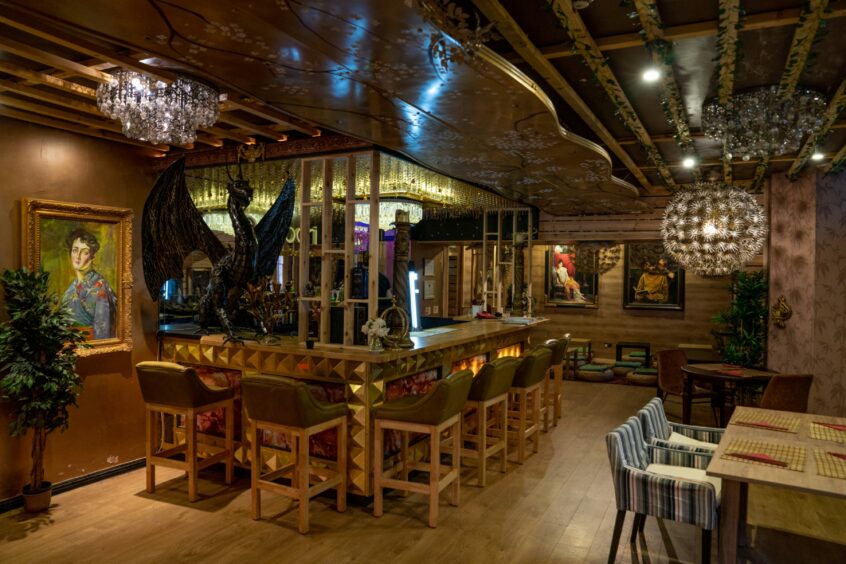 The grand appearance is matched with beautifully served Japanese food and is some of the best sushi you can find in town.
If you are looking for an intimate dinner spot with plenty of pizzazz Oshibori will not disappoint.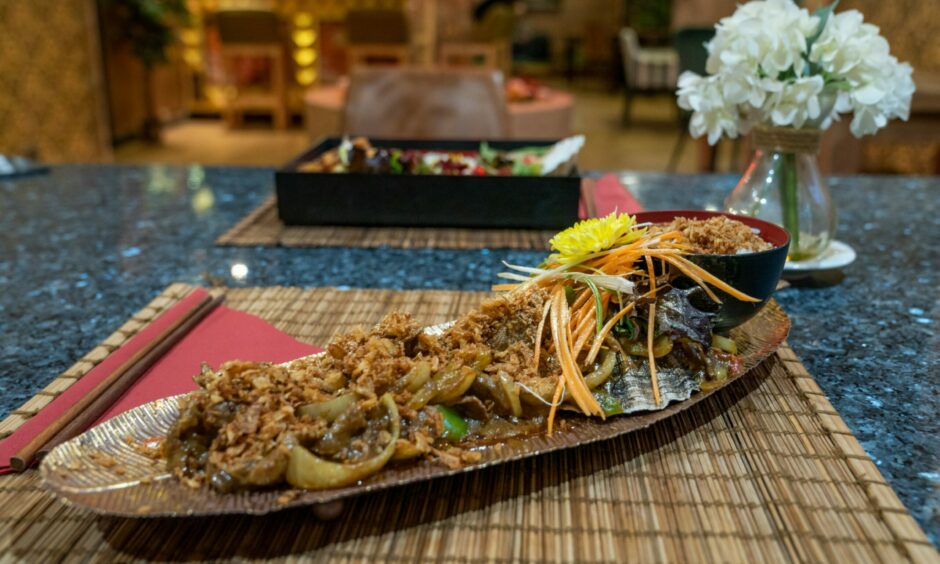 Opening times: Monday to Saturday from noon to 3:30pm and 5:30-10pm, Sundays from 5:30-10pm
Address: 162 Nethergate, Dundee DD1 4EE
---
Agacan Turkish Restaurant
With Dundee having so many Turkish places to enjoy, one place which stands out for both their food and interior is Agacan Turkish Restaurant on Perth Road.
With the amount of color in this venue your Instagram photos will never be boring.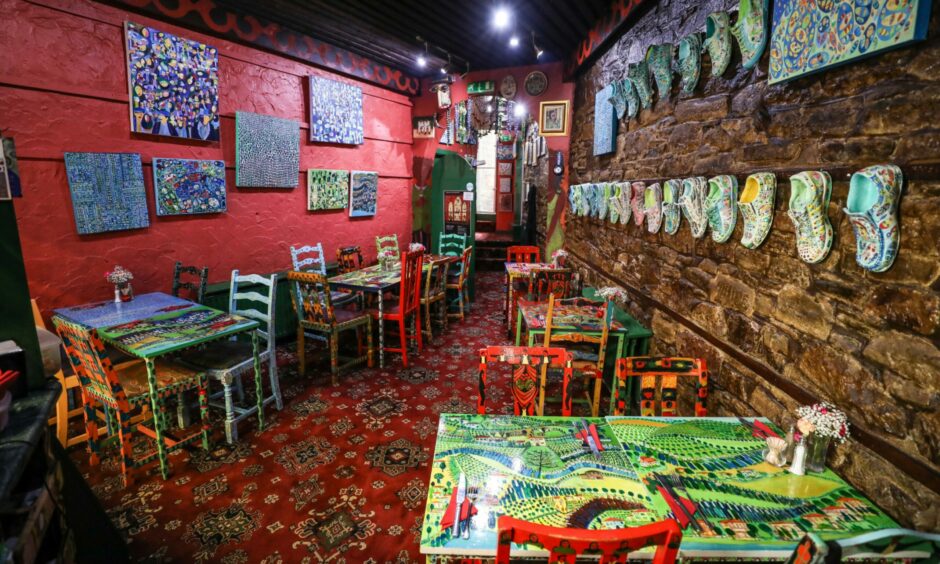 The funky art on the walls really sets the tone of this venue as a place to kick back and enjoy the explosion of wonders.
As for the food, it is a must-try if you are visiting the area or if you are looking to impress guests visiting from out of town.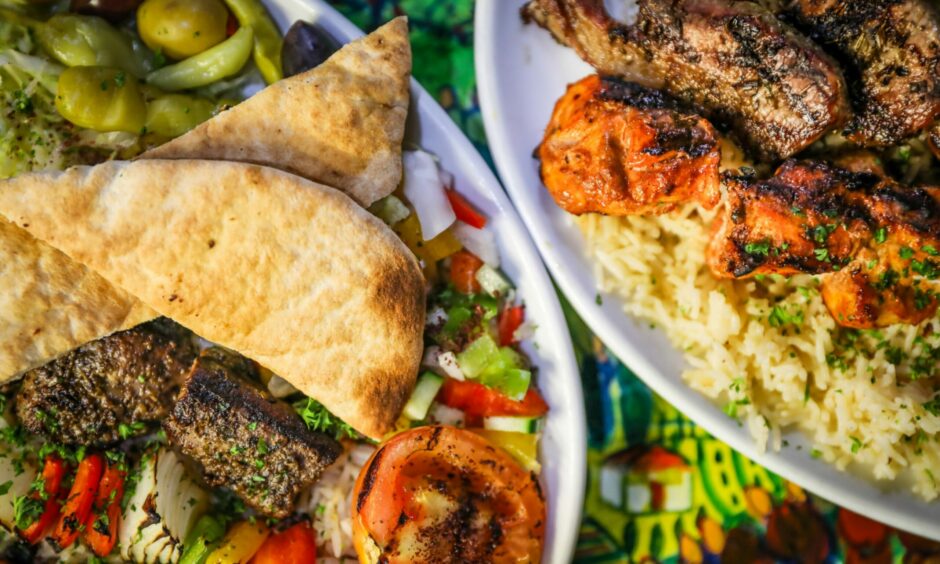 Opening times: Thursday to Sunday from 5-9pm
Address: 113 Perth Road, Dundee DD1 4JB
---
The Selkie
One place that is perfect for a girls night out or party celebration is The Selkie on Exchange Street. available for individual bookings and private hire, they also run a Sunday brunch event that is well attended and in-demand.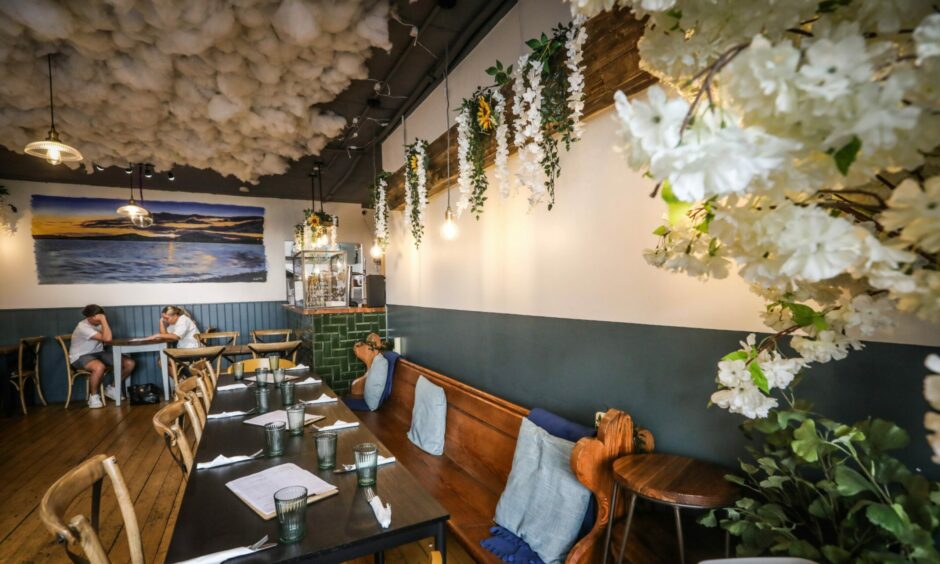 With flowers around the walls, a cloud-like installation that changes color on the ceiling and an art mural painted on the back wall of the River Tay, this venue is a beautiful location for some fun.
And with a cracking Tapas Tuesday offering, you can enjoy a mixture of dishes for between £2 and £4 with flavors inspired by Spanish food.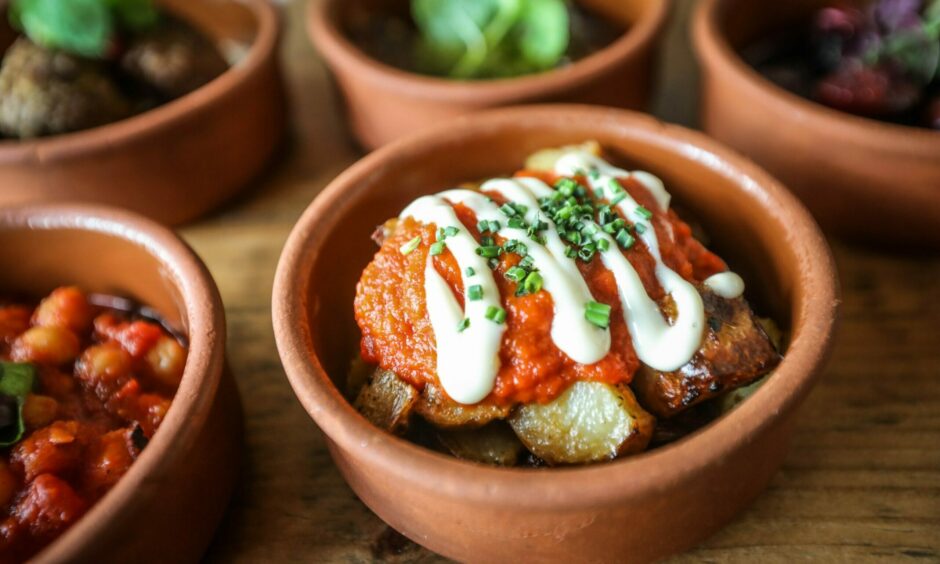 Opening times: Monday from 9am to 5pm, Tuesday to Saturday from 9am to 9pm and Sunday from 11am to 6pm
Address: 27 Exchange Street, Dundee DD1 3DJ
---
Casa Dundee
Last on our list of Instagrammable Dundee venues is Casa Dundee on Nethergate. This is the venue for those who love a bit of glitz and glam.
From their light up sign to the cherry blossom tree, the team at Casa like to make their guests feel at home during the day while giving their customers an excuse to party hard at night.
Hosting themed events, serving mouth-watering dishes and making extravagant drinks is what Casa is all about and it is the perfect spot for capturing foodie pictures.
If you haven't already been to visit, your followers will certainly thank you for adding another beautiful restaurant to their list.
Opening times: Tuesday to Thursday from 11am to 2:30am, Friday and Saturday from 9am to 3am and Sunday from 9am to 2:30am
Address: 158 Nethergate, Dundee DD1 4DY
Already a subscriber? sign-in
[Here are some of the most Instagrammable Dundee venues]
[[text]]
https://bigger.ga/here-are-some-of-the-most-instagrammable-dundee-venues/