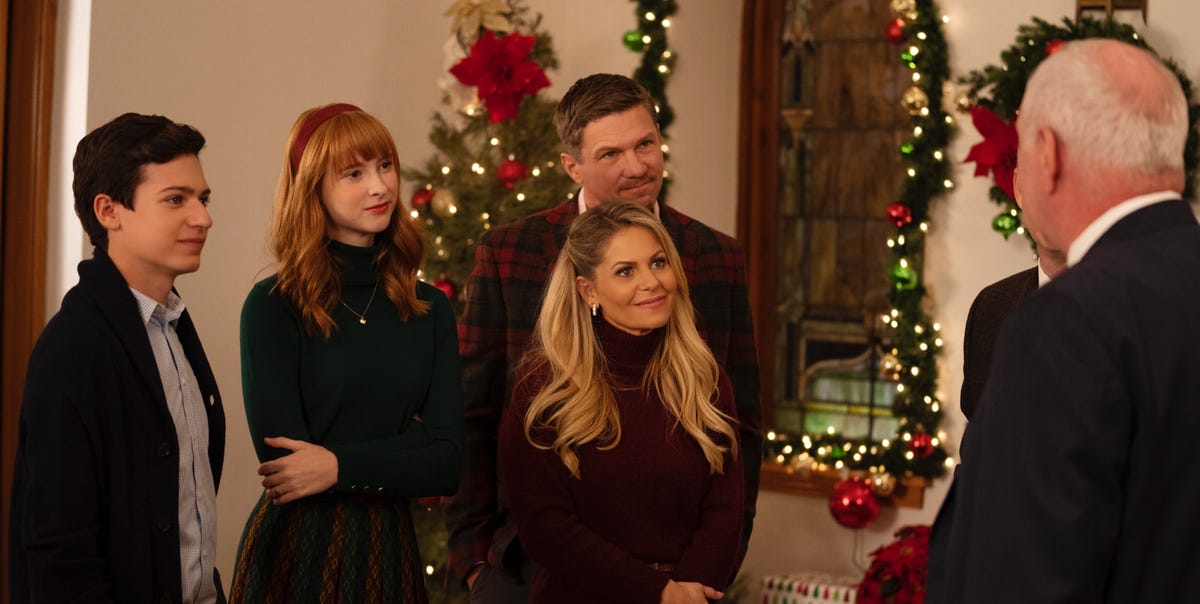 It might still be fall but for fans of all things Christmas, the holiday movie streaming season is already upon us. No one knows it better than GAC Family, which just released its 2022 Christmas movie schedule. So, now folks at home can start planning their watch parties and prepping their movie snacks.
Sure, some may say it's a little bit early to be watching flicks about the snowy Christmas season, full of cookie baking, gift wrapping and ugly Christmas sweaters. But it gives us our first little bit of the festive holiday cheer we'll soon be fully embrace come December — or November, if you skip Thanksgiving and go straight to celebrating Christmas. And honestly, can you ever really watch too many Christmas movies? Getting started early is essential to seeing them all!
The classics like Home Alone, It's a Wonderful Life gold White Christmas are always good watches. And yet when you want a feel-good romantic comedy set against a quintessential holiday background full of beautifully decorated homes, ice skating rinks, family bakeries, Christmas pageants and more, GAC Family has all the movies you need this holiday season.
With 18 new movies scheduled to premiere, TV movie fans will have a variety of titles to choose from. In case you're wondering where to watch the GAC Family channel, you can tune in via cable providers like Cox, DirectTV, Dish, Frontier, Spectrum and others. For streaming purposes, services that offer the network include Hulu + Live TV, Frndly TV, fubo TV, Philo and Sling TV. Without further ado, here is the complete GAC Family 2022 Christmas movie schedule:
Advertisement – Continue Reading Below
Premieres: Saturday, October 22 at 8 PM ET
Kim French (Shae Robbins) and Theo Hall (Casey Elliott) meet while shopping on Black Friday and there are instant sparks between the two. When a power outage hits the store, the duo is separated, but as Christmas approaches, neither of the two can forget the other. With little information on how to find one another, they're going to have to rely on a little Christmas magic and dare we say destiny to bring them together.
Premieres: Saturday, October 29 at 8 p.m. ET
Newbie caterer, Molly Frost (Merritt Patterson) is busy trying to get her business off the ground when she is hired by Jean Harrison, the perfectionist director of the Harrison Foundation to cater the renowned organization's annual Christmas Gala dinner. Soon she finds herself falling for Jean's nephew, Carson (Daniel Lissing), a photographer who has been tasked with making sure the dinner goes perfectly.
Christmas Lovers Anonymous
Premieres: Sunday, October 30 at 8 p.m. ET
Though it's not an original GAC Family TV movie, it still fits in with the theme of love and festivities. In case you're wondering, Christmas Lovers Anonymous first aired on Roku last year. Going against her book's advice, author Katrina Marks (Brooke Burfitt) tries to celebrate Christmas to the fullest after an ugly breakup. Goal journalist Hunter (Houston Rhines) is prepared to expose her.
Premieres: Saturday, November 5 at 8 p.m. ET
What do you get when you take a prince (Jonathan Stoddard) looking to escape royal life and a former Olympic ice skater (Anna Marie Dobbins)? One truly regal romance.
Love at the Christmas Contest
Premieres: Sunday, November 6 at 8 p.m. ET
Angie's (Samantha Cope) favorite part of Christmas has always been the Christmas Eve tree lighting in her small town, but as the first holiday season without her mom approaches, she isn't feeling too much of the Christmas spirit. Once she learns her mom had dreamed of winning the tree decorating contest, Angie realizes that she has to participate in order to honor her. One thing that she wasn't expecting? For her high school sweetheart David (Ross Jirgl) and his daughter Gabby (Eliza Donaghy) to enter the contest too.
Premieres: Saturday, November 12 at 8 p.m. ET
A NYC advertising executive (Jill Wagner) reconnects with a childhood friend (Cameron Mathison) after returning to her hometown to help sell the family farm. But she doesn't just get to do business and leave. Instead, she sticks around to help organize the annual Winter Wonderland event.
Premieres: Sunday, November 13 at 8 p.m. ET
Une femme (Breanne Hill) enlists her best friend (Colton Little) to act as her fake boyfriend when she returns home for the holidays and finds her ex in a relationship.
Premieres: Saturday, November 19 at 8 p.m. ET
Magazine reporter Josh (Andrew Biernat) is sent to profile Natalie (Kristina Cole), the owner of a successful farm and home goods store. But once he arrives at the establishment, he discovers that the "family-run business" is actually run by the help of longtime family friends. Natalie must then convince Josh that her chosen family and their Christmas traditions are still worthy of coverage.
My Favorite Christmas Tree
Premieres: Sunday, November 20 at 8 p.m. ET
When skilled genealogy researcher Kyla (Emma Johnson) finds information regarding her mom's mysterious family, she can't help but dig deeper. The information leads Kyla and her sister to the town of Conifer, where Kyla butts heads with a stubborn but handsome Christmas tree farm owner (Giles Panton).
Christmas at the Drive-In
Premieres: Friday, November 25 at 8 p.m. ET
A property lawyer (Danica McKellar) is working to prove that her town's local drive-in shouldn't be closed down during the holiday season. But in a surprise twist, she ends up falling for the very person (Neal Bledsoe) who is trying to sell the property.
Premieres: Saturday, November 26 at 8 p.m. ET
An aspiring Broadway singer (Jessica Lowndes) ends up involved in a production for her local Christmas celebration. Along the way, she finds the mentorship to help her grow as a performer. o, when she ends up torn between professional endeavors and love (Paul Greene), which will she choose?
Premieres: Sunday, November 27 at 8 p.m. ET
Maggie (Candace Cameron Bure) and Eric (Marc Blucas) are the parents of teenagers, beginning at the home of her widowed brother to celebrate Christmas. Through an unusual series of transformative events, Maggie learns that it's better to embrace the holiday than spend the time trying to make it picture-perfect.
Christmas on Candy Cane Lane
Premieres: Saturday, December 3 at 8 p.m. ET
Ivy (Andrea Barber) has always lived in her late mom's shadow, who was the darling of Icicle Falls, head of the Candy Cane Lane Lights extravaganza, owner of The Christmas Haus and a former TV star known as the "Christmas Maven." But this holiday season, a series of hilarious and magical events occur that end up bringing the town together in ways Ivy's mother never could.
Premieres: Sunday, December 4 at 8 p.m. ET
Travel blogger Tracey Moore (Jen Lilley), despite her reservations, heads to a Christmas-time getaway in exchange for a review of the small town. She soon finds herself falling for the owner's handsome son, Graham (Jesse Hutch), who teaches her the joys of getting out of her comfort zone.
Aisle Be Home for Christmas
Premieres: Friday, December 9 at 8 p.m. ET
Two exes (Jennifer Freeman and Garrett Watson) are forced to reconnect when a snowstorm leaves them stranded in a store without cell service or Wi-Fi right before Christmas.
Crown Prince of Christmas
Premieres: Saturday, December 10 at 8 p.m. ET
Aspiring musician Madison (Cindy Busby) needs help when she jokingly tells her family she's dating a prince of a small European nation — and they believe her. Soon her friend and co-worker Sebastian (Jilon VanOver) is roped into impersonating a prince and acting as her boyfriend when she visits her family for the holidays. Little does Madison know that Sebastian is actually hiding a royal secret.
Premieres: Saturday, December 17 at 8 p.m. ET
In the week leading up to Christmas, Charlotte (Jillian Murray) is trying to figure out her unique style in the local art scene while helping to run her family's restaurant. Frustrated with her last painting, she throws it out. Charlotte later discovers that visiting artist Wyatt (Joseph Cannata) found it and anonymously submitted it to the Christmas art festival. His mission? Find the creator who captured his heart with his craft.
Premieres: Sunday, December 18 at 8 p.m. ET
Struggling artist Liv James (Brigitte Kingsley) accepts a teaching job at a local elementary school after her latest art show goes up in flames — literally. This new career change helps her discover more about herself and a new romance (Joe Towne).
Advertisement – Continue Reading Below