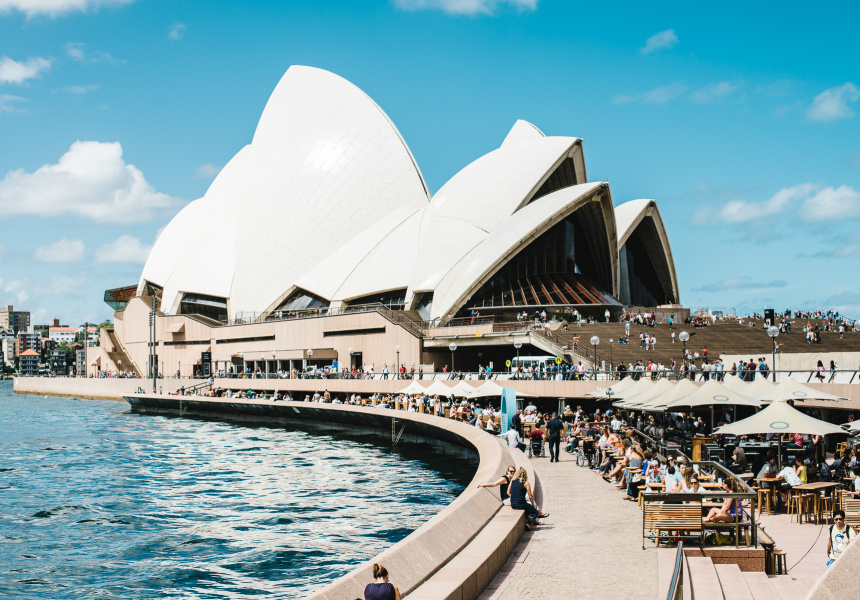 As summer approaches, our social lives are getting busier and so are our Instagram feeds. And while we'd never suggest planning your next outing around a series of photo opps, it's always fun to look back on the night's memories. Chasing some memorable shots with friends over the next few months? Here's where to go.
Opera Bar
Harbor views aren't just for the tourists, with Sydney locals regularly flocking to the Sydney Opera House's Opera Bar pre- or post-show, or just stopping by for a lazy sundowner or three. The venue is open and bright and you'll get good sightlines from just about wherever you sit. There's also an extensive food and drinks menu, perfect for grazing (think Peach Sours accompanied by plates of natural oysters). Once settled in, get the Sydney Harbor Bridge behind you for a great photo opp – particularly when it's lit up at night.
The Light Brigade
Located in Woollahra, The Light Brigade initially seems like your stock-standard pub, but there's more going on here than initially meets the eye. Head towards the back and up the stone staircase to level three, where you'll find yourself at Brigade Lounge – an art deco-style lounge with impressive views of the city. The photo opportunities don't stop there, though. If you head upstairs again to the top level, you'll find yourself on a backyard-inspired roof bar, with an atmosphere that will truly make you feel like you've been transported to a garden magazine. You don't have to do much here other than order a drink and smile for the camera.
The Butler
Situated in Potts Point, The Butler's leafy terrace offers what might just be some of the best city views in town. The venue's high ceilings and huge wooden arches provide a frame for the CBD, but also make for a beautiful backdrop for your photo. Take a seat at one of the wicker tables and chairs and order something from the Iberian-influenced, share plate-driven menu, accompanied by an inventive cocktail.
Nick and Nora's
Over in Parramatta, Nick and Nora's may just be the most opulent and luxurious venue in greater Sydney – which makes it a great place to grab some photos. The space is designed to make visitors feel like they've just walked into the house of the eponymous Nick and Nora, the crime-fighting duo from the 1934 film The Thin Man. There are several spaces throughout, so take your time getting a feel for each one. The spaces are meticulously decorated and detailed with an art deco feel. If you really want to go all-out with your pics, book the plush boardroom – you'll have access to a private balcony to snap away to your heart's content.
[Samsung Billboard]
Sometimes the best photos are taken at the end of the night out. If you're heading home down Cleveland Street in Redfern or find yourself on the corner of Bondi Road and Denham Street in Bondi, make sure to stop by one of the Samsung murals. By night, they light up, making them a great backdrop for an end-of-night snap. Gather your buddies and ask a pass-by to take a shot.
This article is produced by Broadsheet in partnership with Samsung.
https://bigger.ga/from-rooftop-bars-to-hidden-art-deco-lounges-these-are-sydneys-best-photo-spots/