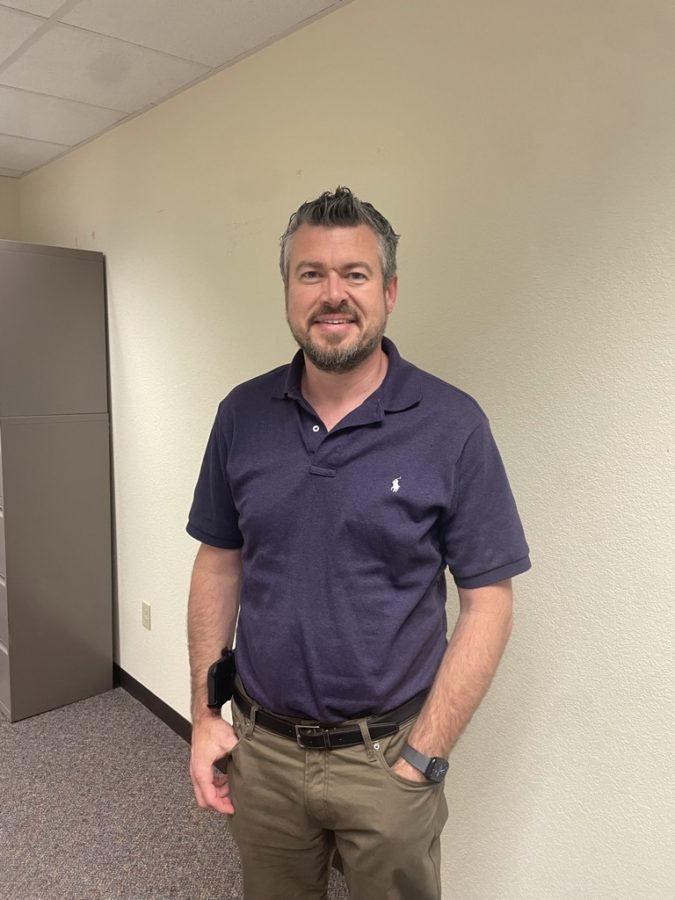 Mr. Justin Denton's extensive education and professional background in the technology field has led him to his current role as Director of Information Technology Services at IVCC.
Denton earned his Bachelor's Degree in Telecommunications Management from Devry University and a Masters in Network and Communication Management from Keller Graduate School of Management. He went to WAlden University for his PHD in Applied Management and Decision Sciences but never fully completed it due to needing to finish 2 residencies and a dissertation.
Denton stresses the importance of continuing education and one's knowledge by stating, "I would argue that on top of college you will need to stay current on technology trends and certifications which are an important and necessary complement to college." He himself has been certified in several areas including ITIL Foundations Certification, Microsoft Certified Professional and Crystal Reports Certification to just mention a few.
Denton has spent 27 years in the IT field, as he began his career as soon as he graduated from high school. When asked who inspired him to work in this field, he responded, "I think it would be "what" inspired me." His elementary school had computers available introducing him to this world of technology. Denton commented, "I would do anything I could to get time to work on those computers which drove my love for computers."
His various positions prior to coming to IVCC included a job at IBM as a computer technician and later a supervisor role at IBM. This led to a becoming a technical lead over the Lucent Technologies account, being responsible for 100 technicians and 125 thousand users. While at IBM Denton helped to develop and create the Thinkvantage tool set which is still in use today. After IBM Denton moved to the Illinois Valley area to become manager for the IT Department at UnionBank. Helping merge the technology for UnionBAnk and CentrueBank company merger.
During Denton's time at the bank he got more involved with higher education by continuing his education and taking a new job at Rasmussen College as the Program Coordinator of IT Curriculum. After only six months he was promoted to Interim Dean of the School of Technology which included overseeing technology programs for over 24 campuses. From there Denton went to work for Collegis Education (a parent company of Rasmussen College) and now IVCC.
Director of Continuing Education and Business Services, Jennifer Scheri stated, "In the short time Justin has been with IVCC, he has been responsive to the needs of the Continuing Education and Business Services Division. It's easily apparent that Justin's wealth of experience and expertise will advance technology at IVCC, which in turn will further provide a top-notch education to students." Dean of Humanities, Fine Arts, and Social Sciences, Lirim Neziroski shares his experience working together with Justin. He states, "I believe he has a strong understanding of how the IT Department can be more effective and more service-oriented so that IT serves as a partner and consultant for projects on campus".
Denton explained, "Being able to build technology environments in Higher Education that encourages and supports the highest quality learning possible" is one of the favorite parts of his
job. Denton's advice to anyone going into the IT field is to be prepared. He stresses, "IT continues to change almost on a daily basis, love learning it will help you succeed." This is also one of the things that motivates Denton to continue his career in IT, he mentioned he gets bored easily so the fact it is ever changing keeps him fascinated in technology.
In addition, Denton feels "it's important that all of us are focused on technology because it continues to be adopted into everything we do and almost anything we have." Examples to this include the small computer most people carry with them daily, our cell phone, as well as most cars have a computer system. This is especially as Denton reflects on how technology has changed during his career. He states, "the biggest difference is that everything became smaller, faster and more feature enriched over my career."
Furthermore, Denton feels there are certain qualities one needs to be successful in this field. The qualities he deems necessary are the willingness to always learn and to have a passion for technology. Neziroski who served on Justin's hiring committee for IVCC. Neziroski states, "I was very impressed by Justin's technical expertise, leadership experience, and his strong understanding of technology needs in higher education."
Additionally Denton does balance his work-life by maintaining a rigorous calendar utilizing Outlook's tool, but also enjoys being spontaneous. He elaborated, "it is not uncommon for me to wake up at 5:00 am look over at my wife and say we're going to Michigan today. The reason may be just to eat at a BigBoy restaurant." Outside of his duties as a director, Denton has several hobbies. He is big into 3D printing and enjoys tinkering with cars, as he has had over 200 cars in his lifetime.