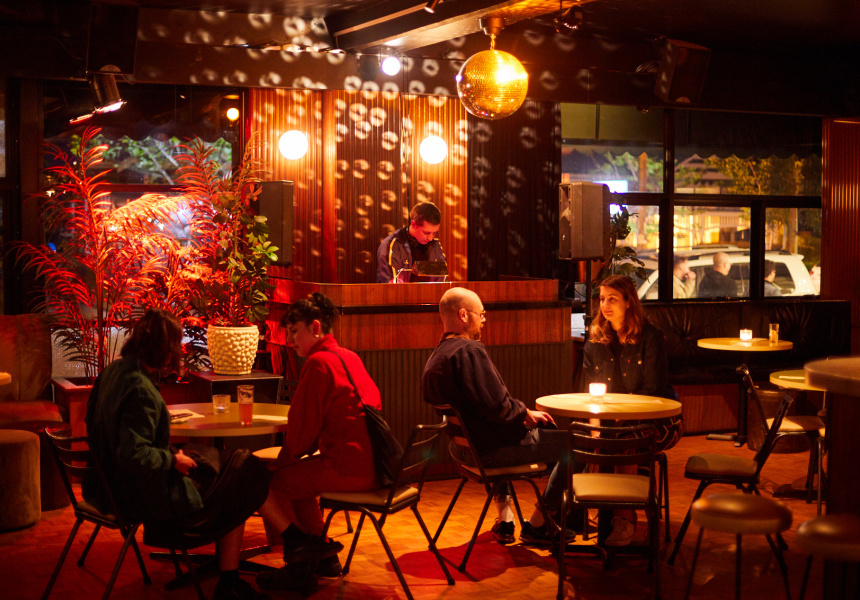 What? You've come all the way to Perth and you're only spending a night here? I get it. Life can be busy, and a single evening in God's Country is better than no evenings in God's Country. So if a night is all you've got, let's make sure it's a very, very good night (Cue Black Eyed Peas).
In the interests of ensuring you're making the most of every hour, these recommendations have been kept (for the most part) as central as possible, so you're spending most of your night having fun rather than in an Uber. Charge your smartphone and get moving.
Where to see the sun go down: Madalena's

West Australians love our beaches, and surf and sand are key strands in our DNA. The port city of Fremantle is always somewhere I send people. The vibe is more barefoot and bohemian, the architecture feels different, and Freo is home to some glorious stretches of coast. Have a late afternoon swim at South Beach, then make your way to South Fremantle's easy-going Madalena's, a sandstone sanctuary with a reputation for tasty lo-fi wines and some of the state's best seafood. During golden hour, Madalena's upstairs bar is the place to be. The bartenders mix some sharp cocktails – Gimlets remixed with lemon verbena, perhaps – and for great wines. House-made small goods and crudo are perfect for snacking, and guests can soak up views of the Indian Ocean swallowing up the sun.
Pre-dinner drinks: Wines of While
Despite its address on Northbridge's main artery, Wines of While is another establishment blessed with very good light. The way that afternoon sun throws shadows against the chalkboard menu and wooden counter feels magical, doubly so if you've already given the day's by-the-glass offerings a good shake. Arguably the bar that kick-started Perth's obsession with natural wine, Wines of While continues to draw a crowd thanks to its brilliant selection of organically farmed wines and a tight menu of earthy farmhouse dishes. Beyond the vino, a handful of cocktails, Swan Draft on tap and spirits also make fine aperitifs. Arrive early to maximize your chances of nabbing one of the coveted outside tables.
Ideal dinner spot: Le Rebelle
Taking inspiration from Parisian bistros and the big-city French restaurants of America – think Balthazar in New York and Chicago's Le Bouchon – Beaufort Street's Le Rebelle is Perth's standard-bearer for Gallic cooking. Spread across three levels, the room is a picture of Old World splendor and one of the city's go-to options for date nights and celebrations. Like any self-respecting French eatery, Le Rebelle has its signatures – dishes such as the glazed duck frites with Bearnaise sauce and the crab toast are cornerstones of the "classiques" menu – but a steadily rotating carte and wine list ensure regulars have plenty of reasons to plot return visits.
After dinner drink: Si Paradiso
An easy stroll down Beaufort Street from Le Rebelle, Si Paradiso is a combined bar, restaurant and club that absolutely slaps on weekends. While the crowd is unquestionably cool, staff are welcoming and engaged — even the bouncers. The drinks are sharp across the board, whether you're after a great Euro-leaning cocktail (keep it classic with the house Negroni or push the boat out via the Mellow Yellow, a combination of gin, yellow chartreuse and chamomile honey), beers or lo-fi wines. DJs and live music keep the crowd hyped on weekends and if you're still hungry, the courtyard menu features some of the city's best pizzas.
Final late-night location: Astral Weeks
Just one more, you say? Astral Weeks, a hi-fi listening bar hiding in plain sight in an alleyway in Chinatown, makes a wonderfully civilized end to any evening. A finely tuned sound system, acoustically treated walls plus a sprawling record collection equals the music lover's happy place. The house's music policy favors soulful electronica and jazz while dramatic lighting over the DJ booth ensures photos pop. The curated drinks menu sports a cool late-night vibe. Martinis and Manhattans feel pretty much mandatory, although whiskeys and a thoughtful edit of wines both classic and new-wave warrant consideration. If you're still not full, late-night food options including hospitality favorites City Garden and Billy Lee's are on-hand to sate your hunger.
This article is produced by Broadsheet in partnership with Samsung.
https://bigger.ga/broadsheet-editors-guide-to-one-night-only-in-perth/