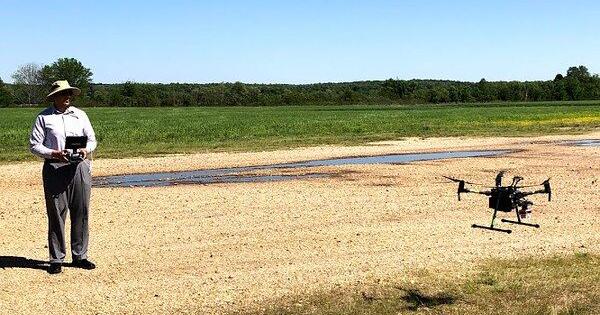 A major intersection of agriculture and technology today is in artificial intelligence and machine learning to process massive amounts of data from those quadcopters buzzing over crop fields.
Operating multi-spectral and thermal cameras on drones is one thing, but programming computers to use that data to figure out complex agricultural problems, like early detection of crop stress on specific plants, is another.
That's something computer scientists are working on in a collaboration between the University of Arkansas System Division of Agriculture's Arkansas Agricultural Experiment Station, Arkansas State University's computer science department and the Arkansas Biosciences Institute.
Emily Bellis, assistant professor of bioinformatics at Arkansas State University, was recently named the New Investigator of the Year by the Arkansas Biosciences Institute for her work on these kinds of problems. The Division of Agriculture partially funded her research on artificial intelligence that processes drone-derived images. The institute recognized Bellis and other researchers during its fall symposium on October 4 at the Don Tyson Center for Agricultural Sciences.
"I love this kind of project because it is really interesting from the data analysis viewpoint and also the eventual impacts you can have in agricultural systems," Bellis said.
Bellis also serves as the associate director for the Center for No-Boundary Thinking, an Arkansas State University-based group with a goal to promote interdisciplinary research with artificial intelligence and machine learning.
The study led by Bellis trained computers to interpret multi-spectral and thermal images taken by drones to determine yield potential differences within a given field based on various nutrient stress signs of the crop. The research paper, "Detecting intra-field variation in rice yield with unmanned aerial vehicle imagery and deep learning," was published in March. Ahmed Hashem, assistant professor of agricultural systems technology at Arkansas State University, was the co-first author of the study and led the drone data collection. Tim Burcham, director of the Division of Agriculture's Northeast Rice Research and Extension Center and a former ASU professor, linked the two for the project.
"We've been working for a couple of years together on how we can apply deep-learning techniques to massive image data sets that were collected over many different experiments, Bellis said. "Different types of cameras can often capture different types of stress. The multi-spectral sensors on Dr. Hashem's drones are great for detecting nutrient and drought stress."
The study compared two deep learning-based strategies for early warning detection of crop stress using UAV-derived data throughout the growing season for rice in east Arkansas irrigated rice fields. Researchers with the department of biological and agricultural engineering at the University of Arkansas and the US Department of Agriculture were also involved.
They found that two-dimensional images, processed with a particular type of machine learning model called a convolutional neural network, did slightly better at predicting yield potential in a rice field at an earlier growth stage than a more complicated model that takes images from multiple surrounding time points as input. However, the models that use images from multiple time points may show potential for better performance if trained on diverse datasets that include multiple rice cultivars and environments, Bellis said.
Burcham said the research using advanced artificial intelligence computation tools "is critical for unlocking future advances in row crop production for Arkansas farmers."
"Emily is a commensurate team player, and her skill set in the area of ​​artificial intelligence and machine learning has added immeasurably to the joint remote sensing research being conducted by faculty in the Arkansas State University College of Agriculture who hold joint research appointments with the Division of Agriculture," Burcham said. "Her multiple research affiliations demonstrate her commitment to collaboration to unravel answers in complex ecosystems. I am so happy Dr. Bellis is recognized as an Arkansas Biosciences Institute New Investigator of the Year."
Robert McGehee, executive director of the Arkansas Biosciences Institute and Distinguished Professor in the department of pediatrics at the University of Arkansas for Medical Sciences, said Bellis has made "significant accomplishments" in her three years on the Arkansas State University campus. In addition to being engaged in undergraduate and graduate student education, McGehee said Bellis and colleagues were recently awarded a highly competitive National Science Foundation research training award. She has also won funding from the NSF's Established Program to Stimulate Competitive Research (EPSCor) and the US Forest Service.
"Her expertise in applying state-of-the-art bioinformatic approaches to better understand the interactions between the agricultural crops and the environment will be transformative," McGehee said of Bellis. "As a young scientist pushing the envelope in her field and becoming so engaged as a role model in training the next generation, she is exceptionally serving of the 2022 ABI New Investigator of the Year."
McGehee noted one of the missions of the Arkansas Biosciences Institute is to foster collaborations within member institutions. The institute, funded through the state's share of the 1998 nationwide tobacco settlement, is an agricultural and medical research consortium "dedicated to improving the health of Arkansas."
"I am extremely excited about her collaborations with the U of A System Division of Agriculture," McGehee said.
.