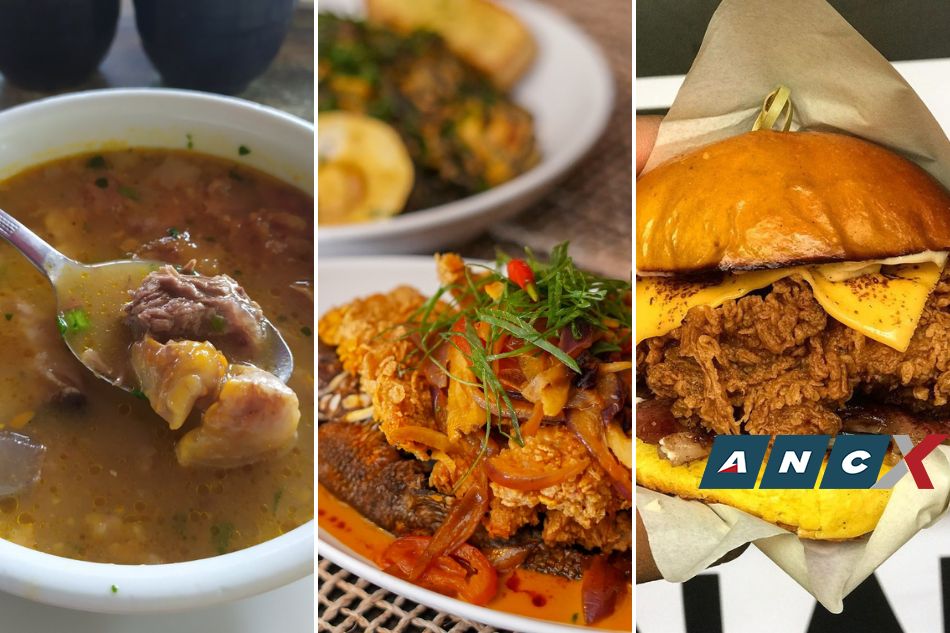 "Ilonggos are proud of their food and they take their food so seriously that the whole day revolves around what to eat next," writes Ilonggo food and culture advocate Rafael Javier "Tibong" Jardeleza Jr. in his book, "Flavors of Iloilo." The Ilonggo chef is behind events aimed at promoting their native cuisine, which include the Sabores de Visayas, an annual gala dinner event featuring Filipino heritage cuisine chefs and Ilonggo cooks, and the annual Tabuan Cooking Competition, Flavors of Western Visayas Convention and Ilonggo Street Food Festival. "They start thinking about what's for mid-morning snacks while still having breakfast and what's for dinner while enjoying lunch," he adds.
We didn't realize how true this was until we started going on a food tour around Iloilo City, hopping from one restaurant and eatery to the next. It helps, of course, that there's plenty of dining places to go to, each priding itself with a tasty homegrown specialty or two. They're calling the city, after all, as the food haven of the Philippines.
The tour was a complete sensory experience, waking our noses up with distinct aromas, our palates with new, sometimes familiar flavors, our ears with that melodious Ilonggo chatter, effectively enriching our knowledge of Ilonggo culture and cuisine. With knowledgeable guides who know the city's dining landscape like the back of their hands, all we had to do was open our minds and our mouths.
Planning a visit to the City of Love? Here are the highlights of our five-day food tour.
Day 1
Merienda all day
batchoy
The best batchoy in Iloilo remains up for debate as there are many batchoy joints all over the city. And the answer would also depend on personal taste and criteria. Do you want your batchoy on the sweeter side? Or savory and garlicky with fatty bits of meat and chicharron? Do you prefer an airy restaurant with enough parking space? Go to Sobredo Batchoy in Brgy. Area VI, Arroyo-Libertad Streets, Sta. Barbara, Iloilo.
Do you want it loaded with pork, beef, liver, intestines, and chicharron but also to have your batchoy in the comforts of an airconditioned mall? Head over to Deco's at Robinson's Place Jaro.
But the bowl you should definitely try—if you don't mind eating elbow-to-elbow with other diners—would be the one at the over-40-year-old Popoy's Original La Paz Batchoy at the Iloilo Central Market. It's one of the OG batchoy brands and was also hailed the Best Batchoy in a competition organized by Reporter's Journal of RMN-Iloilo. According to this story, what makes Popoy's batchoy different is the special rock salt that they use.
salam ukan
Not as popular as batchoy and molo but just as delicious and comforting is this soupy dish called salam-ukan. The word, which translates to nabulunan in Filipino, is also the name of the restaurant.
Unlike the usual nilaga, salam-ukan has a bolder, spicier flavor and tastes more potent with its hearty mix of pata, cow's meat, intestine, heart, tendons, and tripe. These are cooked for a good six hours with secret herbs and spices and—guess what else—Mountain Dew.
It was actually by accident how the lime soda got in there, says Salam-ukan owner Boyet Susvilla. When Typhoon Yolanda hit Iloilo City in 2013, his cook did not make it to work so he took it upon himself to cook the nilaga, based on the directions of his cook. Somehow, he clumsily spilled the lime soda on a bowl of nilaga—and was surprised how he gave the dish that extra oomph.
Sandwiches and burgers
Iloilo is known for heritage cuisine. But did you know there's one new store here whose chicken sandwich is worth obsessing over? The burger/sandwich joint, which opened May of last year, goes by the name KalanPh and is located along Javellana Ext. Rd, in Jaro. Its chef and founder Karl Jason Hibionada says what makes his chicken sandwich really good are his "secret blend of herbs and spices" and his homemade soft bun. It helps too that he uses the chicken's flavorful and juicy parts.
Karl's bestsellers are the Honey Butter Chicken Buffalo and Ranch Chicken sandwich. He also highly recommends his Classic American Burger, Bacon Cheese Burger, and Spaghetti Bolognese. Pro tip: You won't find this in the KalanPh menu but Hibionada also serves a really good Molo Soup. Be sure to order it in advance, though, if you wish to try it.
Day 2
market day
The Iloilo Central Market is a trove of ingredients that are endemic to the region, and it's also a great place for a food trip. If you're game for karinderia fare, check out the 53-year-old Cyril's Eatery, a hole-in-the-wall located by the roadside. It's popular for its pork chop, lechon paksiw, lina-ga (or nilaga), and other lutong bahay. The pork chop is succulent because they use pork shoulder; it's lightly breaded and perfectly seasoned, you'll love it with or without the banana ketchup. The meat of the lechon paksiw melts in your mouth and the sweet and tangy sauce is delightful. For something warm and comforting, order their linagang baka, which is cooked with libas leaves (common hog plum) that gives the soup a hint of sourness.
There's plenty of food options to choose from—grilled meats and seafood and other classic Ionggo fare—sold in different stalls. We sat in the middle of the wet market and had our fill of barbecued quail and gizzard (they call it itlugan), chicken inasal, grilled panga ng blue marlin, pangat na sapsap, and tinolang halaan. If you'd like some fresh oysters or grilled hito (catfish), you may have them here too.
Day 3
Got a sweet tooth?
A go-to spot in Iloilo for delicious cakes, pastries and desserts is Maridel's, which is located at The 21 Avenue in Diversion Road, Iloilo. When Maridel Padilla Uygongco, a retired hotelier, opened her cake shop 11 years ago, her goal was to offer flavors not commonly found in bakeshops. Among her consist bestsellers are her Heaven and Hell (peanut butter cake, with peanut butter mousse and chocolate), Turtle Pie (ice cream with a meringue), Ube Tres Leches, Frozen Lemon Meringue, and Mango Brazo. Also gaining fans are her Earl Gray Chocolate Cake and Strawberry Tres Leche Cake. Maridel's shares a space with Bakery by Louis (owned by Maridel's son), which is known for its duck pao and a wide variety of artisanal breads. The bakery also serves coffee and ice cream.
Day 4
Seafood feast
Iloilo is a great place for seafood lovers since it's conveniently just beside Capiz, Seafood Capital of the Philippines, and it's also surrounded by bodies of water. Three restaurants with a good variety of freshly cooked seafoods are: Breakthrough Restaurant in Sto. Niño Norte, Arevalo, Iloilo City; Beng's Seafood Restaurant in Brgy. Taft North Mandurriao, Iloilo City; and 8 Villa Beach House in Oton Blvd, Villa Arevalo District, Iloilo City.
Must-tries at 8 Villa Beach are the Crispy Dry Salted Squid (crispy squid in ceviche dressing) whose recipe made it to the "Flavors of Iloilo" book, the Aligue Rice, and the Sauteed Scallops. We loved the Pinalipad na Pompano and Baked Talaba at Beng's, and the Crabmeat Special at Breakthrough.
Day 5
Modern Ilonggo
Richmonde Hotel Iloilo
If you wish to experience a modern and elevated take on classic Ilonggo dishes, we suggest you try Richmonde Hotel Iloilo's impressive tasting menu created by its executive chef Ariel Castañeda. It's quite genius how he married Iloilo's well-loved dumpling dish with China's traditional steamed buns in his Pancit Molo Xiao Long Bao. The Baked Talaba Bomb explodes in your mouth with the delightful, fresh flavor of the sea and the richness of the milk, butter, cheese and garlic. Meanwhile, the Ilonggo Chicken Inasal is presented in an inventive way—the sauce in the form of soy pearls and the garlic rice in a rice chip tuile.
The star of the show was the KBL (kadyos, baboy, langka), which arrives not in soup form but as a chunk of flavorful pork belly cooked in KBL broth. It's served with a batuan consommé and kadyos and langka puree. A sweet finish to the meal was the Mango Batuan Cotton Candy, which has batuan pie underneath and delectable mantecado ice cream on top. For inquiries and table reservations, call +6333 328 7888 or message Richmonde Hotel Iloilo on Facebook @RichmondeHotelIloilo.
Punot Flavors of Modern Iloilo Restaurant
A need to evolve with the times inspired the Arañadors, owners of the 23-year-old Ilonggo restaurant Punot in Estancia, Iloilo, to establish a branch in Riverside Boardwalk near the now iconic Iloilo Esplanade. At the helm of this new restaurant called Punot Flavors of Modern Iloilo Restaurant is CCA-trained John Kristoffer "Tope" Arañador, who offers delightful tweaks and additions to Punot's traditional Filipino menu.
We love two of Punot's salads—the Pomelo Balingon, which has an added crunch and flavor coming from the dried anchovies, and the Tres Mangga Salad, which makes use of three types of Guimaras mango (unripe, ripe and dried). Also well-loved by many are the Corned Beef Kansi, Buttered Aligue Imbao and Diwal, Sizzling Indong, Cornflakes Crusted Tilapia sa Gata, and Patotin with Kalabasa Mash.
.
https://bigger.ga/an-experts-guide-to-5-days-of-eating-in-iloilo-now/