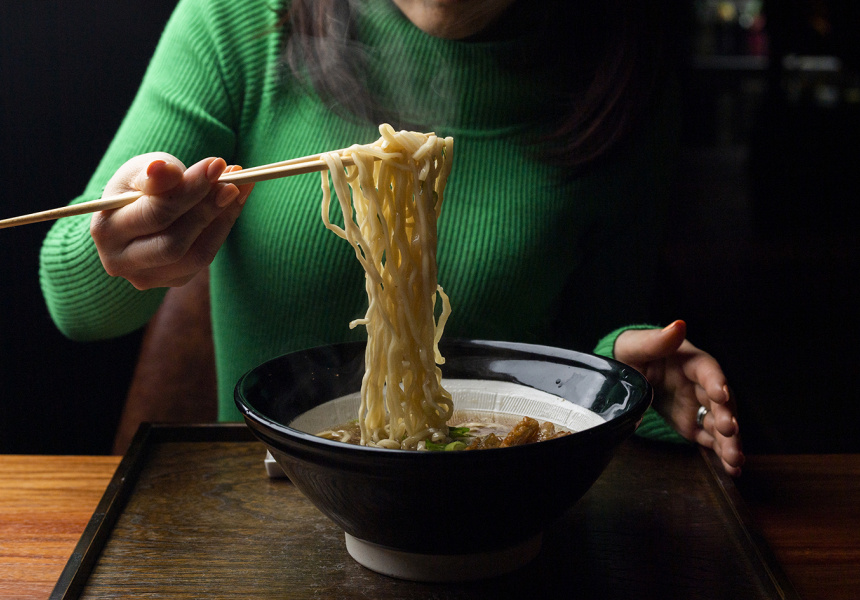 • The Jatz is back: genre-buster Mitch Orr's hotly anticipated new restaurant Kiln in the Ace Hotel is open – and there's not a pasta dish in sight. When Orr closed his seminal Rushcutters Bay diner Acme in 2019, Sydney wondered what his next move would be. The answer: a diner in a glass-walled room that exudes Ace's signature cool, where Orr is cooking beautiful produce – fusing flavors from across the globe – over an open flame.
• First Look: Nomidokoro Indigo, a very small, buzzy izakaya and sake bar in Darlinghurst. The compact diner and bar – by the group behind Japanese favorites Nakano Darling, Yakitori Yurippi and Tachinomi YP – recreates the small bars and eateries found down the narrow alleyways of Tokyo. Inside you'll find more than 20 sakes, and dishes such as scallops served in the shell with soy butter and miso-marinated grilled meats and cheese.
• First Look: Sip natural wine and salt and vinegar Martinis at petite new Surry Hills neighborhood wine bar Lokal. The team behind the 20-person bar reckon it's doing "the best fried chicken you'll ever have in your life".
• Generations of Sicilian cooking are channeled into Zafferano, an intimate new trattoria in Paddington. Sicilian to its core, it's serving marinara risotto made to a family recipe that's lush with mussels, clams, cuttlefish, prawns and crab, as well as plenty of pasta, and a fluffy Sicilian-style pizza.
• Under soaring ceilings in an art deco Sydney CBD building, The Charles evokes Europe's grand brasseries. Thoughtful touches – including a roaming dessert trolley by Bennelong's former head pastry chef, and tableside saucing and carving – take the experience to the next level. Park up in a curvy banquette for an English-style afternoon tea, or head in for lunch or dinner for pressed duck, mud crab with house-made pretzel, and sweetbread and crayfish vol-au-vent.
• At Little West, a petite new Haberfield cafe, you'll find old-world hospitality and a "flavour-intensive" muffuletta. In a space that's sat empty for two decades, a dedicated team is serving modern spins on classics, including smoked brisket sausage rolls with bush tomato sauce, and chocolate and golden syrup dampers.
• First Look: Get jumbo prawns and Chinese-style duck on fluffy bases at friendly new Organic Pizza in Glebe. It brings in salami from the Adelaide Hills and organic olives from the Riverina region, and makes cashew cheese in-house. Its owner, who used to run one of Adelaide's best pizzerias, is now serving Sydney-siders pizzas with toppings including jumbo prawns with fresh chimichurri, and "Chinese duck" – roasted duck with shiitake and a ginger and shallot relish.
• First Look: The team behind Circa Espresso opens the light-flooded bakery Lucien Baked Goods in Parramatta. It's baking a host of treats on-site each day, including breads; banoffee choux filled with Chantilly cream, chocolate ganache and caramel; a danish piled with smoked ham, cheese, onion jam and bechamel and loaded with shavings of pecorino; and croissants.
• First Look: Buttercrumbs Croissant opens a second bakery, in Ultimo, for its cult-favorite buttery, flaky pastries. Visit for its popular plain croissants, as well as almond croissants and pain au chocolat, hot from the oven. Plus, Buttercrumbs' signature cube-shaped croissants filled with vanilla, matcha, and ham and cheese.
• Caramelized Belgian waffles are the star at Moxhe's petite new pastry pop-up in Bronte. It's just down the road from the seafood restaurant, in a former shop opposite Iggy's. Alongside the waffles you'll find Moxhe's signature chocolate tart as well as seasonal pastries and cakes served whole and by the slice.
• Darlinghurst's Gaku Robata Grill has reopened – and reinvented itself as an exacting omakase-style diner. Prop up at the counter and work your way through dishes such as lobster with saffron shellfish broth, and chawanmushi (savory egg custard) with spanner-crab truffle sauce. The triumphant ending? A bowl of the diner's much-loved yuzu-duck, clam or Wagyu ramen.
• "Relaxed backyard meets beachside bliss" at Freshwater Brewing Company's new Brookvale warehouse taproom. Sip your way through easy-drinking pilsners and cervezas, then dig into a thick-and-juicy fish finger sandwich with pickle tartare and crisp cos lettuce. And for the non-beer-drinkers there's an interesting wine list and spritzes on tap.
• First Look: Behind a nondescript door in the CBD, you'll find the new basement home of Sydney stalwart Toko. It echoes the beloved experience at Surry Hills for more than 15 years, with good-times playlists; signature dishes including smoked miso king salmon, Moreton Bay bug tempura, and scampi nigiri with foie gras; and a sushi bar.
• A sleek rooftop bar has opened atop Darlinghurst's century-old pub The Strand. Plus, the pub now has boutique hotel rooms inspired by '20s Paris, with a private library where waiters serve guests G&Ts in giant crystal glasses. It's the grand finale for the newly restored pub, which gained a moody French bistro earlier this year.
• Intercontinental Sydney's rooftop bar reopens today after a reboot – and, for the first time, it's open to the public. Thirty-two floors above Sydney CBD, it has 270-degree views of Sydney Harbour, the Royal Botanic Garden, the Opera House and the Harbor Bridge. While Australian flavors and local produce inform the menu, the bar is a nod to the great hotel bars found around the world.
• Skittle Lane opens its fourth design-forward cafe, this time in a new Circular Quay laneway hub. Behind a curvy concrete counter in a compact space, the team is pulling espressos made with single-origin Colombian beans, pouring syrupy overnight-brewed iced lattes, and dishing up pastries and cookies to go.
• New cafe Benzin is a Pitt Street pit stop bringing the Spanish good life to Sydney's CBD. It's the second cafe for the car-loving owners behind Benzin in Dural. Visit for bocadillos (sandwiches) with fillings such as Serrano ham, creamy chicken and chorizo ​​with manchego, as well as a cold brew with condensed milk.
• Dine on Med-inspired share plates at beautiful new all-day diner Misc, in lush Parramatta Park. In a sprawling, glass-walled dining room with lofty pitched ceilings, it's doing sujuk (sausage) and egg rolls with cheddar; smoked labneh with focaccia; and a sandwich stacked with mortadella, salami, basturma and chilli mayo.
https://bigger.ga/all-the-new-sydney-restaurant-cafe-and-bar-openings-we-got-excited-about-in-october-2022/