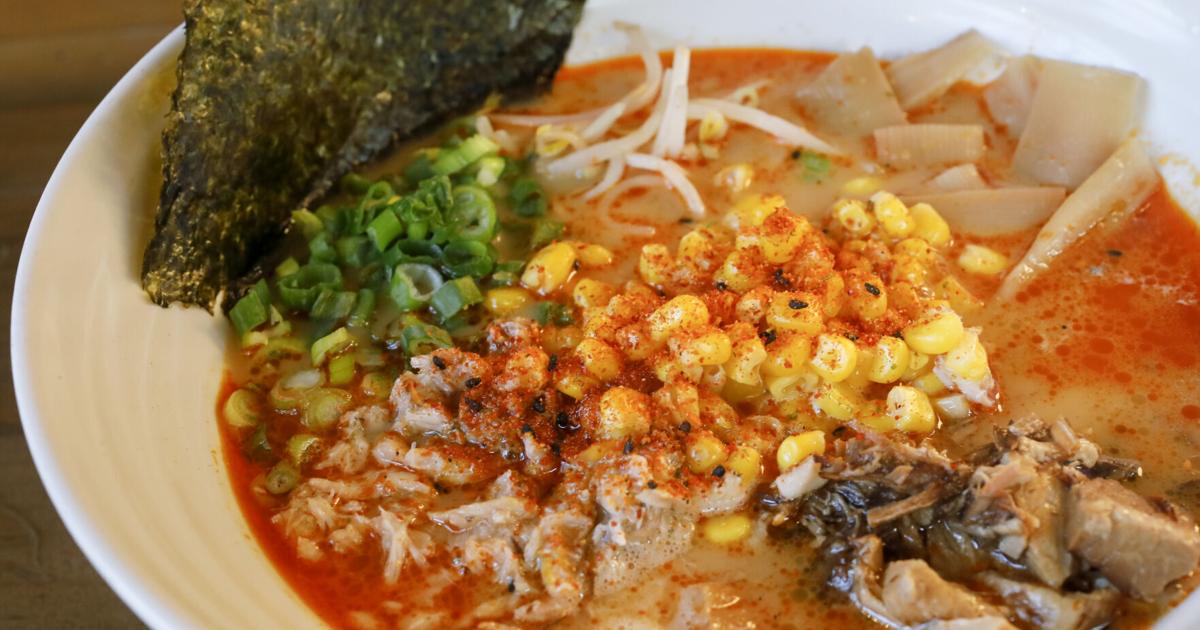 I am a heat seeker of spicy food, on a mission to find the spiciest dishes available in Madison area restaurants.
I am also a huge fan of Japanese ramen noodles — in fact, immediately after landing at Tokyo airport and passing through customs during a trip to Japan, I went straight to a bustling nightlife quarter in the city with a local friend to slurp down a delicious , hot bowl of perfectly prepared ramen noodles that I'll never forget.
In Madison, an outpost of the popular Chicagoland noodle shop chain Strings Ramen offers a spice challenge on their menu.
The "Monster Hell Ramen Challenge" promises a $50 gift certificate and a T-shirt if a diner can "suffer through" Level 5, a bowl of broth and noodles spiked with chiles (including Chinese Tian Jing, Thai, Piquin and Ghost peppers) . Finish it in 20 minutes and the bowl is free, too.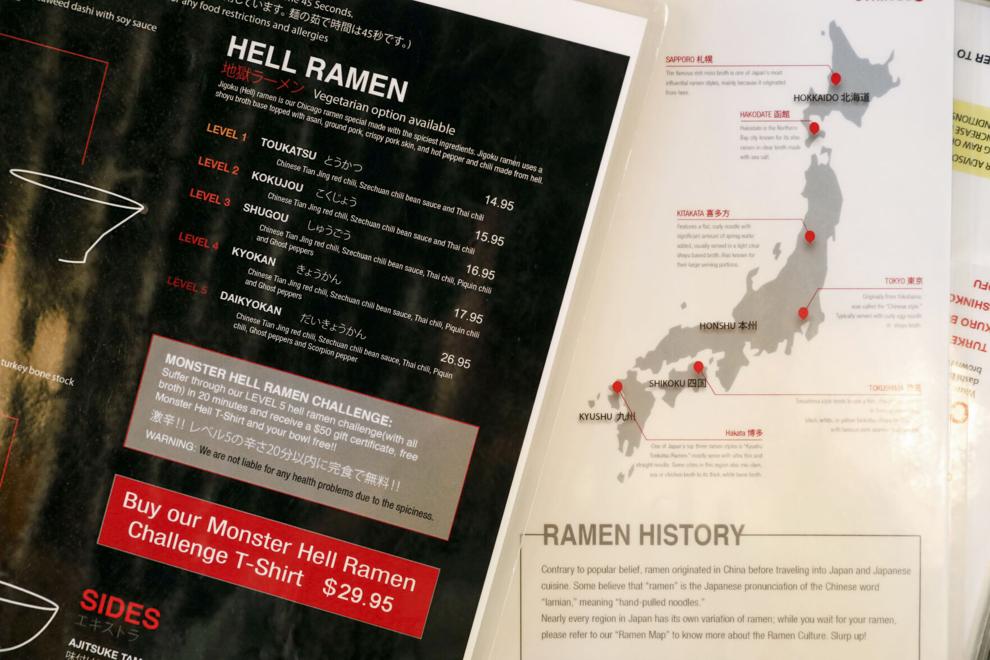 My favorite type of Chinese food comes from the Sichuan region of China, by no coincidence home of the spiciest (and in my opinion most delicious) cuisine of that giant country. Just about every morsel in Sichuan is doused in red chilis and la jiao, or hot red chili oil. The Monster Hell Ramen Challenge looked like a marriage of both cuisines in one bowl, and it was my hope that the marriage would be a happy one. It sounded both hot and tasty from the description.
Strings Ramen, founded in 2014, opened a Madison location in 2018 next to campus, between University Avenue and Johnson Street. By that summer, a general manager estimated that 150-175 people had tried the Hell Ramen challenge, with just two winners.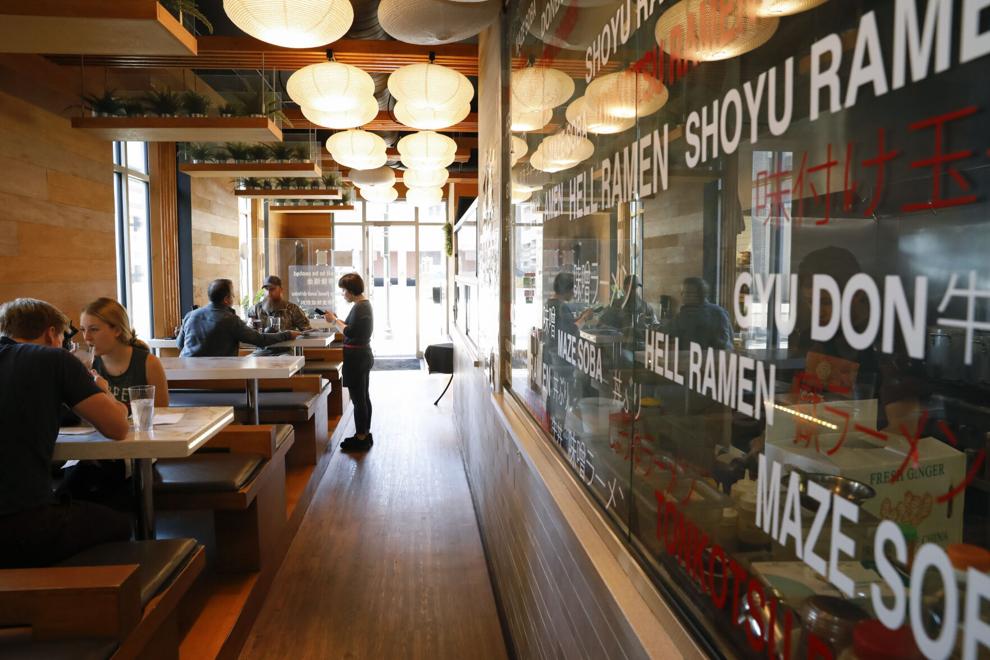 When the editors of the Cap Times asked if I wanted to attempt the Monster Hell Ramen Challenge ($23.95) for the next Capsaicin Times, of course I said, "Hell yes!" I never turn down a spice challenge, and I have won them all, at times enduring unbelievable pain, with one nasty exception: the phaal curry at Brick Lane Curry House in New York City.
Though I lost that challenge the first time, I went back for more, and with great difficulty and satisfaction, managed victory over the hottest dish I'd ever eaten in my life — until now.
First, sign the waiver
Game on. Six friends and I booked the challenge for a chilly Wisconsin Friday fall evening. (I wanted to have the weekend to physically recover in case I needed it, and the best climate for spice is cold.)
Upon arriving at Strings, we sat down at the table and ordered, my dinner companions mostly choosing various normal versions of ramen noodles in a typically bland broth. Only two of them, Nick and David, ordered Level 4 Hell Ramen, which looked to be plenty spicy hot in its own right.
I ordered what I came for: the Level 5 Monster Hell Ramen Challenge, with cautious optimism and the sincere intention to slurp it all down in 20 minutes and win the grand prize. There's a wall of fame at the front of the Madison branch featuring photos of a few champions who got through the challenge in the appointed amount of time. I looked them over in the waiting area, determined to get my proud mug up there too.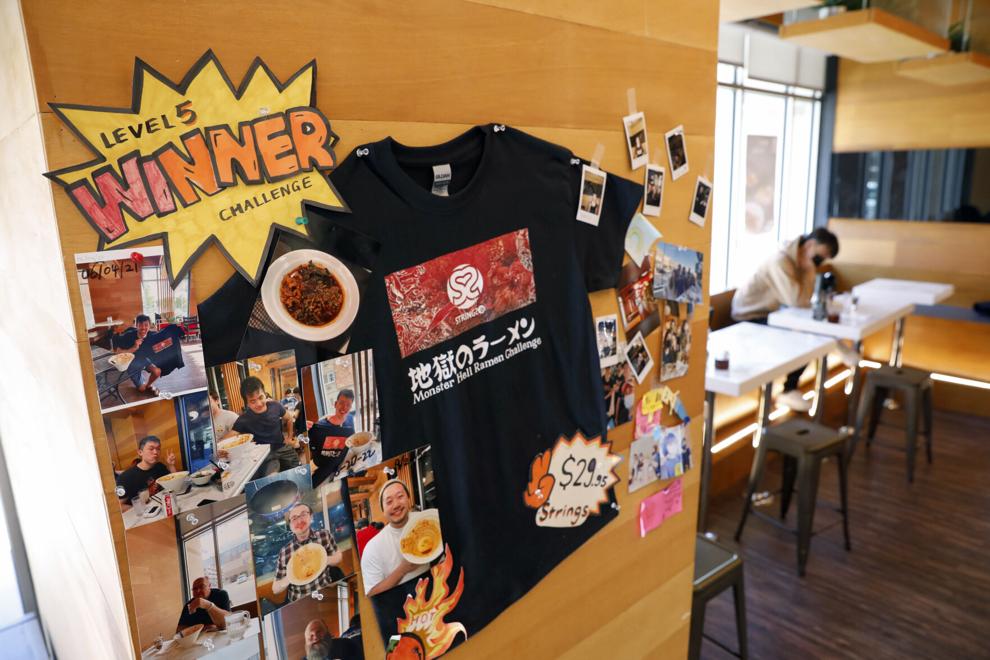 First, I signed a waiver indemnifying the establishment of responsibility for any physical or mental health effects I might experience. Bah, I'd signed these before — including before taking the phaal. I have never wavered in signing this waiver.
Soon a massive steaming bowl of thin wheat noodles floating in a deep red, oily soup was placed before me. An overwhelming aroma seemed to slap me in the face, welcoming me to begin the challenge.
Purely diabolical
If you have read the previous installments of this column, my main complaint about Madison restaurants that kick their food up has always been that I wished the dish were spicier to match my tastes.
Not here. Strings Ramen changed that forever, and provided far more spice than I could handle, even as a lifelong, practiced heat-seeker. That diabolical bowl featured a perfect storm of the most exquisite pains. I will enumerate them:
The ramen broth came out boiling hot temperature-wise, which coupled with
the 10/10 spice scale, made it easily the spiciest dish I have ever come across in my life (!!!) and doubled the bread, as the two types of heat melded together.
The short, 20-minute timeframe to consume a gigantic bowl was made that much more difficult, as it was piping hot from wire to wire, and then
an unpleasant douse of wasabi in the broth disturbed my sinuses to the tune of eight napkins, deployed to absorb an unending waterfall of mucus and tears.
A thick layer of unappetizing red grease permeated the broth.
The noodles were congealing into a slippery hot mess, hard to hold onto with chopsticks and difficult to slurp down, and finally
it tasted horrible — a concoction of grease, chilis, wasabi and what I'd imagine diesel fuel might taste like.
I am not one to back down. I gamely tried to power through the challenge, mind over matter. My six partners were raucously cheering me on as I alternated between tipping the bowl over to drink some soup, and grabbing chunks of noodle with chopsticks to stuff them down.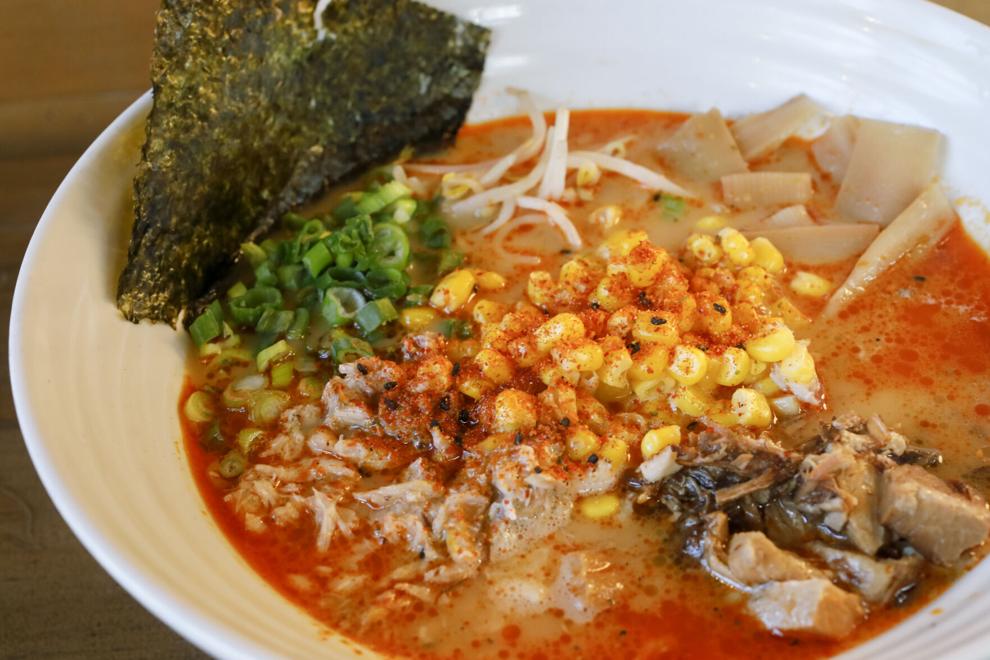 It started in seconds. Every part of my anatomy the ramen touched began to scream out in pain: lips, tongue, gums, throat. Then a wave of hurt struck my chest, radiating from within. Next came the familiar adrenaline rush that accompanies extreme spice, and I began to feel disturbingly light-headed.
By minute two, I could no longer hold conversation with the cheerleaders around me, as every cell of my being was now engaged in an epic war of attrition, pain escalating by the second, my face the deep crimson shade of the Devil himself.
Still, I was determined. We did a time check and at the 10-minute mark, about half the broth and half the noodles had gone down the hatch. So far, so good?
A tidal wave
Hell, no! A tidal wave of pain struck my stomach at that halfway mark. This was the deepest bread so far. Over the next four minutes, still gamely sipping and chewing, I begrudgingly accepted that finishing was futile.
At minute 14 I threw in the towel, unable to take another bite. My stomach begged me to call the fire brigade, and I ended with a cold Japanese milk tea drink for relief.
I was so physically drained from the Monster Challenge that I couldn't even drive home. I got a ride, plopped down on my couch, then realized the worst was yet to come. A sharp pain in my belly kept me up for most of the night, during which finding a comfortable position to lie in became the entire focus of my life. I made it through thanks to years of experience with high heat.
That night I realized my biggest victory, counter-intuitively, was that I didn't doggedly finish the challenge. This could have been much worse, perhaps even entering the dreaded territory of an ER visit.
A word of caution to heat-seekers out there: Level 5 is only for those with deep training in the ways of capsaicin. For the heroes who finished the challenge to be immortalized on the wall, my hat's off to you. In the days after my attempt, I understood that even if I had trained diligently like a marathon runner before a race, even if I doused my digestive system with yogurt or kefir beforehand, at this point in my early 40s it likely wouldn't have mattered. I could only have done this at my peak, in my 20s.
For the everyman heat-seeker out there, the Level 4 is a worthy, better-tasting challenge, as Nick and David would attest upon completing it. They also ended up having a much better night than I did.
.
https://bigger.ga/a-tidal-wave-of-pain-surviving-the-strings-hell-ramen-challenge-food-drink/