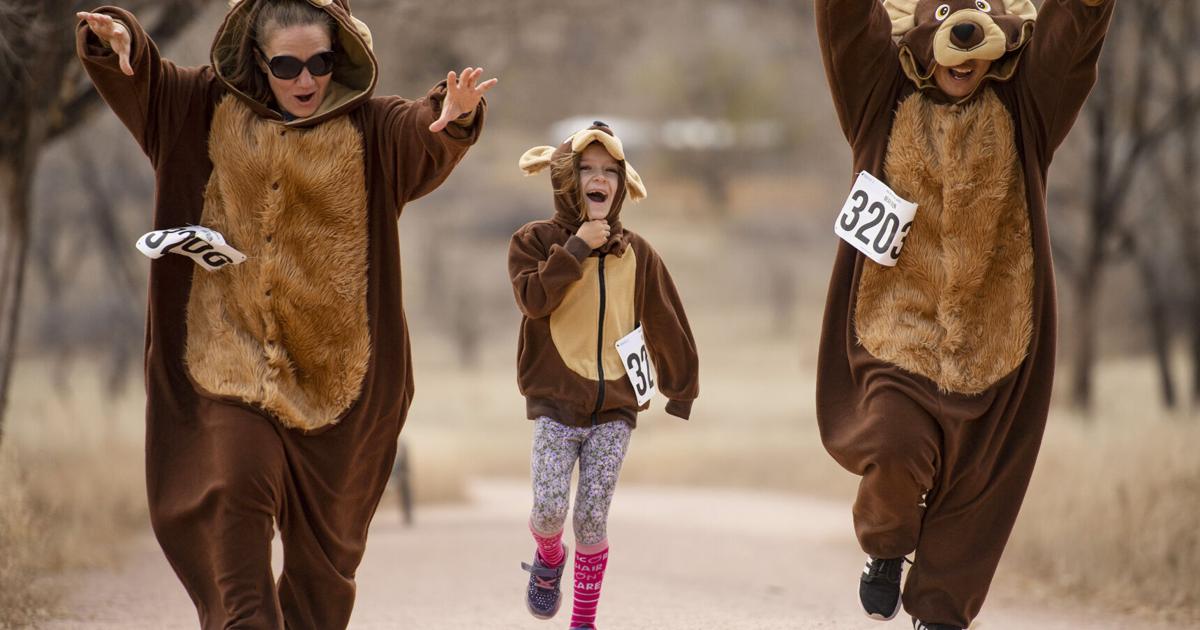 THURSDAY-SUNDAY
It's the holiday arts and crafts show time of year and two longtime favorites are this weekend. Black Forest Arts and Crafts Guild Fall Show and Sale in Black Forest Community Center is known for delicious culinary specials, quilts, gifts for babies, fine art, stained glass, home decor, dolls, gifts and so much more. 9am-7pm Thursday through Saturday, 10am-2pm Sunday. facebook.com/BFACG. Chipeta Park Association's 18th annual fair Saturday and Sunday at Marcoft Hall in Cascade, 9105 Chipita Park Road, showcases local artisans, special baked goods and food items, woodworks, rustic furniture, baskets, bird feeders and more. 9am-4pm Saturday, 10am-3pm Sunday. chipitapark.org
THURSDAY-SUNDAY
As they say, "a celebration of all things fiber" in a tradition since 1971, the jured Handweavers Guild of Boulder Fiber Art Show & Sale. 100 artists working with the theme "I make things because I must." 9595 Nelson Road, Longmont, 10 am-6 pm all weekends. hgbsale.org, Facebook and Instagram.
THURSDAY-FRIDAY
In honor of Veterans Day celebrations, see art by area honorees in Veteran Voices Art Show at Pikes Peak State College's Downtown Studio Campus Gallery, 100 W. Pikes Peak Ave. 8 am-noon and 1-5 pm with a reception 5-8 pm Friday. Show on different days through Nov. 25. pikespeak.edu/academics/studio-west/art-gallery.php
THURSDAY
An encore of a fun dance event. Tea Ormao Mystery Tour. 2 locations, 2 experiences, locations secret until a text message 2 hours before it starts. Buy a ticket and download the Eventbrite app for updates, $27. For ages 18+. eventbrite.com
FRIDAY-SUNDAY
Olympic Memorabilia will be on sale this weekend at the festival at the City Auditorium, 221 E. Kiowa St. Free to attend, more than 30 vendors with Olympic pins, badges, apparel, medals and other collectibles. Opens at 8 am Olympic diving champion Greg Louganis will sign autographs and and show collected items 3-5 pm Saturday and 10 am-noon Sunday. For more: 2022 Olympin Festival on Facebook.
FRIDAY
Warren Miller's "Daymaker" signals the opening of ski season, 7:30 pm, Pikes Peak Center, axs.com. His 73rd ski and snowboard film.
SATURDAY
Time for the fall Colorado Springs Record Show that collectors wait for, with band T-shirts, LPs, CDs, tapes, posters and more. Embassy Suites, 7290 Commerce Center Drive. Early birds 9-10 am, $10; admission 10 am-3 pm $3. Tickets at the door. coloradorecordshow.com/recordshow/
SATURDAY
Saluting the military, the Colorado Springs Veterans Day Parade steps out at 10 am down Tejon Street from Boulder to Vermijo. cosvetsparade.org
SATURDAY
A wild day for bruins, the eighth annual fun bear run in Bear Creek Park, 245 Bear Creek Road. Runners of all ages in silly bear suits run the trail, either 3K or 5K. For the first time the human bears can bring their leashed dogs, who will have a costume contest. It's all a crazy fundraiser for county nature centers. New runners receive bear suits to keep. Discounts for returning runners. $15-$60 communityservices.elpasoco.com/nature-centers/bearrun/
SATURDAY
Colorado Springs just wrapped up its busy October Arts Month and now it's Denver Arts Week Nov. 4-12. On Saturday you can check out a free night at that city's major museums, free admission and free shuttles, 5-10 pm Some highlights: the Botanic Gardens, Denver Art Museum, Denver Museum of Nature and Science, Museo de las Americas and many more . The Denver Film Festival runs through Nov. 13. Friday has First Friday Art Walks. A full schedule: denverartsweek.com.
SATURDAY
An opportunity to see 11 films by impressive young people at the Youth Documentary Academy World Premiere. Students ages 14 to 18 have trained in directing and producing documentary films. This is closing night for the Youth Media Matters Film Festival produced by the Youth Documentary Academy and Colorado Springs School District 11. Subjects, heavy and light, range from current issues to veganism and blindness. Cornerstone Arts Center on the CC campus, 825 N. Cascade Ave. General admission for 6 pm, while VIP tickets also include a special reception and meet-and-greet with the filmmakers at 5 pm Tickets $7.50-$75. youthdocumentary.org
SATURDAY-SUNDAY
Tea 17th Colorado Springs Women's Expo is 10 am to 5 pm Saturday, 11 am to 4 pm Sunday at Norris Penrose Event Center, 1045 Lower Gold Camp Road. 170 exhibits and programs including wellness and cooking, two stages. Celebrate Upfront Women event, 1 p.m. Saturday. Expo tickets $7, discounts available. womenslivingexpo.com/colorado-springs-2022
.