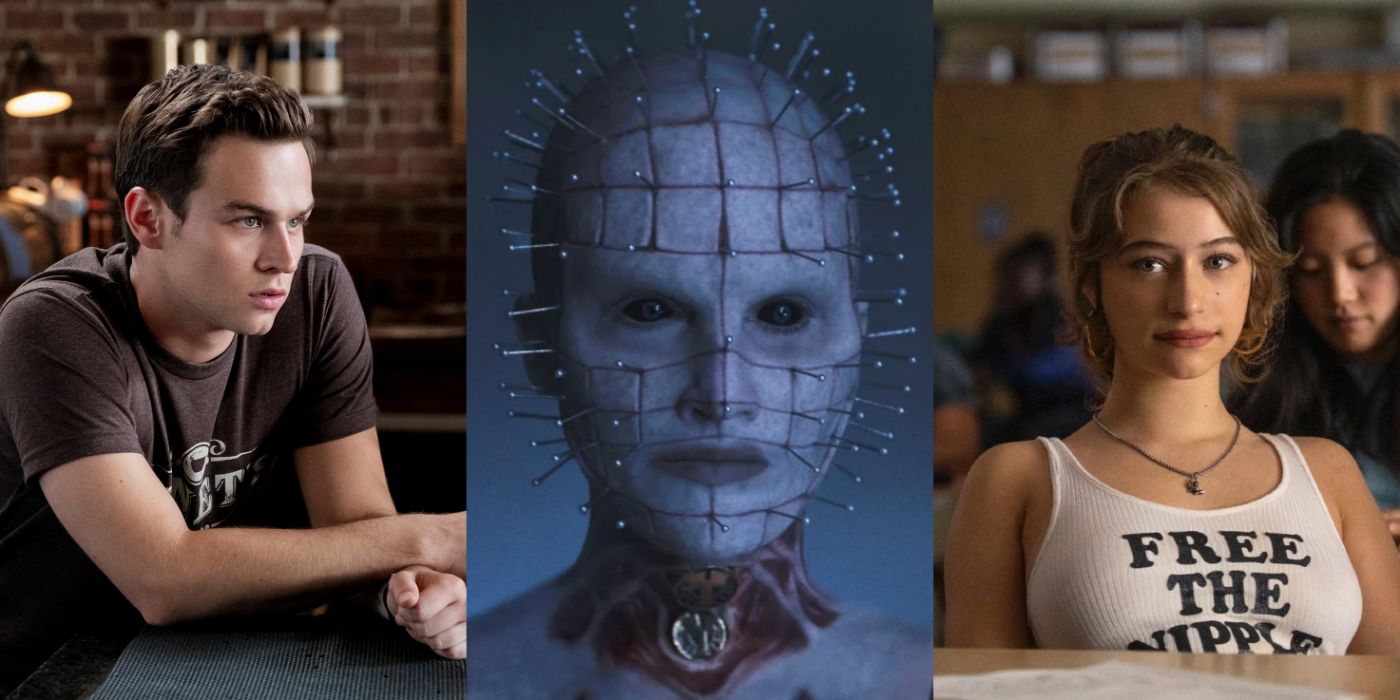 Unleashing hell on Hulu on October 7th, 2022, David Bruckner's hellraiser has been summoned to suck a new generation into the further regions of experience. The 11th iteration of Clive Barker's iconic, leather-bound pleasure seeker, hellraiser travels back to the core of the carnage, drawing from Barker's novella, The Hellbound Heartto tell a new story of anguish and allure.
Taking the kidneys, spikes, and chains from horror legend Doug Bradley, Jamie Clayton's Hell Priest has arrived to show that while hell may have a feminine side, it isn't any less sadomasochistic. With a cast of up-and-coming actors and voiceover royalty, the pieces in Pinhead's puzzle can be traced back through prior lives and roles decidedly free of eternal torment.
Jamie Clayton – Sense8 (2015-2018)
Streaming On Netflix
Tasked with transmogrifying one of horror's most recognizable villains, Clayton's Pinhead sews the flayed throat of the Female Cenobite from the first two hellraisers onto the symmetrical grid of nails pounded into the head of Barker's original design. Sleek, sexy, and outright unsettling, the Hell Priest exists in the forefront and the shadows, collecting what's hers in the name of sadistic pleasure.
RELATED: 14 ​​Facts About The Origins Of Pinhead That Only Hardcore Fans Know
Clayton quickly became a beacon of pride for the LGBTQ+ community on Netflix's Sense8. Mirroring not only her journey but that of creators Lana and Lilly Wachowski, Clayton played Nomi Marks. She plays a transgender lesbian, political blogger, and hacktivist with sensate abilities, connecting her mentally/emotionally to other sensates around the world being hunted for their gifts by the BPO.
Odessa A'zion – Grand Army (2020)
Streaming On Netflix
While Pinhead gets all the glory for being the face of the franchise, she exists more as a Jaws figure looming ominously before striking in gory fashion. Odessa's Riley is the lead here, a struggling addict searching for her brother Matthew that's especially vulnerable to the dark allure of the box tied to his disappearance.
Daughter to Pamela Adlon—the voiceover icon responsible for Bobby Hill and Spinelli—A'zion is paving her own path. Her juiciest role is that of Joey Del Marco in Grand Army. Similar to Sense8 in that it's an inclusive together, Grand Army follows five high schoolers grappling with their sexual, social, and political identities.
Brandon Flynn – 13 Reasons Why (2017-2020)
Streaming On Netflix
Playing Riley's brother Matthew, the disappearance of Flynn's loving but frustrated sibling sets in motion the Pandora's box of blood and bad decisions that are to come. Steadily building his acting career since 2016, Flynn's breakout role was that of Justin Foley in Netflix's 13 Reasons Why. Based on the novel of the same name, the show oddly enough also features a box inherently tied to death.
RELATED: 10 TV Shows That Went Downhill After The 1st Season, According To Reddit
Following Liberty High Schooler Clay Jenson, the show centers on cassette tapes left in a box by his crush, Hannah Baker, explaining the 13 reasons why she took her own life. Flynn plays Justin Foley, one of the initial thirteen reasons. Initially an antagonist, Foley spends the following seasons struggling to carry the weight of his actions while atoning for his decisions.
Adam Faison – Everything's Gonna Be Okay (2020-2021)
Streaming On Freeform
Faison plays Colin, Matthew's loving and empathetic boyfriend. Lost over his mysterious absence, Colin embraces Riley as she's the closest thing to Matt he has left, and he's willing to do anything to put his found family back together.
Airing for two seasons on Freeform, Everything's Gonna Be Okay is the story of a gay, Australian twenty-something named Nicholas, and his two younger American half-sisters, Maeve and Kayla. Faced with their father's unexpected death, Nicholas is put into an unlikely father role while dealing with his and his sister's autism. Faison plays Nicholas' boyfriend Alex throughout the series, who is, true to form, a loving and accepting partner.
Drew Starkey – Outer Banks (2020-)
Streaming On Netflix
Drew Starkey plays Riley's on/off boyfriend, Trevor. Explaining their characters' volatile relationship in an exclusive interview with Screen Rant, Starkey describes their standing as a battle between "desire and temptation," with their dynamic growing more toxic the deeper they crawl into their cravings.
RELATED: 10 Best Teen Shows On Netflix, According To Ranker
While Starkey has had no shortage of roles since his 2014 debut, his role as Rafe on Netflix's Outer Banks is his most fruitful, with his character set to return for season 3 in 2023. Following a group of "Pogue" teenagers in coastal North Carolina that stumble across a treasure map, Starkey's Rafe is one of the show's main antagonists, with his drug use and violent behavior spawning fatal consequences.
Goran Visnjic – The Boys (2019-)
Streaming on Prime Video
The Croatian-American actor plays Mr. Voight, the enigmatic and affluent art dealer that kicks off the series of insidious events. Having already learned the hard way that the Cenobites and LeMarchand's box can't be tamed, Mr. Voight is determined to harness the dark power of his prized piece once again, this time with (hopefully) different results.
From Voight to Vought, Visnjic can also be seen engaging the supernatural in Prime Video's The Boys. Visnjic plays Alastair Adana, the curious chairman of The Church of the Collective, which is an obvious play on The Church of Scientology. Despite being a superhero send-up with relevant political themes, The Boys contains enough gruesome deaths to satiate the thirstiest Cenobite.
Hiam Abbass – Succession (2018-)
Streaming on HBO Max
Echoing the soul-binding contract of LeMarchand puzzle solvers, Hiam Abbass plays Serena Menaker, Mr. Voight's lawyer and ostensible honeypot that helps lure victims to his sumptuous lair. While she isn't necessarily in on Mr. Voight's plan, she is integral in its execution(s).
A veteran of cinema with nearly 100 titles to her name, Abbass has seen a recent surge in her career, with her role as Marcia Roy on HBO's Succession being her most buzzworthy. Succession follows the power play between the four Roy children after Logan, the patriarch/CEO of media conglomerate Waystar Royco, decides not to step down from his role. Abbas portrays Marcia Roy, Logan's current wife, who takes care of him after he suffers a stroke.
Aoife Hinds – The Long Call (2021)
Streaming On BritBox
Filling the role of a platonic roommate in Matt and Colin's chosen home is Nora, played by Irish/French actress Aiofe Hinds. Daughter to Ciarán Hinds, Aiofe began her career in 2018 with a role in the Liam Neeson vehicle, The Commuter.
Her most recent role was in the 2021 BritBox original, The Long Call. The four-part series centers on a mysterious death that takes detective Matthew Venn (and his husband) back to the religious community he grew up in for the first time since his father's passing. Aoife plays Gabby Chadwell, a woman with curious ties to the dead body.
Jason Liles – Rampage (2018)
Available to Rent/Purchase on Prime Video
Pinhead isn't the only Cenobite returning from the demonic Gash. Imbuing the Hell Priest's right-hand man, The Chatterer, with imposing new life is Jason Liles. Standing at 6-foot-9 (via Backstage), Liles' Chatterer is a full foot taller than Nicholas Vince's original incarnation, but his unsightly design does stay true to the fleshy, eyeless figure known for its set of chattering teeth that are permanently flayed on display.
Acting with his size and movements, Liles is of the Doug Jones school of physical performance. While he's been able to bring numerous CG creatures to life through the power of his mocap acting, his role of the giant gorilla, George, in 2018's rampage gave him his biggest (literally) role to date.
Kit Clarke – Get Even (2020)
Streaming On Netflix
Kit Clarke's Joey is the first character viewers meet in the hellraiser trailer. Beckoned by the mysteriously motivated Mr. Voight, Joey finishes the Lament Configuration and unknowingly unleashes hell.
Relatively new to the acting world, Clarke can be seen in Netflix's Get Even, where his full screen time won't so easily fit within the first 40 seconds of a trailer. Focusing on four teenage girls that form a secret society to expose the bullies haunting their hallways, Clarke plays Logan, one of the aforementioned bullies who, inversely from hellraiseris on the other side of taking a life.
NEXT: 10 Classic Horror Movies In Need of a Reboot, According to Reddit