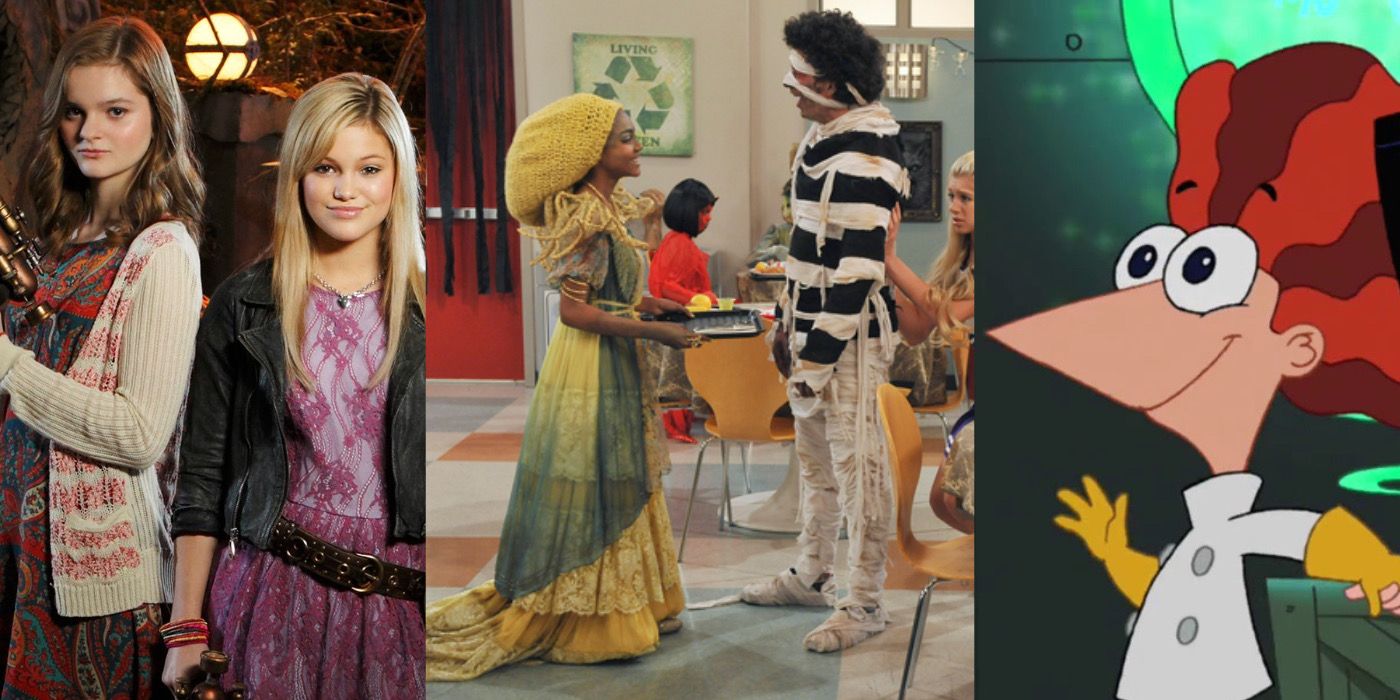 Halloween is almost here, and it's time to get those spooky playlists in order. The Disney Channel is known for its themed episodes and movies. For example, the first original movie to be made exclusively by and released on the channel was a Halloween movie, and The Suite Life Of Zack & Cody's "Ghost In Suite 613" serves as an annual meme.
Many of these frightful and delightful episodes and films feature original songs performed by the cast. Some are better than others and deserve to be included on every Halloween playlist.
Don't Look Down – Austin & Ally
Performed By Ross Lynch & Laura Marano
During one of the best Disney Channel Halloween episodes of all time, Austin & Ally write and perform this song at a costume party. Austin is supposed to perform with Taylor Swift, but when she gets hurt, Ally pretends to be her. Despite her stage fright, Ally performs "Don't Look Down" with her friend.
Ross and Laura are a great singing duo. This song is amazing, and the harmonies are beautiful. In this context, "Don't Look Down" is a Halloween song, but in actuality, it's just a song about being brave and conquering fears. "Don't Look Down" is a tune that Disney fans can rock out at any time of the year, but due to the episode it debuted in, it will forever have a spot on Disney Halloween playlists.
Halloween House Party – Halloween House Party Special
Performed By Chandler Kinney
In 2020, Disney released a 22-minute sketch comedy Halloween special made especially for and adhering to Covid-19 guidelines.
Chandler Kinney's song is great. It opens with a spooky Halloween tune, and an awesome brass instrument can be heard throughout the song. This rap song has a fun beat that encourages dancing, which can be seen in the video. Several Disney Channel stars offer their moves to the music video, filmed virtually at each performer's home and sliced ​​together to create the illusion of more than one person in a room at a time.
My Kind Of Monster – Under Wraps 2
Performed By The Cast Of Under Wraps 2
Under Wraps 2 was only released this year, but it's already one of the channel's best original Halloween movies. It's the sequel to a remake of a Disney Channel Original movie from 1997. This film sees the gang back together when a new mummy with a grudge wakes up and targets Harold.
"My Kind Of Monster" is a fun blend of cool lyrics, auto-tune, and a sharp beat. The song is about friendship and not judging a book by its cover, a common but relevant theme in children's media. "My Kind Of Monster" could be played any time of the year, but contextually, it's very fitting for the Halloween season.
Let's Get Tricky – Shake It Up
Performed By Bella Thorne & Roshon Fegan
The dancers on shake it up dress in cool costumes and dance to this song, performed by two of the show's leads.
"Let's Get Tricky" is appropriately titled, as many aspects of this song are trippy. It's definitely a bop to dance to, but in the right environment, it can get the heart racing. "Let's Get Tricky" is spooky, largely due to the sound effects and the one-note chorus. The break in music with just the sound of footsteps is particularly clever and successful at emoting fear from listeners.
One Good Scare – Phineas & Ferb
Performed By Vincent Martella
In this Halloween episode, Isabella has a bad case of the hiccups. Phineas takes her through a haunted house he and Ferb built and sings this song.
Phineas & Ferb is considered one of the best Disney Channel original series, and it's known for its silly but amazing musical numbers that are featured in nearly every episode. "One Good Scare" is just one of the many hits to come from the show. It's a super catchy tune that's sure to get anyone to move their hips. While the song is about curing Isabella's hiccups, it's clear it was made for the Halloween season, and it's a must-have song to add to the October playlist.
Fearless – Girl Vs. Monster
Performed By Olivia Holt
When Skylar's fear monster escapes captivity, she learns she's the daughter of monster hunters while simultaneously being introduced to every fear she's never had.
"Fearless" is another song that can be played any time of the year, though the line "I'm back from the dead" from the chorus feels more appropriate in the context of this season. The song itself is a lot of fun. It's easy to dance to, and it empowers listeners to be brave and conquer their fears. Girl Vs. Monster is a great film, and the inclusion of this song in the climax works in its favor.
Ways To Be Wicked – Descendants 2
Performed By The Cast Of Descendants 2
Descendants 2 is the sequel to the first movie starring Dove Cameron, Sofia Carson, and several others. "Ways To Be Wicked" is featured at the very beginning of the film as a part of Mal's daydream where the villain kids, the best to appear in a Disney Channel movie, enchanting the entire kingdom.
While not exclusively made for Halloween, several songs in the Descendants franchise can be categorized as such. "Ways To Be Wicked" is one stellar example. It incorporates several references to fairy tales, villainy, and having fun, all of which are often associated with Halloween. Not to mention, the beat is killer, the harmonies are excellent, and everything about this song begs for a dance-off.
I Got My Scream On – ANT Farm
Performed By China Anne McClain
In all three of ANT Farm's Halloween episodes, an alternate universe is explored where instead of child geniuses, it's monsters who are allowed to study just like everyone else.
China slays at every song she performs on ANT Farm, and this one is no exception. The lyrics scream "spooky season," and the melody is frightfully perfect for dancing. Unlike other Halloween-themed songs, this one knows what it's trying to be and is unapologetic about it. It's a Halloween song, and there are no doubts about it.
Keep Your Head On Halloween – Descendants: Wicked Woods
Performed By The Cast Of Descendants
Descendants: Wicked Woods is a stop-motion Halloween special. It's Halloween in Auradon, and the villain kids find themselves in the spooky woods, careful not to disturb the mythical headless horseman.
"Keep Your Head On Halloween" is a fun song with great references to the season and the horror genre. Dove Cameron leads the song with her amazing voice. The unsettling tritones and echoes at the start are perfect for the holiday and not something heard in other Disney Channel songs. Between the effects, the clever lyrics, and the originality, it's clear they cared about making an awesome Halloween song. That's what they did, and it's one of the best.
Calling All The Monsters – ANT Farm
Performed By China Anne McClain
ANT Farm's Halloween episodes are iconic and considered peak Disney Channel content. In their first Halloween episode, China's character sings this song to save the dance.
"Calling All The Monsters" is arguably the best Disney Channel holiday-themed song of all time. It was such a huge hit that, since its debut, Disney made a high-production music video, released a celebratory video a decade after the song's premiere, and named their seasonal lineup after this iconic hit. The song itself is amazing. It makes anyone want to move their feet and gets everyone in the Halloween spirit every time it plays.
NEXT: 10 Best Horror Musical Songs For Your Halloween Playlist