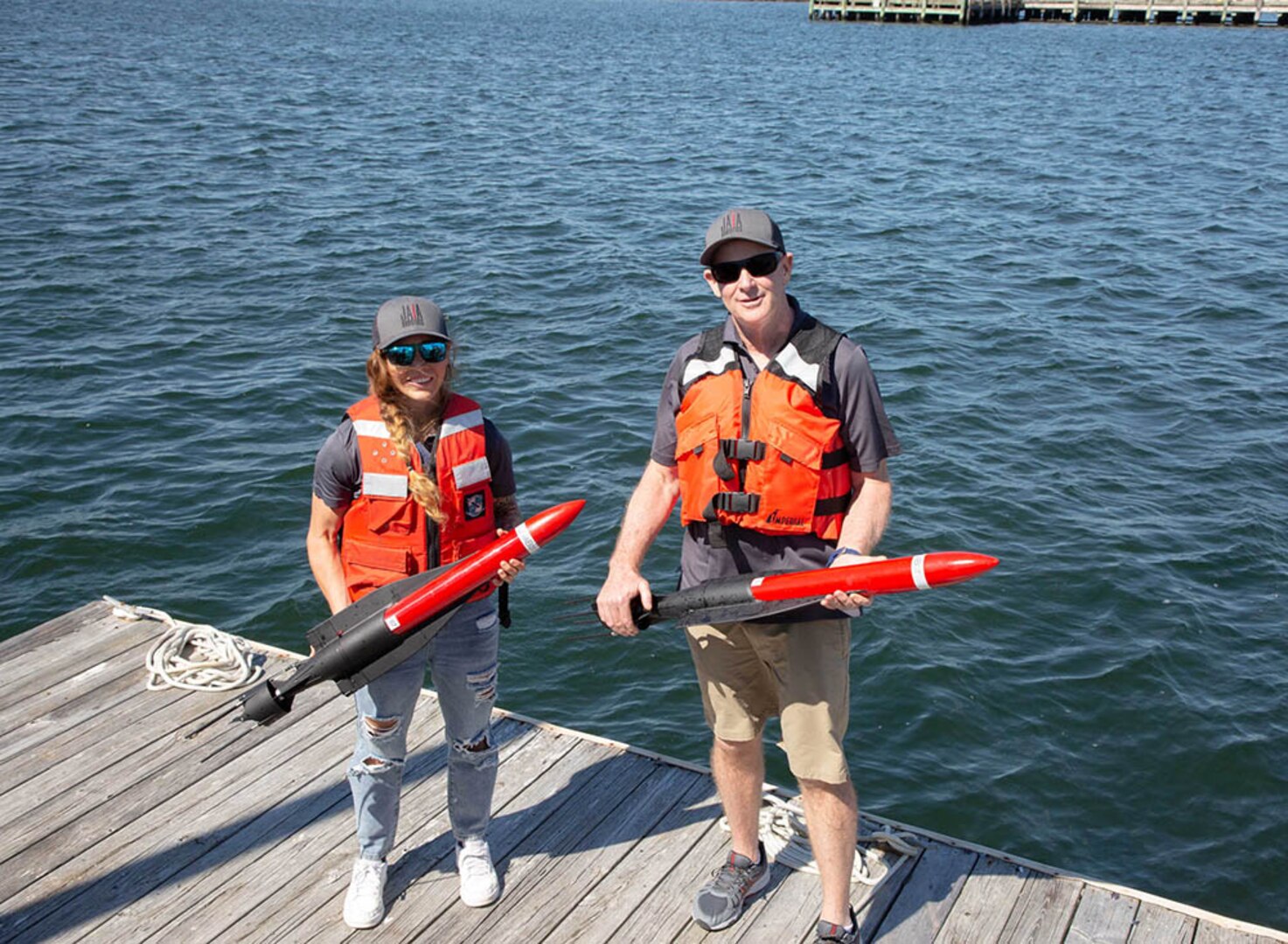 NEWPORT, RI –

Naval Undersea Warfare Center (NUWC) Division Newport's Northeast Tech Bridge hosted its first demo day with the goal of introducing new underwater technologies from local start-ups to a Navy audience.
The event, which included seven companies, technology demonstrations and information sessions, took place Sept. 1 at the Narragansett Bay Test Facility. Newport Division Technical Director Ron Vien welcomed attendees.
"We are looking for small businesses to come up with new ideas and we learn more about the industry at these events," Vien said. "We want to connect the engineers and scientists of the NUWC Newport division with industry partners to find dual-use solutions to Navy challenges."
Several years ago, the Office of Naval Research (ONR) implemented a series of technology, business, and workforce programs to create an effective agility network across the facility. naval research and development and to promote partnerships with government, universities and industrial partners. Tech Bridges are ONR-sponsored entities located around the world that bring together innovative organizations to accelerate results and solutions for the Navy – one way to do this is to increase local access to ecosystems of innovation.
The Northeast Tech Bridge is the government side of the Tech Bridge with focus areas such as underwater vehicles and underwater sensors. The goal of the Northeast Tech Bridge is to connect government, industry, and academia with the goal of helping move ideas, projects, and technologies through the innovation pipeline. The Northeast Tech Bridge is working with the 401 Tech Bridge, a division of the University of Rhode Island (URI) Research Foundation, as a partner to achieve this goal.
Northeast Tech Bridge Director Dr. Steven Bordonaro hosted a demo day to bring several local start-ups to demonstrate their technology on a Navy range in front of an audience of Newport Division engineers and scientists.
"There are barriers to entry when it comes to working with the Navy and there's a lot going on in the commercial world for us," Bordonaro said. "We want to continue to reduce these barriers and continue to make it easier for businesses to work with the Navy. The Blue Tech Accelerator program can help start-up companies, it also helps them connect with industry partners. »
"Dual-use applications are really important to us," said Christian Cowan, who represented both the 401 Tech Bridge and the URI Research Foundation. "The 401 Tech Bridge can help with people, places, and programming. There are incredibly exciting blue economy initiations in Rhode Island, and the NUWC Newport division is a vital partner with its assets and employees. Everything it benefits the state and the nation.
The demo day was held on the waterfront at the Rapid Engineering Experimentation Facility [REEF] is an example of how 401 Tech Bridge can bring non-traditional industry-based companies to partner with the NUWC Newport division and accelerate technology for the benefit of the Navy as well as the private commercialization of these technologies , Cowan said.
Industry Participants
A team from Boston Engineering Corp., based in Waltham, Massachusetts, demonstrated two vertical profilers – one in a tube on the deck and one in the bay. Both of these profilers provide vertical water column profiles carrying standard or user-specified payloads in large customizable payload volumes, collecting data and then transmitting it in multiple ways. For Demo Day, the team used satellite communications.
"Our hope for Demo Day is to expose ourselves and the technology to the NUWC team and better understand the incredible capabilities NUWC has to offer," said David Shane of Boston Engineering Corp. "We are already engaged with NUWC and want to be more involved in collaboratively solving Navy problem sets."
Darya Blout of Deep Blue Composites, located in Bristol, Rhode Island, shared his company's line of deep-sea pressure vessels intended to replace the titanium pressure vessels currently used in unmanned underwater vehicles (UUVs). . Deep Blue Composites products reduce weight by using an all-composite option that is cost effective, making them more accessible to UUV manufacturers.
"I hope to increase awareness of composites and their use in Navy and DOD environments," Blout said. "I think they're really underutilized, especially in the underwater vehicle space, because they've only recently been adopted by the Navy and other defense sectors."
The Jaia Robotics team, also based in Bristol, launched two of its JaiaBot micro-autonomous underwater vehicles (AUV) to perform diving simulations. JaiaBots can collect sound velocity profiles (SVP), bathymetry and water depth measurements while being able to move at high speeds on the surface.
The company hopes to reach out to future collaborators, show what its staff and robots are capable of, and then spend time on the water as well, said Jessie Paskoski, an engineer at Jaia Robotics.
Juice Robotics, based in Middletown, Rhode Island, showcased its fiber optic coil system, or FOReel system, which was created in partnership with Nautilus Defense and URI. The system includes a lightweight fiber optic fishing line, a commercial mechanical reel, and a camera and lighting system that allows users to view live footage of the bottom of Narragansett Bay.
Juice Robotics was started by Matt Jewell who later teamed up with Christine deSilva after meeting at URI while filming for "Shark Week". Their goal was to create a vehicle that would move at high speed and "catch people's attention".
"We have realized the future of deep sea research and deep sea exploration and the real access to oceanographic data is with these smaller, modular, lighter and more affordable components," deSilva said. "So what we do at Juice is really bring that passion together."
Dr. Kevin Rosa started Current Lab, a Newport-based ocean current forecasting company that primarily works with the yacht racing industry to help them find the fastest route on the race course.
"We can provide predictions of what the currents will do and what the speed of sound will do when you plan your mission," Rosa said. "We do this with very detailed computer models similar to a weather model, but instead of predicting wind and rain, we predict currents and temperature underwater. I hope to speak to people from the NUWC division in Newport and the marine world to understand what their needs are and what we could potentially provide to them in the future.
Will Magruder, Senior Director of Partnerships at Mass Challenge, a nonprofit global nonprofit accelerator program, helped bring Demo Day attendees together with Linda Larson and the 401 Tech Bridge team.
"Mass Challenge has always been an independent industry accelerator program for today's event purposes, we've partnered with 401 Tech Bridge and Northeast Tech Bridge to highlight companies with strong potential in the blue technology space," Magruder said. "We're excited to show off some of the best companies from the mass challenge programs at today's event in Newport."
Dillon Fournier, Range Manager of the Newport Division's Underwater Warfare Ranges Engineering and Analysis Department, led the logistics and range support for this event.
"Narragansett Bay Test Center has all the support needed to host events such as Demo Day and ANTX, and can also support smaller test events with companies that need to test their technologies. in water." Fournier said, "Through work for private parties and collaborative research and development agreements, we are here to help technologies mature."
Mary Sylvia, Manager of the Newport Division's Office of Technology Partnerships, answered attendees' questions about the variety of different agreements available for working with the Newport Division.
"This is the first of many events that we are going to have over the next few months and possibly years," Sylvia said. "It's a wonderful opportunity for small businesses to come through our doors and show us the technology they have."
The Tech Bridge will continue to support efforts throughout New England in the Blue Tech Zone and will continue to offer technology screening for Newport Division engineers and scientists interested in learning more about industry technology. The Tech Bridge will also continue to partner with the URI Research Foundation.
"We want to continue events like these. They're at the scale where I think conversations are very natural and hosting these fairly small-scale events several times a year is an effective way to work with businesses, especially small ones," Bordonaro said. "Some of the bigger companies can navigate a bigger event where a smaller company can get lost. If companies are interested, there's another cohort going on with Mass Challenge and the 401 Tech Bridge in the Blue Tech area, so that's something they can look into.
Ultimately, the first day of demonstration achieved its goal of connecting the industry to the Newport Division workforce.
"The technologies that were presented were right," Bordonaro said. "I was really happy to see the conversations that were taking place. I think there will be long-term results, whether it's projects or collaborative research. We've planted seeds that I think will will grow for a long time.
You can find out more about the start-ups that participated in Demo Day at:
NUWC Newport is the nation's oldest warfare center, tracing its heritage to the naval torpedo station established on Goat Island in Newport Harbor in 1869. Commanded by Captain Chad Hennings, NUWC Newport maintains significant detachments in West Palm Beach, Florida and Andros Island in the Bahamas, as well as testing facilities in Seneca Lake and Fisher's Island, New York, Leesburg, Florida and Dodge Pond, Connecticut.
Join our team! NUWC Division Newport, one of Rhode Island's 20 largest employers, employs a diverse, highly skilled, educated, and skilled workforce. We are always looking for engineers, scientists and other STEM professionals, as well as talented experts in business, finance, logistics and other support services who want to be at the forefront of underwater research and development. Please connect with NUWC Division Newport Recruiting on this site- https://www.navsea.navy.mil/Home/Warfare-Centers/NUWC-Newport/Career-Opportunities/ and follow us on LinkedIn @NUWC-Newport and on Facebook @NUWCNewport.